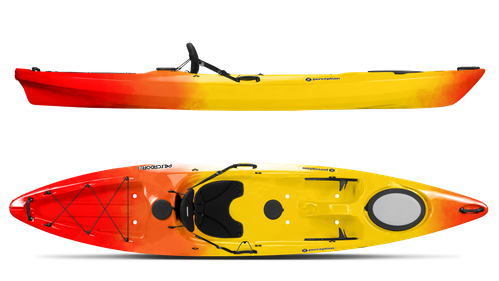 The seas of kayaks today can easily overwhelm even the most experienced kayakers. At one point, you need help to figure out what suits you best, and the first step to doing that is understanding your specific needs.
Today, we're discussing the Perception Pescador 12, a kayak fit for almost everything, but, more specifically, the by-yourself trips that offer isolation and plenty of quiet for reflection.
Perception Pescador 12 Kayak Review: At A Glance
The Perception Pescador 12 is a fantastic update from the predecessor, the 10-ft. It's much larger without being bulky or annoying and designed to be easily transferable from one place to another. Moreover, it can withstand several years of continuous usage without any trouble. So, let's get right down into the details.
Pros:
Wide beam
Lightweight
Easily movable
375-lb capacity
Eight scupper holes
Flexible deck
Cons:
Seat needs lumbar support
Sitting only
Build
Logically, we'll begin this review by talking about the build of the Perception Pescador 12, which consists of robust polyethylene. Polyethene allows the kayak very high levels of scratch and collision resistance.
Add that to other features that we'll discuss later on, and you'll find that it can wiggle its way into pretty tough spots that other kayaks won't dare come close to. This allows you to fish, swim, or just relax all by yourself in these spots.
Another great thing about the build of the Perception Pescador 12 is the one-piece concept. Apart from specific openings such as the eight scupper holes and the hull for storage, there aren't any pieces that can come off the kayak, causing major turbulence. It's designed to stay together at all times.
Even the four handles that come with it are molded in a design that makes carrying the kayak child's play. You see, you've one handle molded to the stern, one molded to the bow, and the other two are on the sides, but that's not the end of it. The bow and stern handles are designed to be a bit higher than the rest of the deck, including the side handles, so that you can carry the kayak with ease.
Speed and Maneuverability
The Perception Pescador 12 comes with a highly contoured keel at the bottom of both the bow and stern. This enables paddlers to cross long distances at a maintained speed. This kayak doesn't require much of you to maneuver, even though it doesn't come with a rudder.
Its overall design with its wide beam and 12-ft length makes it much more manageable. So, as long as you've got a pair of paddles that you can handle, you'll be able to move at high speeds consistently.
Stability
The Perception Pescador 12 is entirely stable, as long as you're sitting down. Unfortunately, it's not a kayak that allows you to stand up because it's bound to tip over if you do.
You see, the seat design is way too flat and in level with the rest of the kayak, which makes standing up and sitting down an impossible task if you want to maintain your balance. If you're faced with a patch of rough waters, staying seated is a must.
Design
Now, we'll speak about the design in-depth so that you know exactly what you'll be facing when you deal with the Perception Pescador 12.
Seat
First, we've a seat that is created with the best of intentions of comfort. Perception followed the Comfort Seating System (CSS) here as the material of the seat is breathable, lightweight EVA.
EVA is great when you're out on the water; you don't want anything that feels stuffy around you. Nevertheless, sometimes it can be a bit too light. It does offer adjustable back support at two height levels, using two straps, one on each side and bungee cords in the back.
Still, as you go down towards your sacral and lumbar areas, you'll find that the support is fading rather quickly, which is why bringing an extra cushion can make your kayaking trip so much more comfortable.
Deck
The design of the deck makes this kayak look even bigger than what it really is. Why? Simply because it's flat, open, and somewhat empty. With some kayaks, you might find that they're way too cluttered with the straps, handles, and rings that you might never use.
That's not the case here, as the Perception Pescador 12 gives you the freedom to put whatever you want on the deck. They only provided what they knew you'd need. That is a central console, which is molded into the design, with a few inserts for specific mounts if you wish to have a hands-free experience.
Other than that, you've the entire kayak to place any number of equipment, tackle boxes, or even coolers, provided that you strap them down snuggly with bungee lashings.
Footrests
The footrests on the Perception Pescador 12 are entirely adjustable along the installed rail. That way, after you fix your position on the seat, you can recline as comfortably as possible using them.
Capacity
Now, this is definitely a vital element to look at whenever you're browsing for kayaks. The capacity of the Perception Pescador 12 is a whopping 375 lbs, which is fantastic as long as you're alone.
In all honesty, you don't really have a choice as this is a one-person kayak. Nonetheless, you can't bring a pet or a child with you on it.
Still, you'll be able to bring all of the gear and equipment that you could possibly need, even for a multiple-night trip.
Dimensions
The dimensions of the Perception Pescador 12 are rather comfortable; not too big, not too small, Goldilocks style.
So, we've 12 feet in length, 32.5 inches in width/beam, and a deck height of 14.5 inches, which gives way for a lot of storage, as we'll see.
Storage
The storage in this kayak has only one way through. That is fantastic as you don't have to freak out if water reaches the top of your kayak. There's only one hinged lid which is protected by two quick-lock handles.
Still, keep in mind that this lid isn't entirely waterproof, so using drybags inside of the hull to protect your things is the best way to go.
Plus, if you need even more storage, you have a specific mount on deck for attaching a 6-inch day hatch.
Equipment Mounts
We've mentioned before a hands-free experience, which is something the Perception Pescador 12 is ready for. That is why you get holders for your paddles and rods, in addition to molded mount spaces for your camera, fishfinder or GPS, and even water bottle.
In Conclusion
To wrap up, the Perception Pescador 12 is an amazing kayak if you're all about getting into the smaller nooks and crannies. It's an adequate sizing, the capacity is amazing, and it's built to last, making it quite the investment.
You Can Also Check: