Kayaking is a world-renowned sport with many benefits. It's an excellent workout for your upper body, and is quite entertaining for you, your family, and friends. Kayaking can also take you to places you can't reach either by foot or by larger boats, where you can take in the marvelous sights of nature.
Recreational kayaks are meant for basic kayaking, they aren't used for fishing or for strong currents. They are best used for relaxing and soothing water trips where you can soak in everything that surrounds you from nature to the great atmosphere.
Comparison Table:
The 5 Best Recreational Kayaks in 2022
So, what goes into making a good recreational kayak? Even if the answer to this question depends on multiple variables, the basic information such as durability, control, storage, and comfort, stay the same. That's why today we'll be discussing the 5 best recreational kayaks and the most critical elements to consider before buying one. So let's cut to the chase and get down to these fantastic products.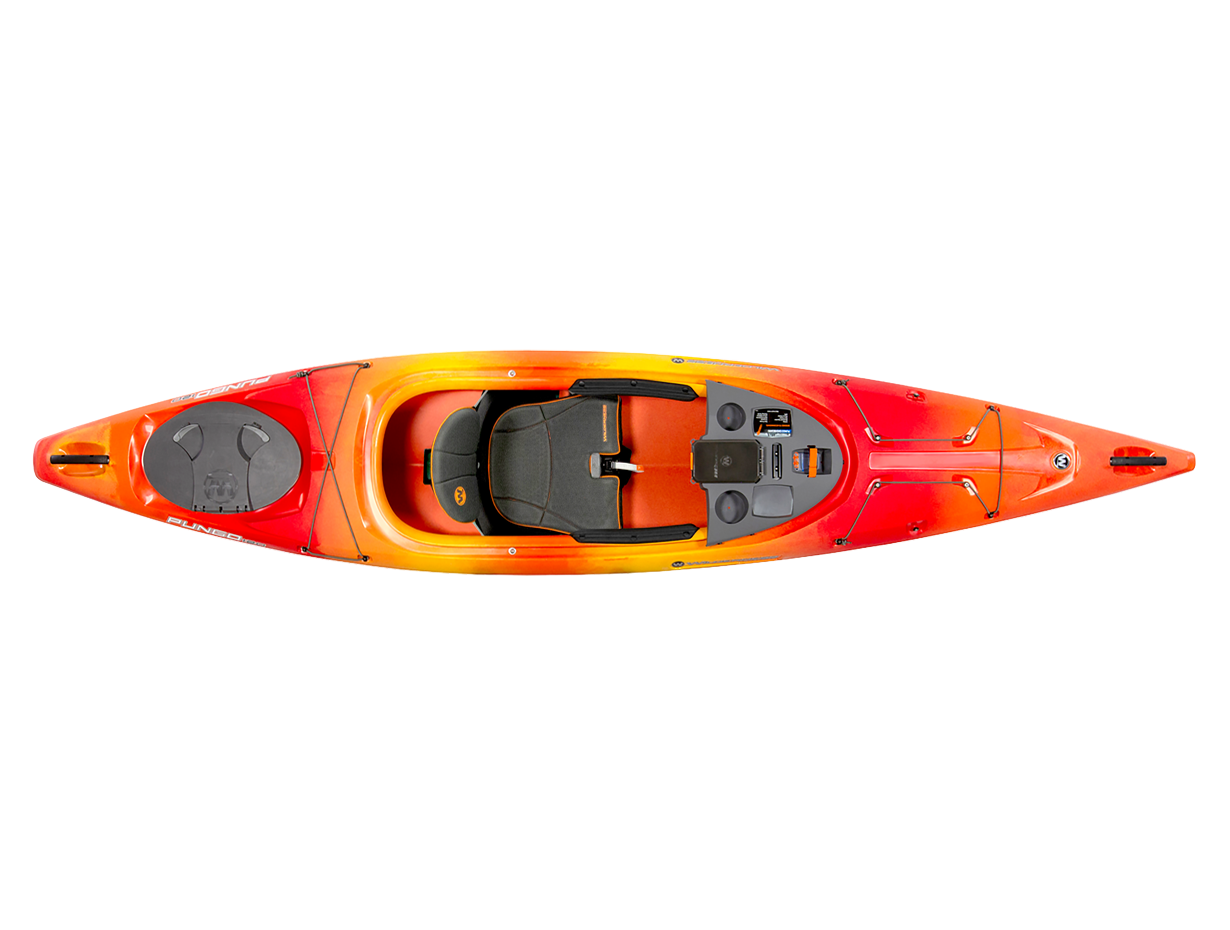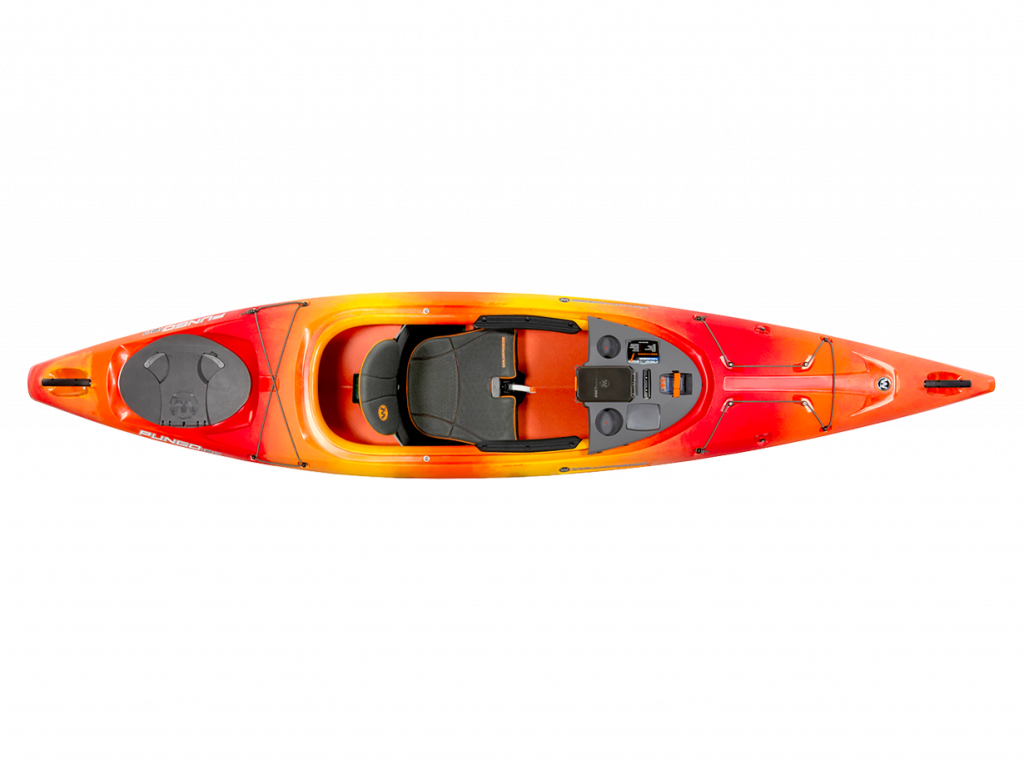 An all-rounder recreational kayak that has something for everyone. The WILDERNESS SYSTEMS Pungo 120 weighs 49 pounds, has a maximum weight capacity of 325 pounds, is 12 feet long, has a width of 29 inches, and is made out of Polyethylene.
We chose this kayak as our number one pick as it excels in many aspects. It's exceptionally comfortable, durable, stable, has ample storage, and fast. Not only that, but it's also perfect for use on calm waters like lakes, ponds, and streams.
One of the best things about the Pungo 120 is its seat, the seat is ergonomically designed, padded, and is adjustable in six different ways. The Pungo 120's seat is genuinely unrivaled, among other recreational kayaks. Besides, there are also thigh and knee pads that will support your lower body on longer trips.
Moving on from the seat to the Kayak Konsole Dashboard System which is truly a marvel to behold. Similar to a car's dashboard, however, it doesn't show you speed or miles traveled, rather, it acts as a storage hatch for all your valuables. From your phone, keys, lures, and even your electronics, the Dashboard will provide you with easy access to all your belongings such as keys, phone, and wallet.
It's made from Polyethylene, which provides it with strength and lightweight. This kayak is perfect for calm waters, it also can maneuver its way through rapid and fast-moving waters due to its being sturdy and easy to control.
The Pungo 120 can be used by any kayaker, no matter their skill level. Beginners will be able to master this kayak, along with intermediate and master kayakers.
However, as we all know, no product comes without flaws, and when it concerns the Pungo 120, its only flaw is the absence of a drain plug.
What We Like:
Durable
Kayak Konsole Dashboard System
Perfect for beginners
Ergonomically designed seat
Thigh and knee pads
What We Don't Like:
Our Verdict
The WILDERNESS SYSTEMS Pungo 120 is an astonishing recreational kayak. It is durable as it's made from PolyethylenePolyethylene, has an ergonomically designed seat that can be adjusted into six different positions, has knee and thigh pads, and finally has the exceptional Kayak Konsole Dashboard System where you have easy access to all your valuables. However, it doesn't come with a drain plug.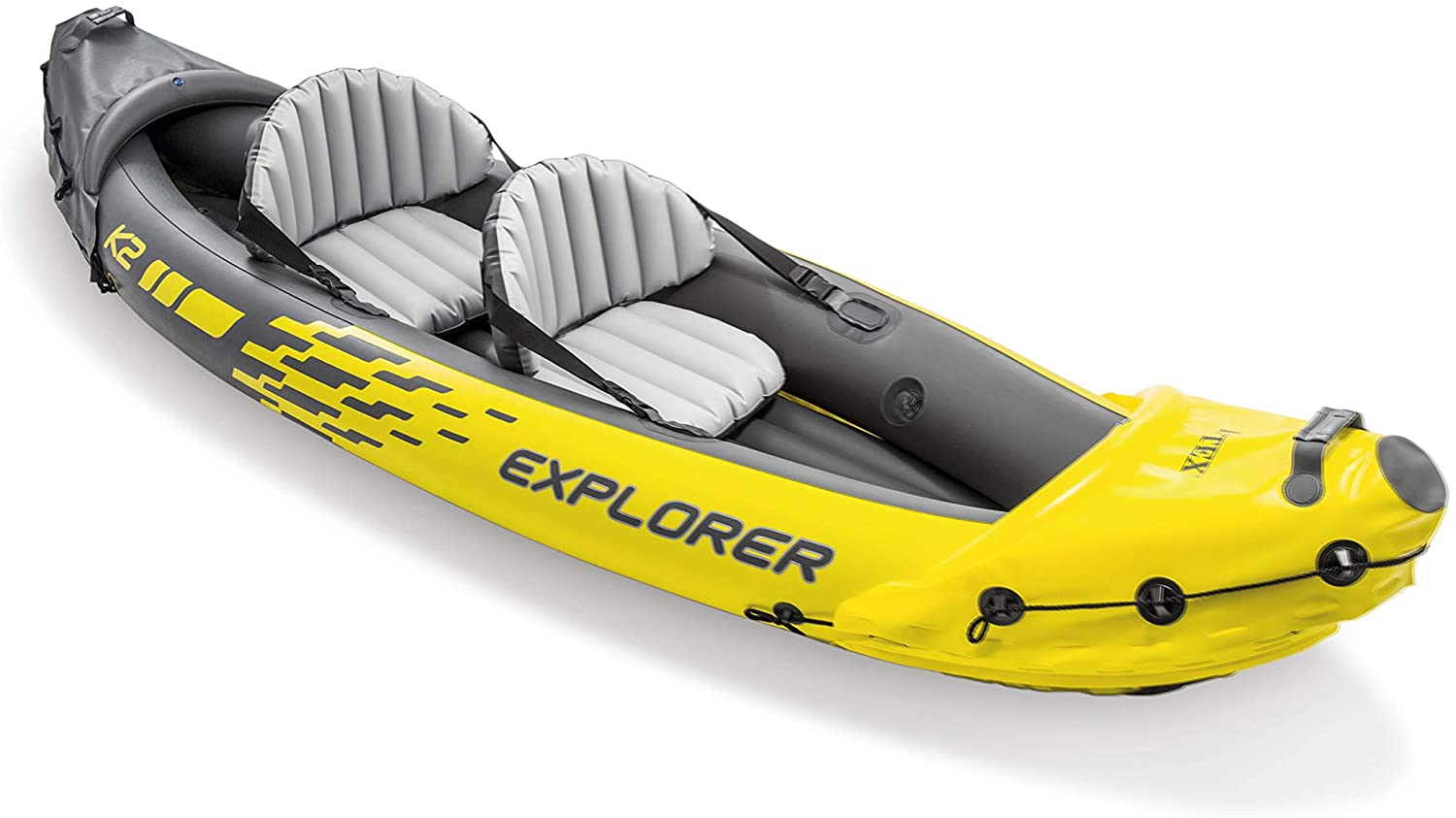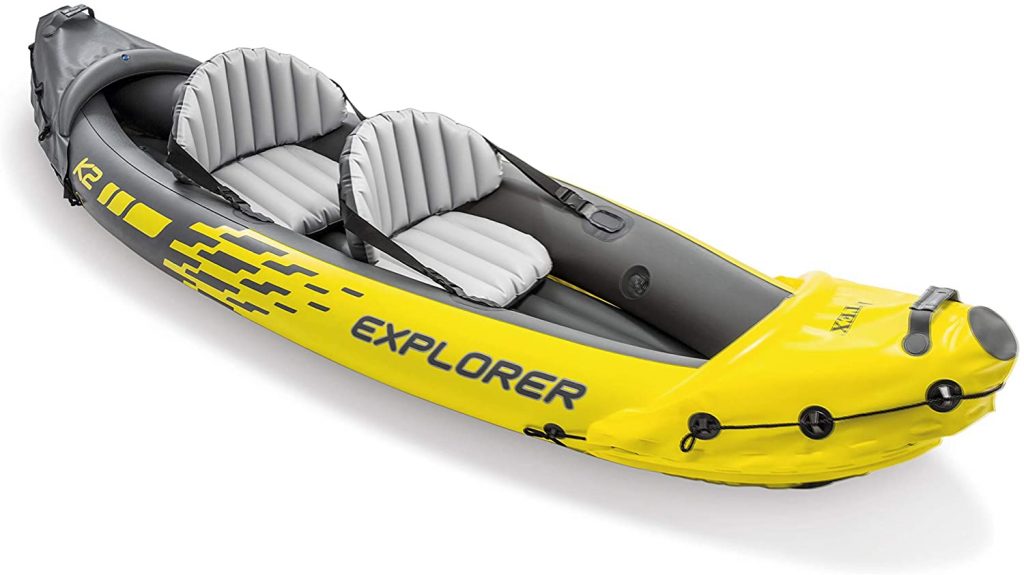 The Intex Explorer K2 is one amazing budget-friendly recreational kayak, you'll be getting fantastic value for money if you opt to buy it. It weighs 37 pounds, has a 400 pounds maximum weight capacity, is 10 feet long, has a width of 36 inches, and is made out of a Rugged Vinyl.
Not only is this kayak an inflatable one, but it is also a tandem kayak. This means that you can take anyone along with you, even your pet. But always remember to never go above its maximum weight capacity of 400 pounds. Since this is an inflatable kayak, moving it around is a breeze, you can quickly deflate it before leaving your house and inflate it right before using it. Each air chamber contains a high-capacity Boston Valve that makes inflating and deflating this kayak a breeze.
Moving on to its construction and stability, the Explorer K2 is constructed out of Rugged Vinyl, the vinyl itself is puncture resistant. This kayak is made to take a beating, its floors are I-Beam floors, which are extra rigid and formidably strong. Plus, there is a removable skeg that you can easily remove for better tracking and handling.
Moreover, it is exceptionally comfortable, as it is quite spacious even for a tandem kayak. Both kayakers will have large amounts of space to move their feet. The seats are inflatable,removable, and come with backrests.
Additionally, it comes with a pump, two paddles, and a carry bag. Also, there are splash guards at its two ends that will protect you and your belongings from being soaked.
When it comes to storage, the Explorer K2 is good, but it doesn't really shine. Your only storage option is putting your bags in the cockpit. Besides, this kayak is best used in small bodies of water; it's not meant for rivers or seas.
What We Like:
Air chambers with Boston Valve
Spacious
Comes with two paddles, pump and carry bag
Splash guards prevent you from getting wet
Budget-friendly
What We Don't Like:
Best used in small water bodies
The only storage option is in the cockpit
Our Verdict
A budget-friendly inflatable tandem kayak like no other. The Explorer K2 is chock-full of amazing features, from the splash guards to the air chambers with Boston Valves, the comfy seats, easy inflation, and deflation. It doesn't disappoint, but take care of the absence of storage hatches, and refrain from using it on large bodies of water.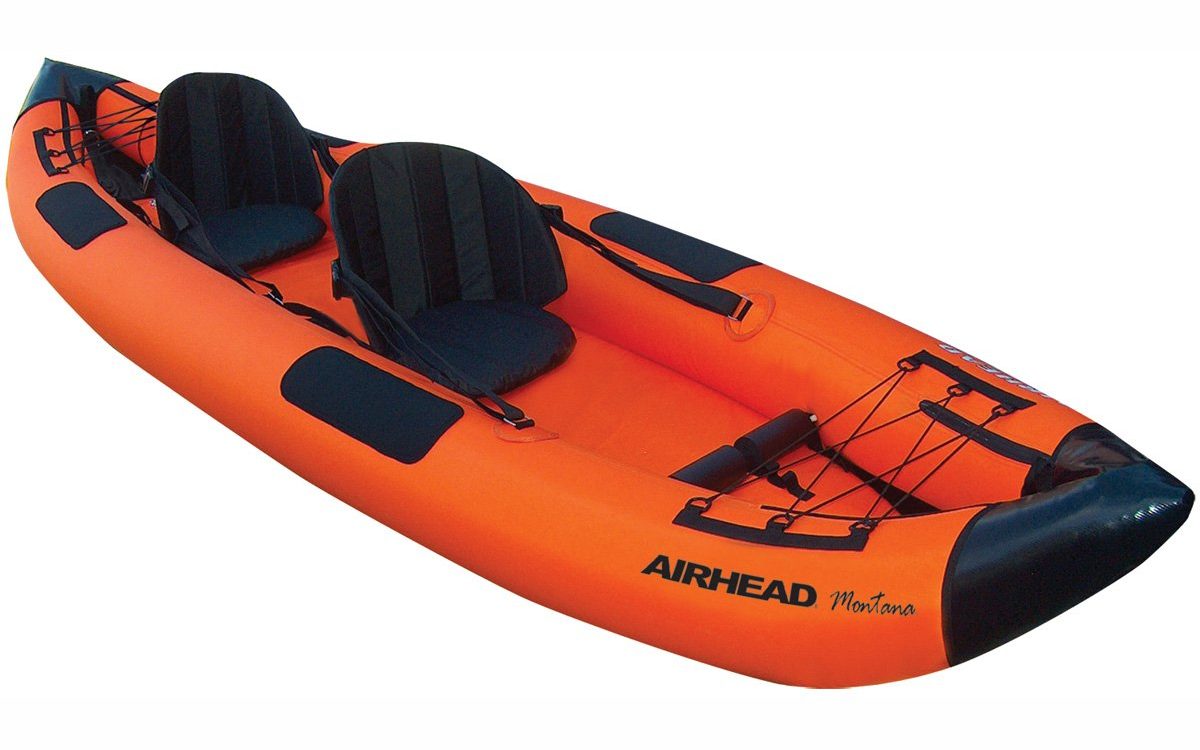 The Airhead Montana is another tandem inflatable kayak. It weighs 36.3 pounds, making it the second lightest kayak on our list, has a 500-pound maximum weight capacity, is 12 feet long, and has a width of 32 inches.
The Airhead Montana's best selling point is its astounding maximum weight capacity. At 500 pounds, it's the largest on our list. This kayak can easily fit two fully grown adults, all their gear and have a few extra pounds to spare. You can even fit three adults inside it without any problems.
This is an inflatable kayak meaning that you can easily deflate or inflate it according to your preferences. It possesses air-chambers made out of nylon, and stainless steel. The build quality of these air chambers is impressive as they don't corrode and will last for a long time. When deflated, it becomes so small that it can fit in your suitcase or your car trunk. Plus, there are two valves that you can use for inflating and deflating the kayak.
The Airhead Montana is pretty durable as it is made from PVC along with coated nylon materials, which grant it immense resistance to UV rays as well as protection from punctures and collisions.
It's pretty comfy as the seats are inflatable and have an adjustable backrest that supports your back. Plus, there are elbow guards on both sides that will protect your elbows from any substantial impacts or hits.
Finally, when it comes to storage, there are six D-rings at the bow and the stern, you can use them to tie your belongings down.
Nonetheless, this kayak is not meant for whitewater use. It's only suitable for lakes, streams, or ponds. It's not intended for use in large water areas like rivers or seas.
What We Like:
500-pound weight capacity
Stainless steel air chambers
Fits in trunk or suitcase
Two valves
Inflatable adjustable seats
Elbow guards
What We Don't Like:
Lacks storage hatch
Not meant for seas or oceans
Our Verdict
If you want a recreational kayak that can carry up to 500 pounds, fits inside your suitcase when deflated, and comes with two valves, then, the Airhead Montana Two Person Inflatable kayak is the one for you. Plus, it boasts stainless steel corrosion-resistant air chambers, and comfortable seats. Unfortunately it lacks a proper storage area and isn't meant to be used in large water areas.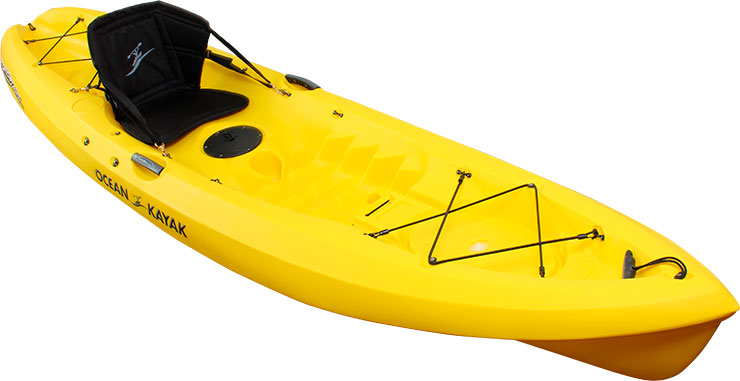 One of the best sit-on-top recreational kayaks, if not the ultimate best is the Ocean Kayak Scrambler 11. It weighs 49 pounds, has a maximum weight capacity of 350 pounds, is 11 feet long, has a width of 29.5 feet, and is made out of Polyethylene.
It performs spectacularly in water due to the famous Rotomolded Tri-Form hull and the long center keel. They provide the kayaker with control over the kayak, and the ability to make sharp turns with relative ease.
The Scrambler 11 is pretty comfortable, the Comfort Plus styled seat allows you to use the kayak all-day without straining your back. Also, the seat can be adjusted into four different positions, and there are multiple footrests that you can use.
Both the bow and the stern have storage spaces. The one in front of the cockpit is a 6-inch dry storage well, where you can store all your valuables from your phone to your keys and wallets. Moreover, there is a cupholder, which is always an appreciated addition, as you'll need it more than you think.
If you worry about your kayak filling up with water, and having to drain it. The Scrambler 11 has got you covered with scupper holes that self-bail. This means that your kayak will never be filled with water.
However, sometimes the hull seems to create a sort of noise that can be bothersome to some users.
What We Like:
Rotomolded Tri-Form hull
Comfort Plus styled seat
Seat adjustable in four positions
Multiple footrests
Storage in bow and stern
What We Don't Like:
The hull makes a bothersome noise
Our Verdict
The Scrambler 11 is one of the best sit-on-top recreational kayaks currently on the market. All due to its fantastic performance, self-draining scupper holes, comfortable seat, footrests, and many more features. But you must know that the hull can sometimes create troublesome noise.


The first and only sit-inside kayak on our list is one amazing recreational kayak, The Sun Dolphin Aruba. This water vessel weighs 40 pounds, has a maximum weight capacity of 250 pounds, is 10 feet long, has a width of 29 inches, and is made from a Rugged UV-stabilized Fortiflex High-Density Polyethylene.
This kayak is pretty affordable, and the features that you'll get in exchange for the money you pay are amazing. Not only is the paddle included, but the paddle holder as well.
Moving on to comfort, this kayak scores in this category, as it's 10 feet length grants you vast amounts of space for you to move your feet. Plus, there are adjustable foot braces that you can set according to your liking. In addition, there are thigh pads on either side. The seat is exceptional; as it's padded, adjusteable, and provides back support. Lastly, the Aruba 10-Foot comes with a pre-installed cupholder.
When it comes to storage, the Aruba 10-Foot has a good but not great storage. There is a compartment for all your gear and food, and a smaller dryer one for all your valuables.
This is a solid kayak that can take a significant beating before starting to show signs of wear and tear. Moreover, it won't lose its colors to the sun due to the Rugged UV-stabilized Fortiflex High-Density Polyethylene that is used in its construction. Furthermore, it's easy to carry, as there are carrying handles for you to use.
Unfortunately, as previously discussed, the Aruba 10 Foot's storage is not that great, the compartment is somewhat small and is only suitable for short water trips. Also, its maximum weight capacity is the least when compared to all the kayaks on our list.
What We Like:
Affordable
Paddle included
Paddle holder
Comfortable adjustable seat
Foot braces
Thigh pads
Cupholder
What We Don't Like:
Low maximum weight capacity
Storage is subpar
Our Verdict
If you are looking for a sit-inside recreational kayak where your lower body will not get wet, you will have a lot of room to move your feet around, then look no further than the Sun Dolphin Aruba 10-Foot. Additionally, it comes with a paddle, a paddle holder, a comfortable seat that supports your back, a cup holder as well as multiple foot braces and thigh pads on either side. But, you must know that it has a maximum weight capacity of only 250 pounds, and its storage is less than other recreational kayaks.
---
How to Pick a Recreational Kayak
Now that we've concluded these fantastic recreational kayaks, it's about time that we became familiar with the most critical elements that we need to consider before picking one.
Type
There are two main types of kayaks, they are: solo and tandem kayaks. Solo kayaks are meant to be controlled by a single person while tandem kayaks can fit two or, in some cases, three people. These two types of kayaks branch into three other sub-types, which are: sit-inside, sit-on-top and inflatable kayaks. We'll talk about each one separately.
Sit-Inside Kayaks
The main difference between sit-inside and sit-on-top kayaks is the seating. With sit-inside kayaks, the cockpit fully encloses your lower body from your toes up to your abdomen. They are the more traditional type of kayaks, that prevent your lower body from becoming wet, but are harder to get in and out of due to the cockpit's design. Also, they require more experienced kayakers.
Sit-On-Top Kayaks
They are more beginner-oriented than sit-inside kayaks as they are more stable and a lot easier to get in and out of. With a sit-on-top kayak, your whole body is free, and you have more space to move around. However, you'll easily get wet.
Inflatable Kayaks
They are about portability, and being able to move them from one place to another with ease. As kayaks are hard to move due to their large size and weight, inflatable kayaks eliminate that problem, as you can deflate them, move them with ease, and then inflate them right before using them. However, they may lack some of the features that are found in the two other types.
Construction and Materials
There are three primary materials used to make a recreational kayak: Composite, Acrylonitrile Butadiene Styrene (ABS), and finally, Polyethylene. Each one is different from the other and impacts the kayak differently.
Composite
Composite materials like carbon fiber and fiberglass are the best type of materials that you can use to make a kayak. These kayaks are like the Ferraris or Lambos of kayaks; they outclass and outperform any other kayak. Moreover, they are more lightweight, meaning better portability. Logically, they are much more expensive.
Acrylonitrile Butadiene Styrene (ABS)
Acrylonitrile Butadiene Styrene or ABS, for short, is a type of plastic. Kayaks made from ABS have higher heat and sunlight resistance and will last for longer times. Plus, they are much easier to repair.
Polyethylene
Many kayaks are made from Polyethylene as it provides them with durability and strength. Also, kayaks made from Polyethylene are cheaper than kayaks made from ABS or Composite materials. However, you mustn't keep them exposed to sunlight for a long time, as it may lead to them breaking down. Your best bet would be to store them in a dry place that is far from sunlight.
Dimensions
Weight, length, width, and weight capacity, these are all crucial factors that you must consider. Starting with weight, the kayak's weight significantly impacts its portability and your ability to move from one place to another. For instance, if you plan on kayaking solo, you should invest in a lightweight kayak to easily move it around by yourself.
Moving to the weight capacity, we can't stress how important it's that you adhere to the maximum weight capacity of your kayak. When calculating for the weight capacity, you should always leave a few spare pounds after combining your weight and the weight of your gear. If you don't adhere to the maximum weight capacity, the results might be catastrophic, like your kayaking breaking down or capsizing a lot.
More width means more stability, a wide recreational kayak will have a much lower chance of capsizing. On the other hand, a narrow kayak means more speed. When it comes to length, longer kayaks tend to have more storage space, which is always needed, while shorter kayaks are more easily controlled and take turns better.
A deep hull means more leg space, which you'll definitely need on longer trips. Also, the wind won't easily distribute a kayak with a shallow depth. Finally, the cockpit size may also vary, a large cockpit means easier entry and exit into the kayak, while a smaller one provides the kayaker with more control and protection.
Portability
Kayaks get moved around a lot, from their storage place to the car, from the car to the lake or pond and vice-versa. So it goes without saying that kayaks must be easily portable. For a kayak to be portable, it needs to be lightweight and have handles to be carried from.
Therefore, if you're planning to kayak alone, then go for a lightweight solo kayak, while if two or more people plan on using the same kayak, you'll need to buy a tandem kayak. Tandem kayaks are much more massive than solo ones, but you'll have help when carrying it, which will make things easier.
One thing to note is that inflatable kayaks have solved this issue, as you can easily inflate and deflate them at will. But, you must always remember to have your air pump ready to go. Also, installing a car rack for your vehicle will ease the transportation of your kayak.
Comfort
Kayaks have to be comfortable, especially if you plan on using them for long periods. Many elements impact a kayak's comfort level, but the most important one is the seat. You must choose a comfortable seat even if it boosts the kayak's cost. For a seat to be comfortable, it has to be adjustable, padded, support your back, and have you sitting in an appropriate position.
Moreover, there are other comfort features like having multiple footpegs, thigh braces, bottle holders. It all comes down to your personal preferences.
Frequently Asked Questions:
What is the Difference Between Recreational, Touring, and Day Touring Kayaks?
Many kayakers tend to mix these three kayaks up. However, there are evident distinctions between each one of them. Starting with recreational kayaks, they are more affordable and cheaper than the other two. Moreover, they are typically made out of either ABS, Composite, or Polyethylene.
Touring kayaks are made for long-distances; they are designed to withstand strong currents and are ideal for use in the sea. They contain featured rudders that can maneuver through strong currents.
On the other hand, day touring kayaks are often used by experienced or seasoned kayakers. They are perfect for rough and straight waters, as they are to be sleeker, faster, and more efficient.
How to Take Care of a Kayak?
Like anything else, a kayak that is well-taken care off will last for longer. And when it comes to kayaks taking care of them splits into two parts; storage and maintenance, plus cleaning. And before discussing both of them, here are some general notes to take care of first:
Keep your kayak away from sunlight
Properly store it
Keep your pets away from the kayak
Storage and Maintenance
You must store your kayak correctly, and there are many ways to do so from using hammocks, slings, or hooks to buying kayak racks or stands. Moreover, when storing your kayak, you must always remember to store it away from the sun, cover it, and allow some air to seep its way under the cover.
Cleaning
Cleaning your kayak is easy and must be done after every use. You can use your hose to rinse your kayak, and if you notice any grime or mold starting to form on your kayak, some mild detergent and a soft brush will do the job.
Final Thoughts
We know that picking a recreational kayak is no easy task, there are many types, features, and sizes to consider. However, we hope that we've eased that purchase to a certain extent, and to wrap-up, here are our recommendations.
The WILDERNESS SYSTEMS Pungo 120 Kayak is the best recreational kayak and our top pick for many reasons. From its durability, to its Kayak Konsole Dashboard System that you can utilize to store your belongings, to its ergonomically designed comfortable seat, it'll satisfy your every need.
If you need a sit-inside kayak where you won't get wet, have ample space to move your feet, l foot and thigh braces, a comfortable seat along with paddle holders, and the paddle as well, then look no further than the Sun Dolphin Aruba 10-Foot Sit-in Kayak.
Finally, if it's a large maximum weight capacity that you're looking after, then the Airhead Montana Two Person Inflatable Kayak definitely fits your bill. It has a 500 pounds maximum weight capacity with stainless steel air chambers, two valves for inflating and deflating, elbow guards, and inflatable adjustable seats. Happy Kayaking!
You Can Also Check: