Kayaking is a great family-friendly water sport. Many parents like to take their children out on kayaking trips on the weekends. However, there comes a time when your child will need a kayak of his/her own.
So, what goes into making a good kayak for kids? The most important thing that it has to possess is stability and safety; as if it flips, the child might panic and have a hard time getting back inside the kayak. Other elements you need to consider are the kayak's length, width, and type.
At A Glance:
Comparison Table:
The 5 Best Kayaks for Kids in 2022
Stick with us throughout this article to know the 5 best kayaks for kids and how to pick them, along with everything else you'll need to know.
1. Intex Challenger K1 Kayak

It s an amazing option for big children, and even for some adults. The Intex Challenger K1 is the only inflatable kayak on our list. It weighs 27 pounds when inflated, has an excellent maximum weight capacity of 220 pounds -largest on our list-. Moreover, it is 9 feet long and has a width of 23 inches.
We begin with its storage, storing this inflatable kayak is a breeze. You can easily deflate it at any given time and store it in your garage. You can also put it while deflated in the back of your minivan, and it won't cause you any trouble.
This is a pretty durable and stable kayak, it is a perfect fit for children who will kayak through calm waters like lakes or ponds. Besides, its cockpit is spacious, made from high-quality materials, and has an I-beam floor. If you still feel uncertain, then knowing that the Intex Challenger K1 is certified by the National Marine Manufacturers Association will surely put your mind at ease. This kayak isn't going to flip or be punctured easily.
One of the best things about this kayak is its price. It's a great budget option for parents who want to buy their kids a kayak, but don't want to break the bank. Moreover, the skeg is removable, and the black/green color scheme will definitely appeal to kids.
Unfortunately, it doesn't contain any draining holes. Therefore having water inside the kayak can be troublesome.
What We Like:
Portable
I-beam floor
Removable skeg
Easy to store
What We Don't Like:
Final Verdict
The Intex Challenger K1 is a spectacular inflatable kayak that is easy to store, has a removable skeg, is easy to control, won't be punctured easily, and is exceptionally stable on water. Sadly, there are no drainage holes.
---
2. Lifetime Youth Wave Kayak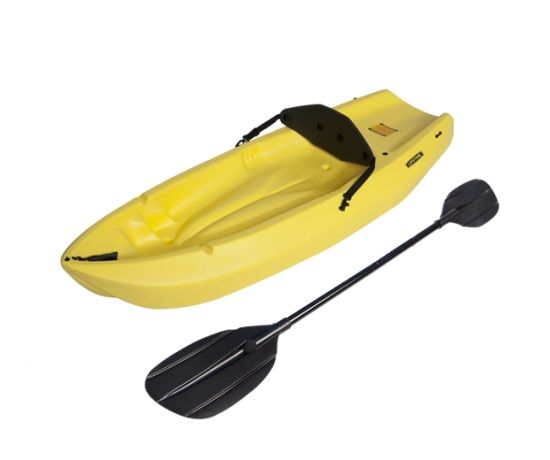 The ultimate kayak for kids, the Lifetime Youth Wave weighs only 18 pounds making it the lightest kayak on our list. It is 6 feet long, 24 inches wide, and has a maximum weight capacity of 130 pounds.
Its stability and maneuverability are off the charts due to its width and length in addition to its twin fin design. With such a design, your kid will no longer have to worry about capsizing or kayak wobbling.
Also, if your child likes to cut his kayaking trips short by taking a dip in the water, the Lifetime Youth has gone on ahead and solved the issue of getting back inside the kayak. A rear swim-up step is added, allowing your child to have much easier time getting back inside their kayak.
If you and your child worry about the kayak filling up with water easily, you no longer have to. There are self-draining scupper holes that will empty the kayak from any excess water automatically.
Moreover, it is extremely portable, it can fit in the back of your car or SUV, and you can carry it from the car to the water or vice versa effortlessly using the molded finger handles. In addition, it comes with a paddle included as well as a paddle cradle for your kid to store his/her paddle when not using it.
This kayak is made to last, meaning that it grows with your kids, and the multiple molded-in footrests play a pivotal role in that point. As your child grows, he/she will be able to adjust the footrest to their liking, thus majorly contributing in their comfort.
Unfortunately, it is not suitable for long water excursions, due to the seat being uncomfortable.
What We Like:
Twin fin design makes it stable
Paddle included
Paddle cradle
Rear swim-up step
Multiple built-in footrests
What We Don't Like:
Not suitable for long water trips
Final Verdict
If you need a kayak that is stable on water, can grow with your children as it has multiple footrests, then look no further than the Lifetime Youth Wave. Also, it comes with the paddle included so you won't have to worry about buying it separately, but it might be tiring on long water trips.
---
3. Sun Dolphin Bali Kayak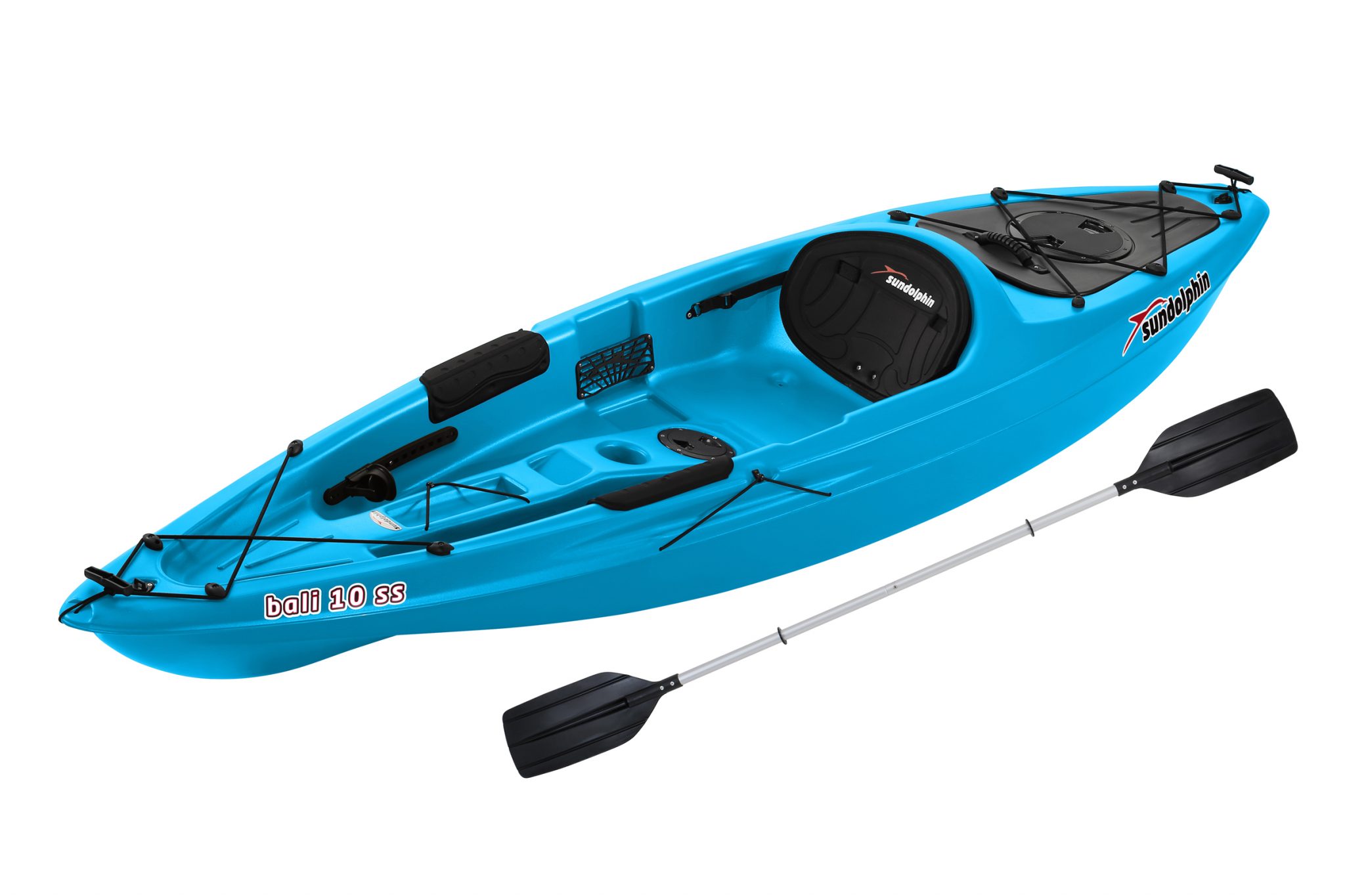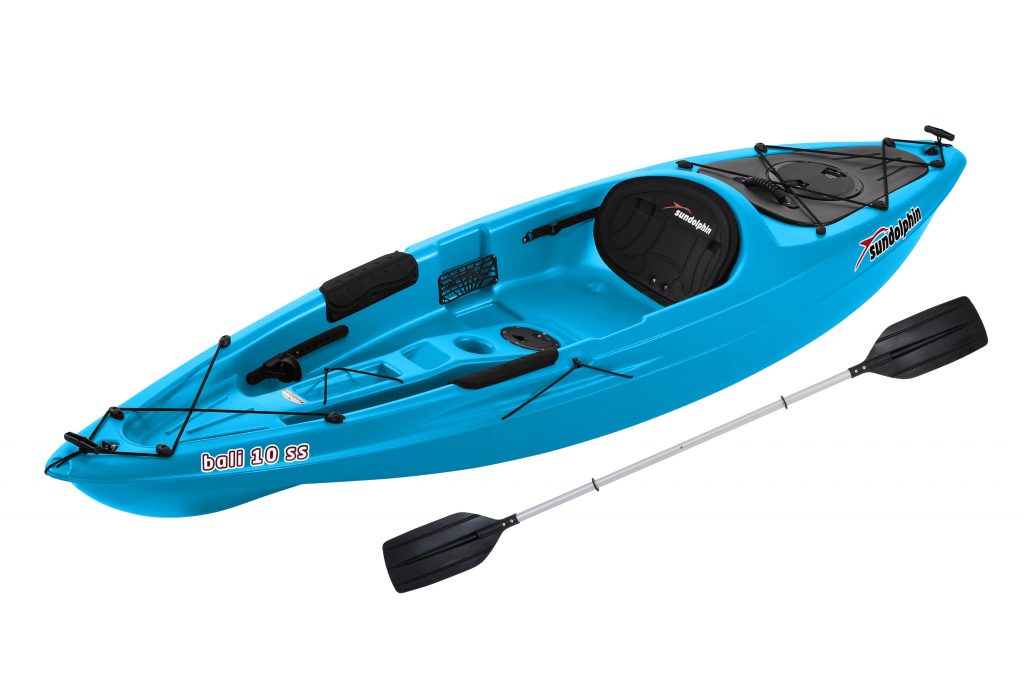 The Sun Dolphin Bali weighs 20 pounds, has a length of 6 feet, and boasts a width of 24 inches. It also comes in three vibrant colors, Making it a fantastic kayak for your kid.
This sit-on-top kayak is easy to use and get inside. Paddling this vessel is easy and requires minimal effort, which makes it perfect for little kids. It is stable on water, so stable that it might never capsize. Even if it does, the cockpit's open style makes getting inside a piece of cake.
The cockpit is wide and roomy, with a lot of space for your kid's legs to wiggle around. The wide cockpit means that this kayak will grow with your kids. It is suitable for kids as young as four years old, and can be used by kids who are eight or nine years old. However, you must adhere to the minimum and maximum weight restrictions to keep your child safe.
The Sun Dolphin Bali is extremely durable; it is made from Rugged UV-Stabilized Fortiflex High-Density Polyethylene. Polyethylene is the best material used when it comes to kayak making, as it ensures the kayak's long life span, by improving its ability to withstand collisions.
However, one downside to this kayak is that it does not possess any towing system. You can't, for instance, tie a rope to it to tow it in emergency cases.
What We Like:
Three colors
Roomy cockpit
Made from Polyethylene
Grows with your child
What We Don't Like:
Final Verdict
The Sun Dolphin Bali has many amazing features from its astonishing durability to the roomy cockpit. It is easy to get inside and outside of, and comes in three different colors. The only downside to this kayak is the absence of a towing system.
---
4. Emotion Sparky Youth Kayak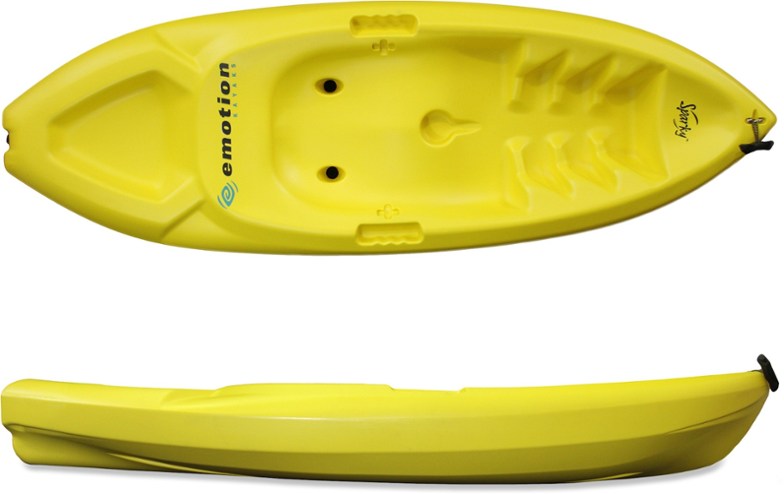 The Emotion Sparky Youth is an excellent kayak for kids. It weighs 22 pounds, is 6 feet long, has a width of 24 inches, and a maximum weight capacity of 140 pounds.
Its best selling point is its storage capacity, as it's one of the only kayaks for kids that comes with a rear storage area along with a built-in cupholder. These two will come in real handy as you put your child's sealed drink like their water or their OJ in the cup holder, so they can use it whenever they need it. On the other hand, the storage compartment is perfect for your child's toys, like their action figures, dolls, and even their snacks.
This kayak is pretty durable, it is made from high-quality UV-Resistant Polyethylene. The Polyethylene ensures that the kayak can withstand blunts from rocks, docks, and even falling in the driveway.
The Emotion Sparky will grow with your child as it has four footrests and a spacious cockpit. Your child can use whichever footrest he/she feels most comfortable in. Additionally, there are self-bailing scupper holes that will remove any water that enters the kayak automatically.
Due to its lightweight, this water vessel moves like a breeze. Plus there are toggle handles on both the front and the rear.
However, it doesn't come with a paddle, so you'll have to buy it separately.
What We Like:
Rear storage area
Cupholders
Durable
Self-bailing scupper holes
Toggle handles on the rear and the front
What We Don't Like:
Need to purchase the paddle separately
Final Verdict
The Emotion Sparky Youth is a spacious kayak for your little ones. It has self-bailing scupper holes that will drain any excess water, is made from Polythene which makes it durable and robust, is stable on the water, has rear storage, cup holders, and toggle handles. But, you'll have to buy the paddle on its own as it's not included.
---
5. Perception Hi Five Kayak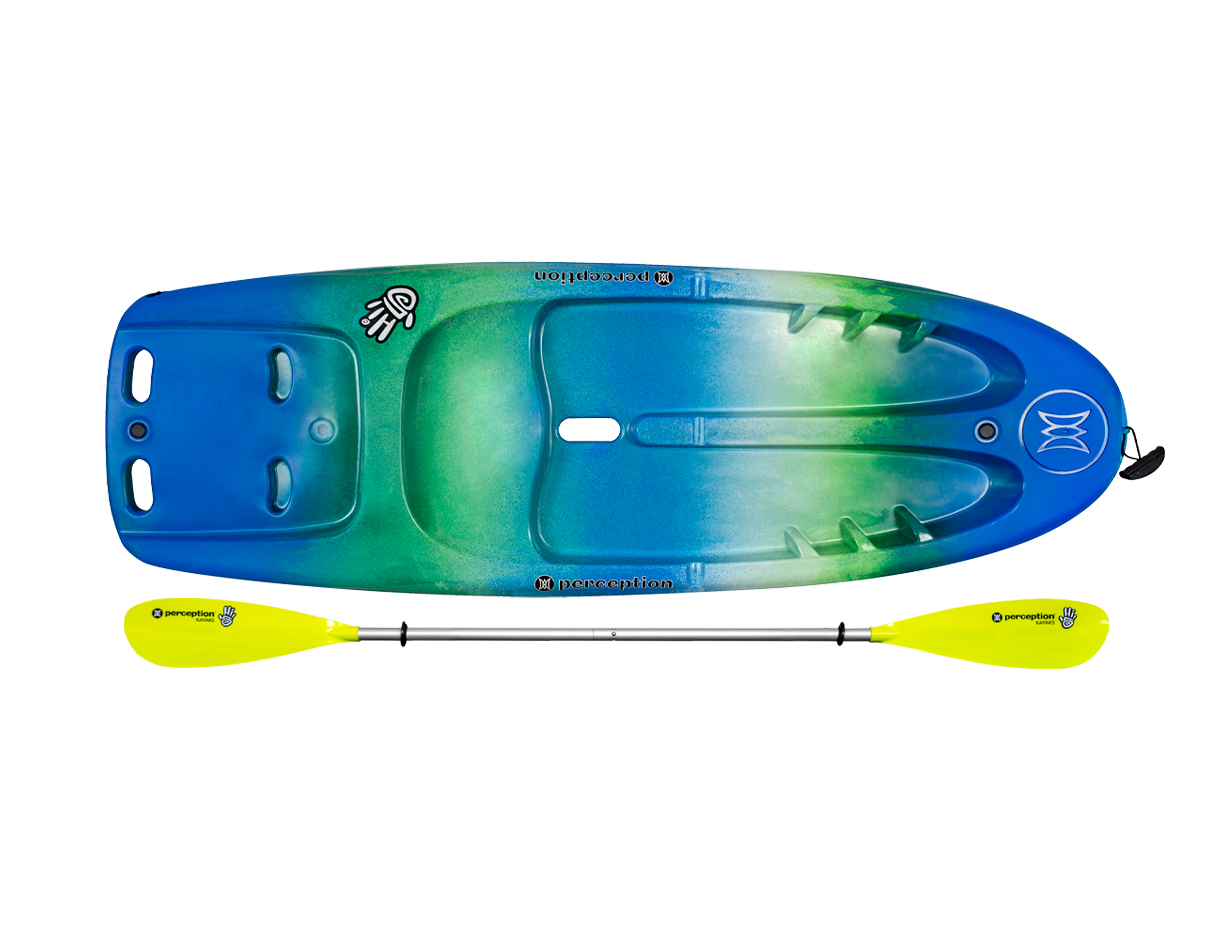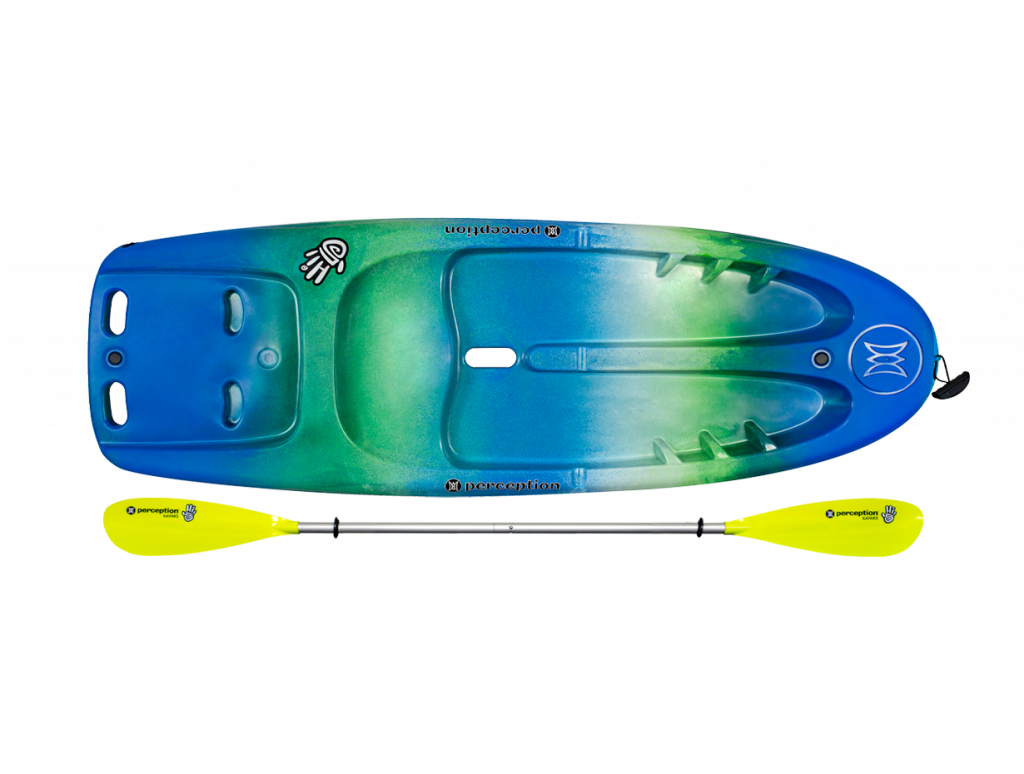 Not only is the Perception Hi Five a kayak, but it can be used for paddle boarding as well. It weighs 21 pounds, is 6 feet long, has a width of 24 inches and a maximum weight capacity of 120 pounds.
It's chock full of exquisite features like the large storage area at its rear, you can put all your kid's belongings and more into the kayak's rear. Additionally, there is a mounted cup holder, which is always an appreciated addition.
The Perception Hi Five is quite durable as it is made from a single-piece molded design. Nevertheless, this doesn't only increase its durability but gives a significant boost to its stability and maneuverability as well.
Moving on, it has an integrated towing system. You can use it anytime and tow your kid if they get tired or decide to doze off. Moreover, the paddle is also included.
Finally, it doesn't contain a drainage hole, which is important for a kid's kayak.
What We Like:
Integrated towing system
Rear storage area
Can be used for paddleboarding
What We Don't Like:
Final Verdict
The Perception Hi Five is an excellent kayak for your kid; it has a towing system, rear storage, and can be used for paddleboarding as well. However, the absence of a drainage hole really takes away from this fantastic kayak.
---
Factors to Consider Before Buying a Kayak for Kids
Now that we've finished these excellent kayaks, it's time that we know how to buy them, as well as all the factors that we need to take into consideration before buying them.
Stability
Stability is one of the most important if not the most crucial feature that a kayak for kids must-have. The norm is that the wider the kayak, the more stable it is, and that is definitely true. Nonetheless, other elements will impact a kayak's stability.
The chines of a kayak make it extremely stable. Chines are fins that jut out of the kayak to increase its stability. Kids' kayaks have reverse chines. Also, the addition of a skeg increases the kayak's overall stability.
Types
There are three main types of kayaks; they are: sit-inside, sit-on-top and inflatable kayaks. Each type is different from the other, but the most suited type for kids is sit-on-top kayaks. We'll now discuss each one of them separately.
Sit-On-Top
In this type of kayak, you sit inside the cockpit, and your lower body is not covered by anything. They are suitable for children as they are easy to get inside and outside, and they have better seats. Their seats are more comfortable and usually have the stadium-style seats that provide excellent support for your kid's back.
Sit-Inside
The significant difference between this type of kayak and the previous one is that in sit-inside kayaks, you'll have to insert your lower body under the cockpit. Your whole lower body, regularly up to your abdomen, will be covered. Getting inside and outside this cockpit is hard for most adults, let alone children.
Inflatable
Pretty self-explanatory. They are kayaks that you can easily inflate and deflate according to your needs. They are easy to move around from one place to another, but lack some of the two other types' features.
Tow Rope
This is a fantastic feature that will truly prove its worth. For instance, let's say that your child faces any problem or starts to throw a fit and decides to stop kayaking. You will begin to gradually drift apart, no matter how weak the current is.
That's where a tow rope comes in handy, you can at any time pull your child out of danger's way, or even pull them to shore. Therefore, you must tie a 20 or even 30 feet rope to your child's kayak.
Width, Length, and Weight
These three come hand in hand and are extremely important. As we previously mentioned, the more width a kayak possesses, the more stable it will be. And another thing you have to consider is that kids have shorter arms and a narrow kayak -even if more maneuverable- will prevent them from moving their arms freely, as their elbows will always hit the side of the kayak.
When it comes to length, kids won't need a lengthy kayak. The shorter the kayak, the easier it is to control and maneuver. Moreover, they are easier to carry and transport. A kayak that is between 6 to 8 feet will be perfect for your kid.
You must adhere to the maximum and minimum weight capacities of the kayak. As, if your child is below the minimum weight capacity, you will have to wait for him/her to grow before using that kayak, as they will not be able to control the kayak properly.
While if they are above the maximum weight capacity, it will be better to find a kayak with a higher weight capacity.
Paddle Holders
They are very convenient, as a lot of the time, your kid's arms will tire of paddling and will need to rest for some time. The best and only place to store paddles on a kayak is the paddle holders.
Sharp Edges
Kayaks sometimes have sharp edges on both their interior and exterior, and kids might be easily harmed by these sharp edges. So whenever you get a kayak for your kid, the first thing you should do is thoroughly scan the kayak to find any spikes or rough edges, they are mostly found in the rails, corners, and seams.
Frequently Asked Questions:
How to Kayak with Kids?
Kayaking with your kids can be tough, but with the right training, it will be a breeze. Your thought process should be to use a tandem kayak at first, where you can teach your kids everything they will need to know from controlling the kayak to the paddling motion.
Then you should move your kid to his/her own kayak and let them use it on their own, but in a small pond or lake. This would be the perfect time to teach them about capsizing and getting back inside a kayak. It is vital that you remain close and always keep an eye over your kid whenever he/she is kayaking.
Where Can You Kayak With Your Kids?
The short answer is in lakes or ponds. You most definitely need to avoid anything that has even a slight faint of a strong current like oceans and wide rivers. Whenever your child starts to develop their confidence and skills, you can then move to larger water terrains like large ponds.
Final Words
Now that we've concluded our article, we hope that we have enlightened you and helped you come to a better decision of your wants and needs. So without further ado, let's get down to some recommendations.
If you want the best kayak for kids, then go for the Lifetime Youth Wave. It has a rear swim-up step, multiple footrests, a twin fin design that increases its stability, and a paddle cradle.
While if you want a kayak that provides you with multiple colors -three to choose from- will grow with your child and has a roomy cockpit, then the Sun Dolphin Bali is the kayak for you kid.
Finally, if you want a budget pick with many features like a removable skeg, I-beam floors, and portability, then the inflatable Intex Challenger K1 is the kayak of your dreams.
You Can Also Check: