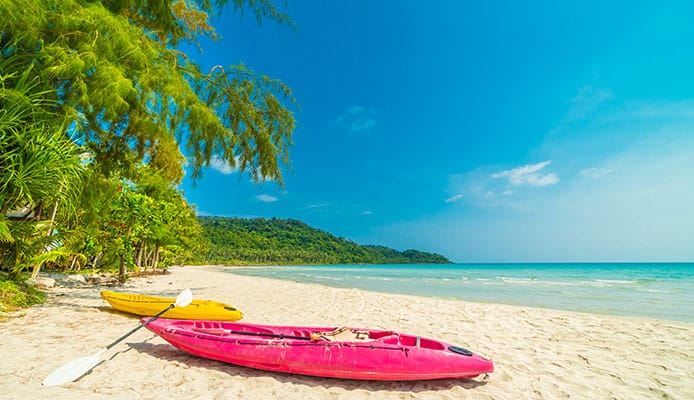 Choosing a good lightweight kayak does not sound difficult; however, upon embarking on selecting just one, you may fall victim to confusion.
Choosing the one you want depends on many factors like what you want it for, whether you need large storage or not, whether you need one person or more, etc. Since we know this can be confusing, we have made you this informative article.
After reading what we have to say about the best lightweight kayaks on the market, you will easily be able to make the right choice.
At a Glance:
Our Top Picks:
The 7 Best Lightweight Kayaks in 2022
1. Sun Dolphin Aruba 10-Foot Sit-in Kayak – Best Overall

This is one of the best lightweight recreational kayaks. It is an excellent durable 10-foot kayak as it is made of a rugged UV-stabilized Fortiflex High-Density Polyethylene. At 31 pounds, this is the kayak you should go for if you need a lightweight kayak that would allow you to carry it solo effortlessly.
Besides, this lightweight sit-in kayak is very much stable thanks to its compact width and length and its V-shaped hull that gives you the ability to paddle the kayak through choppy waters. I believe that I don't even have to say how easily maneuverable Sun Dolphin Aruba is!
Since comfort is an essential aspect that people consider before buying a kayak, this baby helps you find the most comfort in its body. It features a vast and large cockpit so that you don't feel crowded. It also has a padded seat that you can adjust to the position that best suits you. This seat has high back support as well, so that your back does not hurt you at all. If you think that this is all it has to offer concerning comfort, you are wrong! This baby also has thigh support and adjustable foot braces.
What would comfort do if you can't find a place to store your gear, right! I am glad to tell you that the manufacturers of Sun Dolphin Aruba did not forget this. You can bring whatever you need with you thanks to its storage hatch and shock cord deck rigging. This allows you to use this product for fishing, snorkeling, picnics, or even for spending a romantic date in a comfy boat (how impressive would that be, huh!)
Moreover, this baby (that has a maximum capacity of 250 pounds) provides you with a bottle holder, so that you can keep it with you instead of having to stop paddling in order to search for it in one of your bags. There are also paddle holders, so you can rest assured that they won't float away from you. That way, you won't worry about whether or not they will fit in the kayak.
Pros:
Compact
Comfortable
High back support
Thigh support
Padded seats
Foot braces
Features a storage hatch
Cons:
Suitable for one person only
Bottom Line
If you are looking for a kayak that offers stability and comfort, you should, without a doubt, get this one. It even comes in 7 amazing colors, so that it suits everybody's taste.
---
2. Sea Eagle 370 Pro – Runner Up

This is the inflatable kayak of choice that can take three people, and can also work great with one person paddling. It can take up to 650 pounds, so do not worry about fitting three people and your gear into it. For comfort and in order to provide you with more space, its seats are inflatable and removable.
Moreover, this is the kayak to use in difficult water as it is suitable for class III whitewater difficulty. The two skegs it has on its bottom do not only improve its speed and tracking but are also great for protecting it from pebbles, shells, and rocks.
Does the water that keeps getting sprayed on you prevent you from enjoying your trip? Yeah, we hate it too. The good news is that this babe comes with a spray skirt that you can put over the end of the boat to minimize the spray from getting on you and getting all your gear wet as well.
Moreover, this baby's transportation is a breeze. You will deflate it in 15 minutes, fold it, and put it into a handy carry bag with a convenient handy strap. If you want to inflate it again, you can do so in 8 minutes using the foot pump that comes with it.
It is suitable for long-distance trips thanks to the fact that it is sun and salt resistant, and to its durable body that is made from rugged PolyKrylar. It is even durable enough to withstand dog paws and claws, which is an excellent plus for animal lovers.
Pros:
Removable seats
Inflatable
Easy inflating and deflating
Two skegs for speed and tracking
Cons:
Some reports say that it is unstable
Bottom Line
This is the one to buy if you want to take your pet with you on one of your trips. It is also suitable if you love having company, but still prefer the peace of solo kayaking from time to time.
---
3. Ocean Kayak Malibu – Four-Way Adjustable Seats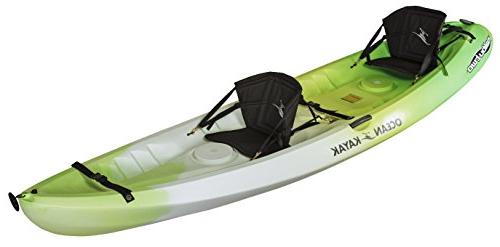 This lightweight recreational kayak is suitable for anyone who needs a kayak that can fit one or two persons as it comes with two seats. What is so great about it is that it allows you to remove the seats and put them in the bow, stern, or in the middle of the boat. This way, you can get a lot of room and comfort no matter how many people are on the kayak. Note, though, that it can only take up to 425 pounds.
You do not need to worry about the extent of comfort it provides you as it comes with a pair of Comfort Plus seats that give you four-way adjustability so that you can find the perfect seating position for you. They also prevent slipping over-molded seats. Besides, they have patented overlapping footwells that allow paddlers to settle and brace their feet comfortably.
To get on and off of the kayak easily, there is an open sit-on-top hull on this 12-foot kayak. It also has a pair of molded-in handles and a skid plate that ensures that the bottom of the kayak stays safe even if it hits rocks.
Pros:
Two adjustable seat positions
Can be used in different weather conditions
Footwells
Multi-purpose
Safe
Stable
Lifetime warranty on the hull
Cons:
Bottom Line
This is an excellent lightweight kayak to get if you are looking for a model that can take more than one person, yet easy to solo paddle.
---
4. Sevylor Quikpak K1 – Unique Backpack Design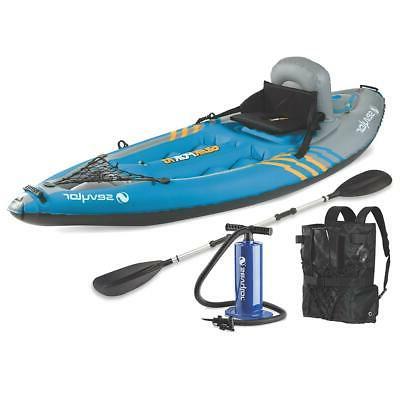 If you need a one-person compact kayak that allows you to spend the most time you can in the water, Sevylor Quikpak K1 offers this with its 5-minute setup as it lets you get out of the water faster. You can safely use this baby in a lake due to its 21-gauge PVC construction.
You can easily carry it thanks to its unique backpack design that also turns into a comfortable seat. Speaking of comfort, Sevylor Quikpak K1 has a multi-position footrest, so that you can find the most comfortable position to enjoy your trip. If you hate not being able to lean your back, this kayak has literally got your back with its backrest.
Moreover, its tarpaulin bottom protects you and the kayak from punctures. However, since "better safe than sorry" is really important in these situations, this baby has multiple air chambers to ensure that you stay on top of the water in case one gets punctured. It also has an Airtight System that ensures the kayak does not leak.
To make inflation and deflation easier for you, the double lock valves use two locking points. There is also a secure storage area that provides you with a place to store items with bungees. What is also nice about it is that it has a 400-pound weight capacity.
Pros:
5-minute set up
Easy to carry
Compact
Tarpaulin bottom
The double Lock valves use two locking points
Cons:
Might leak air
Not all chambers might be able to hold air
Bottom Line
This is a beautiful kayak if you need one that can take one person only beside the items you may carry with you. It is durable and safe.
---
5. Intex Challenger K1 Kayak – Vast Storage Space

This is a cheap, lightweight kayak that is only 27.2 pounds. It can take up to 220 pounds, which is not bad, given that it supports only one person. It also has a large nose that provides vast storage space with a mesh net that covers the area. It is better to put your gear into a bag lest it gets wet since this is a mesh cargo bay.
For comfort, this UV-resistant baby provides you with great support as it has a backrest so that you can relax and enjoy your ride. It also comes with a comfortable and spacious cockpit that gives you free room to move around. You can also have peace of mind whenever you are using it because of its durable body that is made from durable welded vinyl, and that is heavy duty and puncture-resistant.
It is very stable, and the inflatable I beam floors enhance its stability. It has double-welded seams that are stronger than glue that is traditionally used. The coast guard also approves it. There is a grab line on both ends, as well.
Pros:
Spacious cockpit
Has a backrest
UV resistant
Hand-pump and paddle included
Double-welded seams
Cons:
Bottom Line
If you need a one-person kayak that is comfortable and has a lot of storage space, this is your one.
---
6. Intex Excursion Pro Kayak – Best Fishing Kayak

This is a two-person fishing kayak that can take up to 400 pounds! Think about how much gear you can grab with you! It is super tough and durable thanks to its laminate PVC with polyester core. It is also unlikely to get damaged from sunlight or abrasion.
Moreover, it is really rigid and stable due to its high-pressure inflation. Speaking of which, do not worry about having to exert so much effort when you are inflating it because with its high-pressure spring-loaded valves, you can easily inflate and deflate it.
To add to its beauty, it features a carry bag, a repair patch, and a mounting bracket that you can adjust and remove whenever you want. This bracket helps with the additional accessories like the GPS System, fish finders, swivel fishing rod holders, and their likes.
There is an available place for storage in the bow and stern that has stainless steel rings so that you can tie down dry bags.
This babe comes with two adjustable bucket seats, two removable skews so that you can use it in deep and shallow water, two integrated recessed fishing rod holders, and two floor-mounted footrests.
Pros:
Great for fishing
Rigid and stable
Sun and salt resistant
Features an adjustable and removable mounting bracket
Cons:
Bottom Line
Enjoy fishing with the Intex Excursion Pro Kayak. You will love its comfy seats, storage, and stability.
---
7. Lifetime Youth Wave Kids Kayak – Best For Kids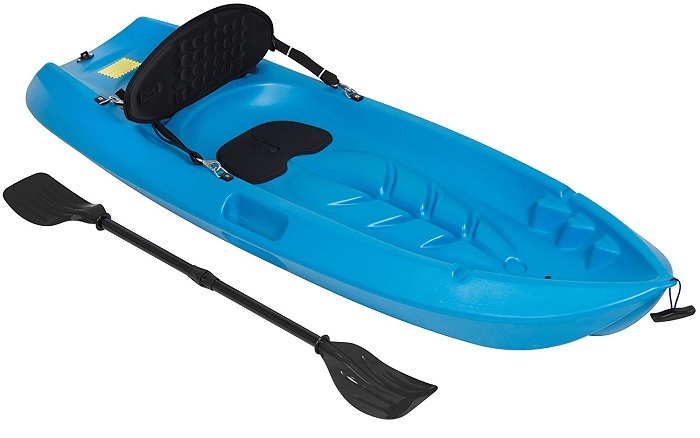 If you are looking for a kayak for your kids (5 years old and above), look no further than the impressive Lifetime Youth Wave Kids Kayak. This baby is not just great for its low price; it is also excellent because it is very lightweight (18 pounds) to the extent that your kids can carry it by themselves. Moreover, there are molded finger handles to make it easier for children to transport, so that they don't have an excuse to make you carry them instead (finally, right!).
For enhanced stability and safety, this baby has a reverse chine, an ergonomic cockpit design, and twin fins. The twin fins help your kids with tracking and surf riding so that they can enjoy a very safe trip.
Regarding your kids' comfort, this baby has multiple footrest positions so that your kids of all sizes sit comfortably. Also, if your kids slip or jump from the kayak, the sloped end will allow them to swim right into the boat. To make sure that your kids paddle won't float away, there is a molded paddle cradle.
You can rest assured that this baby will last for years thanks to its high-density Polyethylene, UV-Protection, and impact resistance. It can take up to 130 pounds.
Pros:
Compact
Safe
Comfortable
Kids can easily carry it
Offers high stability
Cons:
There is a slight chance that it may crack
Bottom Line
This 6-foot kayak is the best lightweight model for kids. The safety and comfort it provides them with are worth every penny. Speaking of money, it is a pretty cheap kayak given what it offers in return.
---
What To Look For When Buying a Lightweight Kayak
Weight capacity
The weight capacity is the weight of the boat, your gear, and you. This is an essential feature if you will haul gear for a multi-day tour. If the boat is overloaded, it will sit too low in the water, and paddling will be a tough job.
Length
Longer boats offer better cruising efficiency and offer more storage space for overnight touring gear. However, shorter ones turn more efficiently. You may not notice the extra few inches, but you will definitely enjoy the extra length of two or more feet.
Depth
Even though shallow kayaks are less affected by wind, you must get a deep kayak if you have long legs so that you can sit comfortably. The deep kayak also offers more storage space, of course.
Width
If you need stability, go for wider kayaks; however, if speed is your priority, get narrower models.
Seats
You must get a kayak that has a comfortable seat. However, I should tell you that they cost more, but sitting in a seat that is ergonomically suited to you is worth your every penny.
Moreover, if you are going to sit in there for long hours, it is better if you have an adjustable seat that is more padded.
Cockpit size
A small cockpit gives you more control and protection in rough weather, but a larger one makes it easier for you to get in and out of the boat.
Hatches
Hatches provide access to interior storage areas. Touring boats have two, while others have one.
What Are The Types of Kayaks?
Sit-on-Top Kayak
This type is suitable for lakes and causal uses. If you are claustrophobic, get this one instead, of course. It also has enough storage space for an overnight trip. Take care, though, that you will get wet, so do not get into it unless the water is warm. They are heavier than sit-in kayaks.
Sit-in Kayak
Unlike the sit-on-top models, those ones are comfortable to use in cold water. They are mostly great for paddling with a destination in mind since they are fast and track straight. They give their riders the ability to add a spray skirt; however, if you get totally swamped, you will need a bilge pump. There is something you need to know though, if you get a traditional narrow sit-in kayak, you have to learn how to do a wet exit.
This type gives you more control because your body that is inside the kayak helps with that. Consequently, maneuvering it is more fun.
Frequently Asked Question:
How Much Does a Kayak Weigh?
It usually weighs between 20 to 80 pounds.
Is There a Weight Limit For Kayaking?
Yes. The weight limit (also called weight capacity) is a certain number that each manufacturer assigns to its designs. The number is an indicator to help paddlers know which kayak is more suitable to them, and the type and quantity that they could bring on their kayak.
What Length of a Kayak Do I Need?
Shorter kayaks (8-9 feet) allow for easier maneuverability. They are also great for kids and beginners. It also offers excellent stability, and you can turn it quickly on narrower rivers.
The 10-11 foot kayaks also offer stability, but they provide you with more storage space. At 12-13 feet, you will have a stable kayak that is easy to maneuver and has a lot of storage space.
A 14-foot kayak is suitable for two paddlers. It is excellent for day touring and camping as they are speedy and have vast storage space.
Final Thoughts
Hopefully, choosing the best lightweight kayak is not so difficult anymore. In case you are still hesitant, I will help you with some recommendations.
If you need a kayak for your children, go for Lifetime Youth Wave Kids Kayak. Its extreme lightness, along with its stability and safety, renders it a desirable choice for parents.
In case you enjoy fishing and need a kayak that will give you the ability to have more fun fishing, Intex Excursion Pro Kayak is the one. It comes with accessories that make your fishing trips a breeze. It even takes up to 400 pounds, giving you the ability to take up as much fishing gear as you would like.
Want to enjoy some company on your trips? Go for Sea Eagle 370 Pro or Ocean Kayak Malibu, for they are perfect in that matter.
You Can Also Check: