Kayaks have been a water sports stable for a long time, they are used on long adventurous trips and are perfect for fishing. Kayakers have always been looking to improve their kayaks to make their lives more comfortable, and they have really come a long way, from having motors to being pedalled by feet to having USB ports. Today we will be discussing motorized kayaks and how to choose the ideal one.
Motorized kayaks are the new thing right, they make your kayaking a lot easier, as they increase your kayak speed, free your hands from the draining act of continuous paddling, along with various other benefits.
So, what makes a good motorized kayak, and how to choose one? That's what we'll discuss today as we will tell you every element you need to consider before buying a motorized kayak in addition to our top picks for the best motorized kayak.
List of The Best Motorized Kayaks:
The 5 Best Motorized Kayaks in 2023
1. Wilderness Systems Radar 115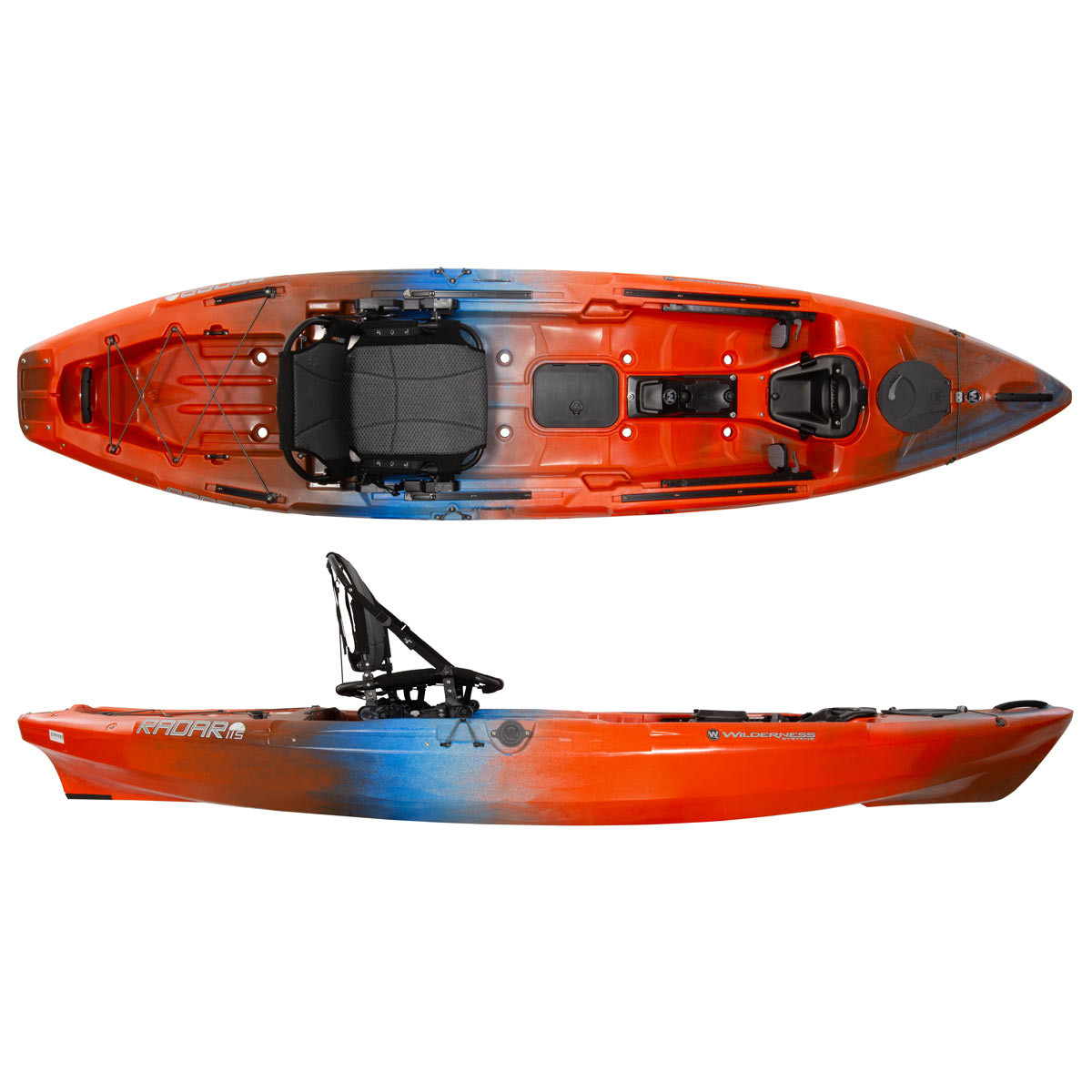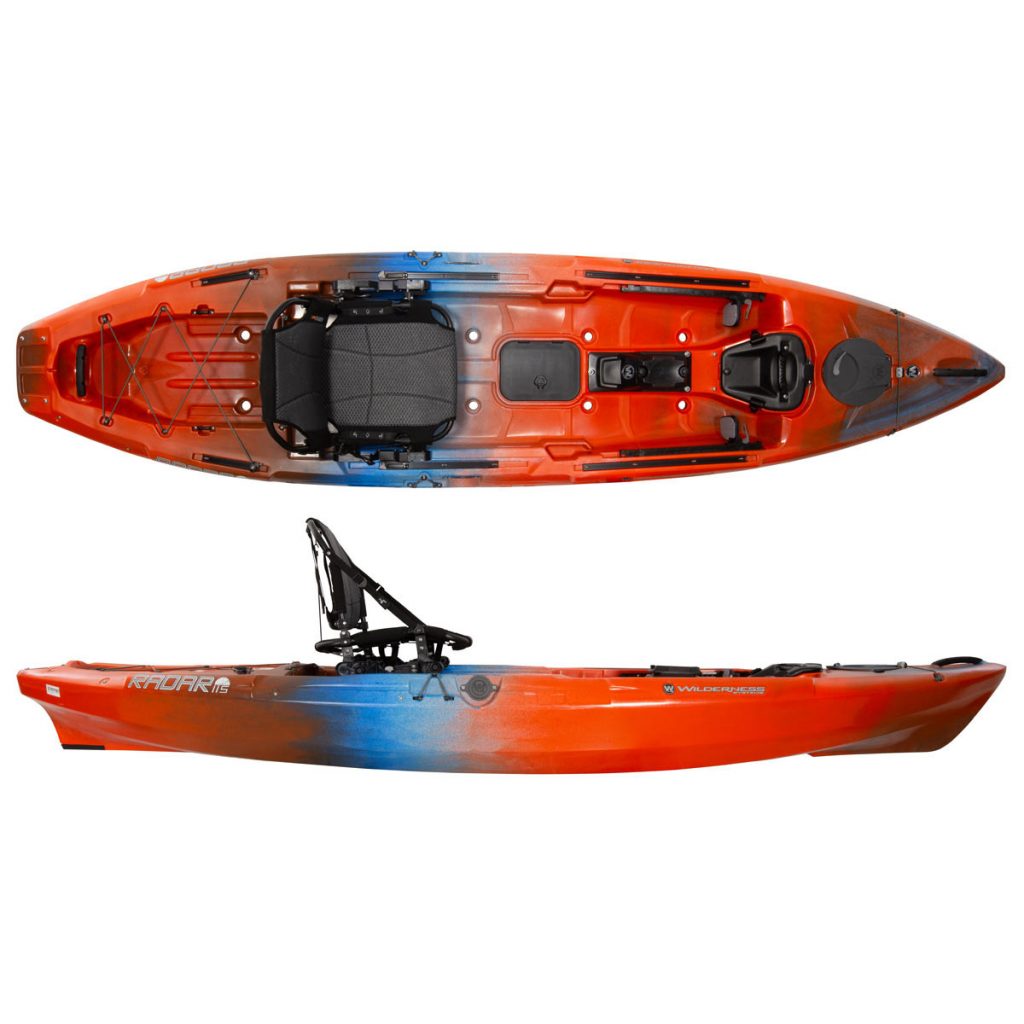 The best motorized kayak and our top pick for many reasons, the Wilderness Systems Radar 115 packs a strong punch and has many amazing features. It weighs 85 pounds and has an incredible 450 pounds maximum weight capacity.
It is compatible with both the Wilderness' Helix HD motor drive system as well as the patent-pending Helix PD pedal drive system. This makes the kayak immensely versatile as all you have to do is to lift one system and lock the other one in.
The Helix HD motor -the most powerful and potent system of the two- comes with a German-engineered Torqueedo technology, that enables the kayak to reach a speed of 6mph and has a range of 20 miles. It also has a lithium-ion battery that can last for up to 8 hours. The Helix Hd motor has a remote display that shows you your remaining battery life, expected range as well as your current speed.
The Helix MD's throttle provides you with different speeds either in forward or reverse so that you can enjoy the hands-free fishing. Moreover, if you plan on going on very long expeditions that will outlive your battery life, you can purchase a solar charger that will keep you moving in the afternoon and at night.
The Wilderness Systems Radar 115 is a blend of strength, durability, and performance. It has an outstanding shelf life. The radar utilizes a S.M.A.R.T Hull Technolgy, it is a specific type of technology that increases the kayak's overall stability.
What We Like:
S.M.A.R.T Hull technology
Pedal Drive and Helix HD Motor
6 mph
Throttle has battery, range and speed display
What We Don't Like:
Final Verdict
The Wilderness Systems Radar 115 is a motorized kayak like no other, it is chock-full of features from having both a strong motor and pedal system to utilizing the S.M.A.R.T Hull technology to increase the kayak's stability and many more.
---
2. Classic Accessories Colorado XT Inflatable Pontoon Boat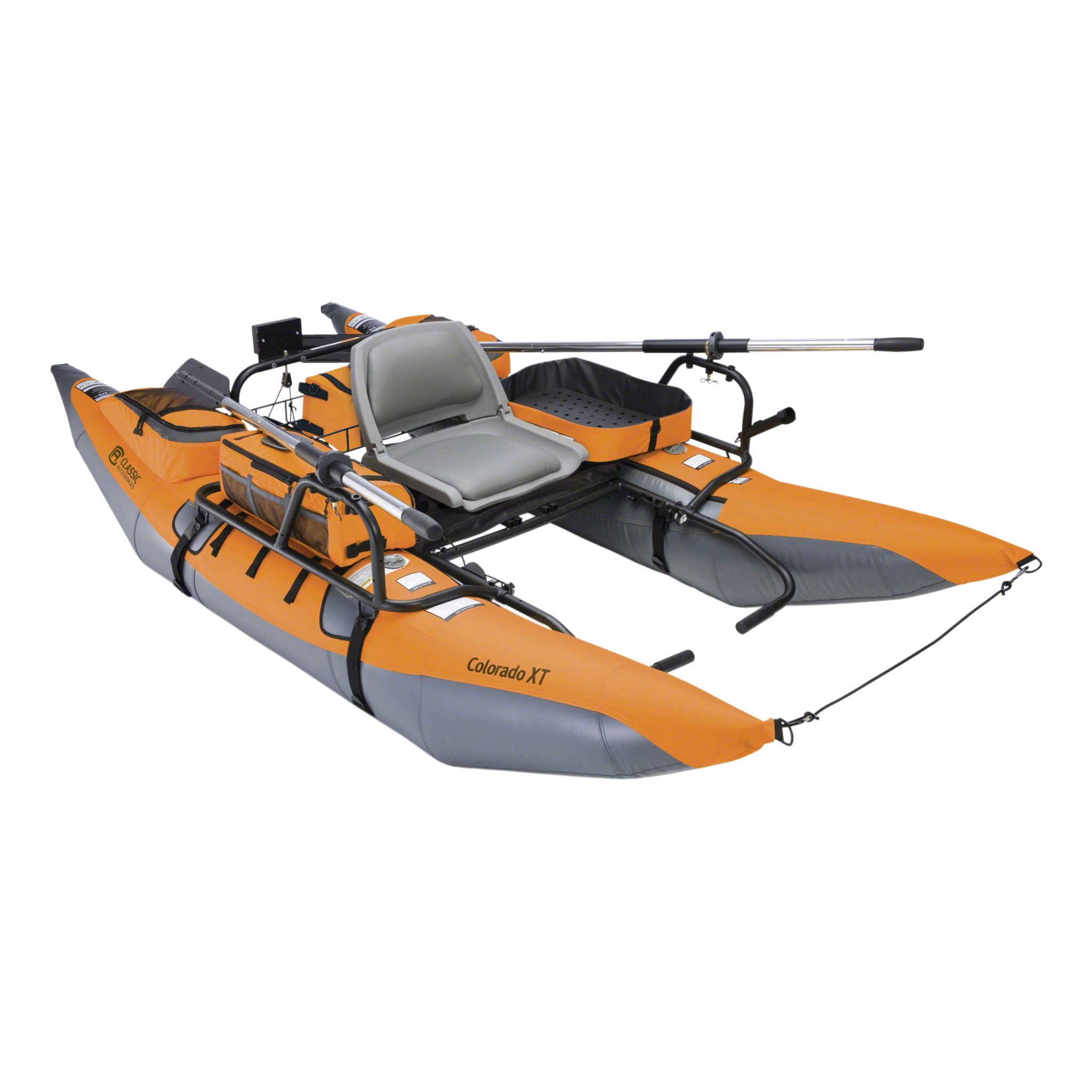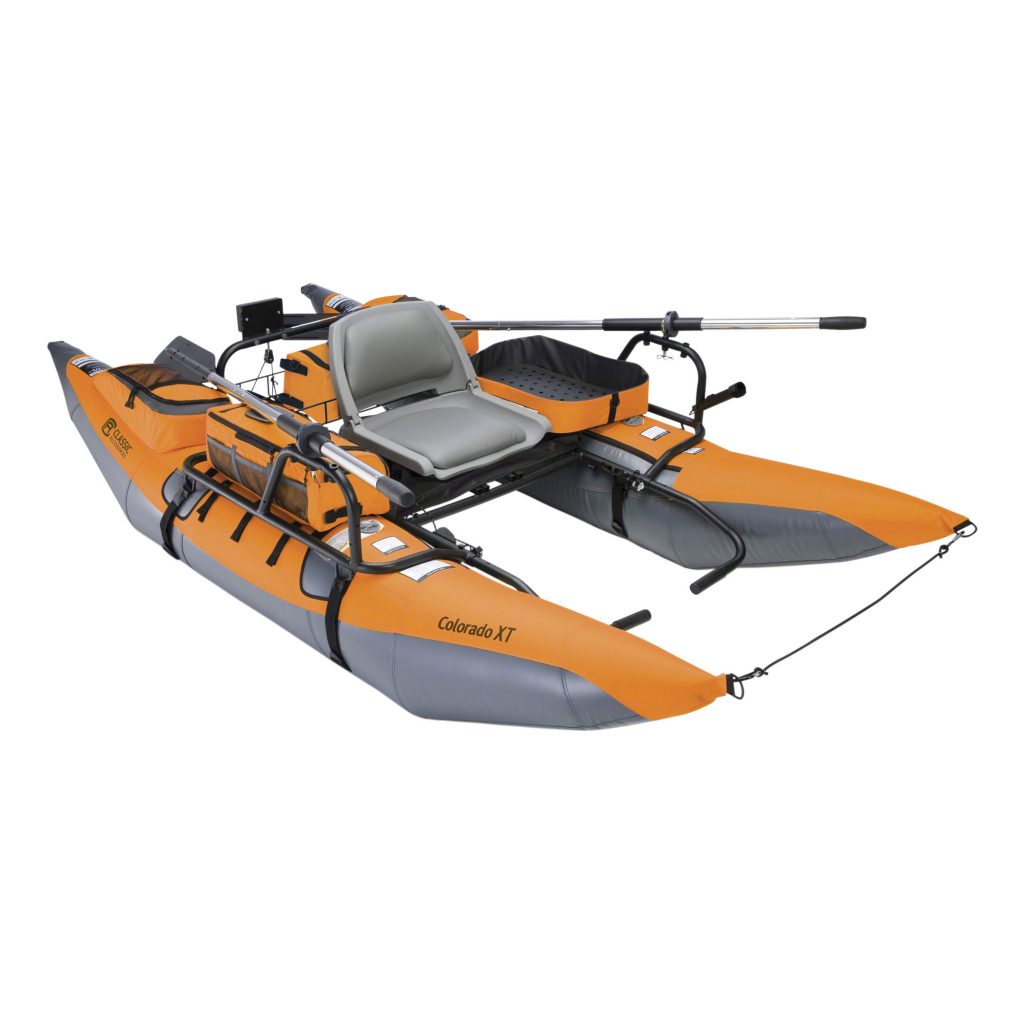 The Classic Accessories Colorado XT is a fantastic motorized boat. Even though the motor is not included, the plethora of features next to its compatibility with most motors on the market is more than enough.
First of all, it comes in two different colours: pumpkin, and sage or grey. Moreover, it has ample storage in a multitude of forms like rear storage platforms, 20 pockets and 2 insulated drink holders. Additionally, there are side pockets that can be removed and turned into a gear bag.
It has two oars included that you can use in case you decide not to install a motor. Furthermore, there is an anchor system with a fillable mesh bag, it allows you to use both the pulley controls and the cleat. You can also mount rod holders on six different positions.
Moving on, since the Classic Accessories Colorado XT is inflatable, moving it from one place to another is easy, as you can deflate it at will. Also, it comes with a wheel that helps you to move it when inflated.
However, its downside is the fact that it is not a kayak and that it doesn't come with an included motor, so you'll have to purchase one separately and install it.
What We Like:
Compatible with almost all motors on the market
Leg rest
Ample amount of storage
Inflatable
Has a wheel for moving it
What We Don't Like:
Final Verdict
We know that the Classic Accessories Colorado XT Inflatable is not a kayak and doesn't have an integrated motor. Still, all these other features make it into one fantastic motorized boat from its compatibility with many motors to its vast storing spaces, the footrest, rod holder and the wheel to move it.
---
3. Fissot Newest 1-Person Folding Canoe Fishing Jet Plastic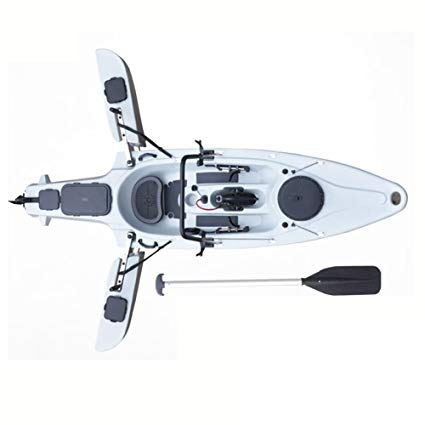 A fantastic single person paddle that has an enormous maximum weight capacity of 552 pounds. The Fissot Newest 1-Person Folding Canoe is one of the best motorized-vessels on the market.
It comes with an amazing rudder control system that allows you to control and navigate it easily. Also, there are retractable stabilizers on both sides that strongly increase its stability and buoyancy, especially when standing up.
Speaking about standing up, there is a bar that you can grab and even lean on when standing, It will hold your weight and make you feel safe and secure.
Another thing that this kayak can proudly boast is its storage capacity. The waterproof hatch at the front of the kayak eliminates every concern that you might have ever had concerning your belongings. Drenched stuff is a thing of the past with this motorized vessel.
Finally, you have the power centre right in the middle as it allows you to gain superior control as well as the speed controller.
However, one downside that this model has will have to be its single rod holder which is not enough.
What We Like:
552 pounds weight capacity
Speed controller
Waterproof storage
Rudder system
Retractable stabilizers on both sides
What We Don't Like:
Final Verdict
The Fissot Newest 1-Person Folding Canoe Fishing Jet Plastic is a fantastic one-person vessel, it has everything anyone would ever need from excellent stability due to the retractable stabilizers, to an effective rudder system, speed controller and a bar to hold on when standing.
---
4. Hobie 2020 Mirage Outback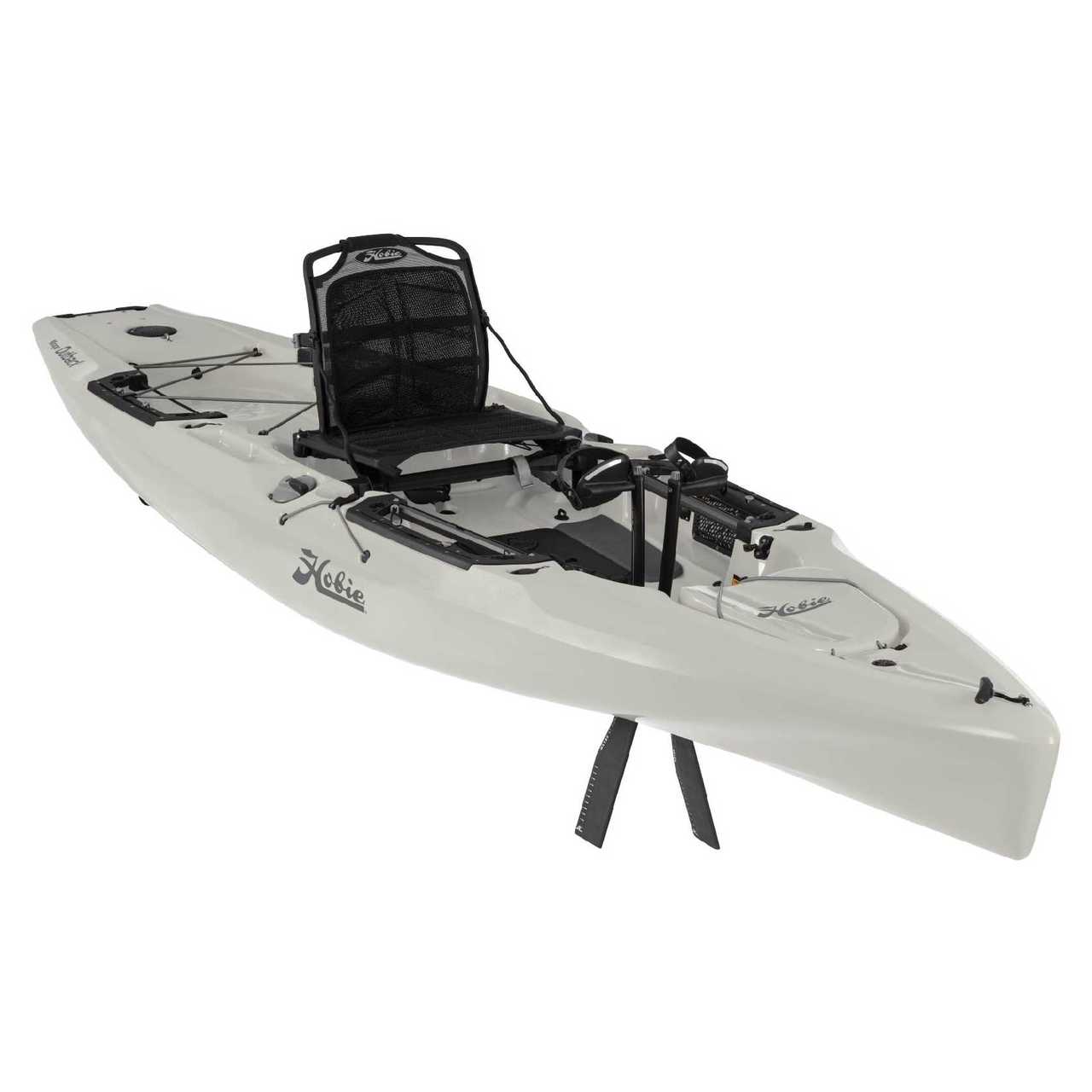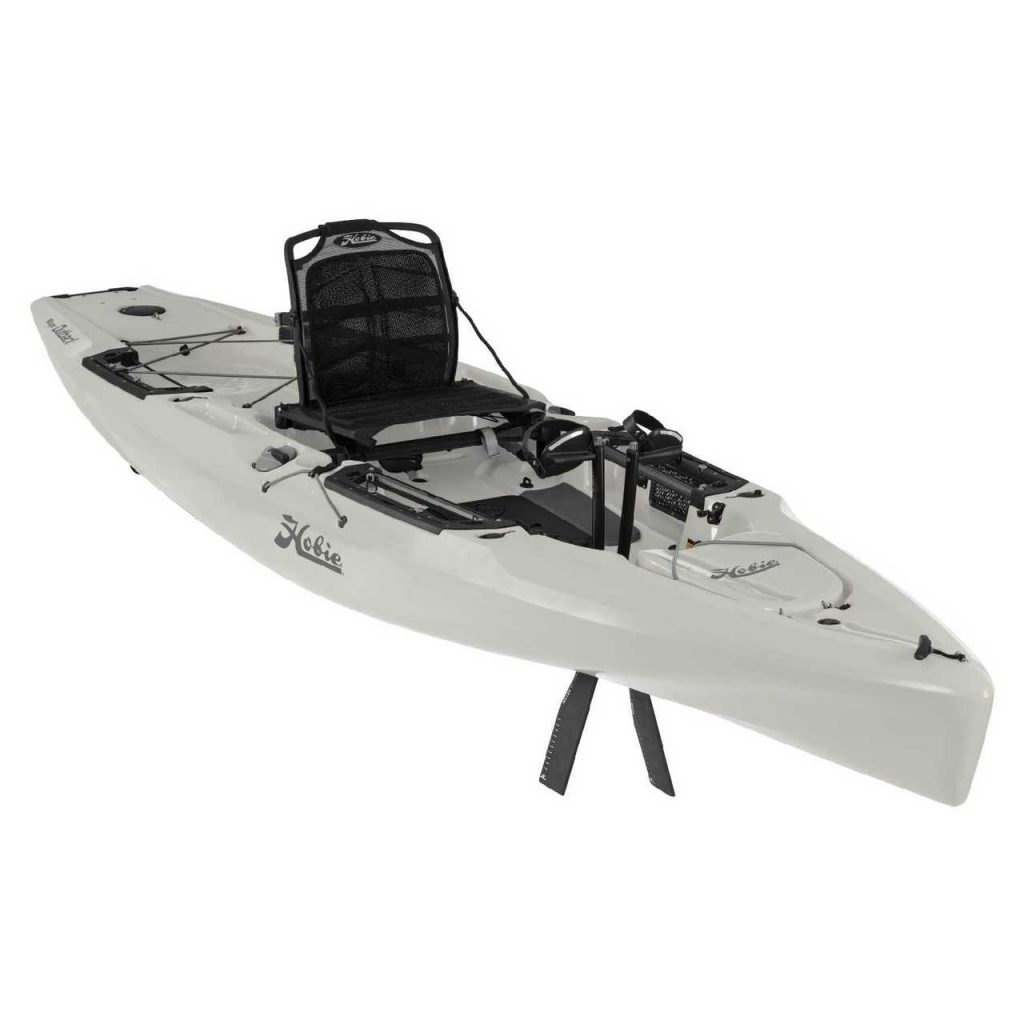 The Hobie 2020 Mirage Outback is all about power, and it is one of the strongest motorized kayaks on the market. Powered by the MirageDrive 180 with ARC Cranks + Turbo Fins, it is capable of withstanding and traversing strong currents with relative ease. Moreover, it has a kick up rudder system that enables you to navigate shallow waters with ease.
One of the best things about this motorized kayak is its seat, it has a vantage CTW chair, it is extremely comfortable, padded, and can accommodate users with a large physique. Also, the Hobie 2020 Mirage Outback has a spacious standing desk that functions as a vantage point and makes sight fishing very easy.
There are four-rod holders which are perfect for all those long fishing trips, and capacious storage in the form of H-Track storage pockets. Also, it has dual steering handles that make steering and controlling the whole thing feel like a dream.
Finally, this is an expensive kayak, it falls on the high end of the spectrum as you might have to go over budget to buy the Hobie 2020 Mirage Outback.
What We Like:
MirageDrive 180
Kickup rudder system
Adjustable Vantage CTW chair
Standing desk
What We Don't Like:
Final Verdict
The Hobie 2020 Mirage Outback is an immensely powerful motorized kayak, it has the MirageDrive 180 and a kickup rudder system for shallow waters, one of the most comfortable kayak seats ever in the Vantage CTW chair as well as four-rod holders. But, to buy it you'll have to contend with its high price.
---
5. Perception Pescador Pilot 12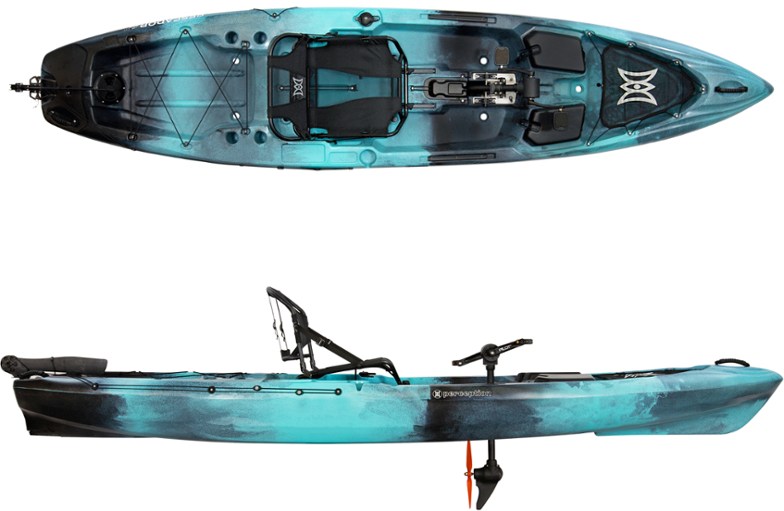 Another excellent motorized motor, the Perception Pescador Pilot 12 is made for flat water surfaces, slow-moving rivers or even lakes and ponds. It is a stable, calm kayak for anyone who wants to have a soothing and calming kayaking experience.
One of its highlights is its stability, this kayak is so stable that you can hold your drink without fear of losing it. It has a Pilot Drive Propeller system that you can use to propel it effortlessly both forward or in reverse. The Pilot Drive system allows you to control the rudder single-handedly, which is great as you can always use an extra hand. Plus, it does not generate much noise.
Moving to storage, there is more than enough of that on the Perception Pescador Pilot 12. You have storage options in both the rear and the back. They can hold any and everything from coolers to bait, reel plus your personal belongings.
The only downside to this product is the fact that it is only suitable for calm waters and will not be able to make its way through a strong and mighty current.
What We Like:
Stable
Pilot Drive Propeller
Rudder can be controlled with one hand
Storage compartments in rear and back
What We Don't Like:
Not suitable for strong currents
Final Verdict
The Perception Pescador Pilot 12 is an excellent pick for kayakers who want a to-the-point kayak that they can effortlessly control on calm trips. You can control the rudder single-handedly while using the Pilot Drive Propeller system and storing your belongings in either the rear or the front of the kayak. However, as we previously mentioned, it is a kayak made for calm waters and ponds not strong currents.
---
How to Pick a Motorized Kayak
Now that we've finished discussing these wonderful motorized kayaks, it is time to know the most important factors that we need to base our purchase upon. These factors range from the kayak's motor design, its batter, storage and its type. So without further ado, let's get to these factors.
Power System
The design of a motorized kayak is different from a regular one in two aspects, the motor itself and the tiller system. We will be discussing both of them thoroughly.
We start with the motors, which come in two forms: electric and gas. Both types can be either built-in or mounted.
Motors
Electric
Electric or trolling motors are better for the environment; they don't cause pollution, nor will they scare off the fish, or damage the body of the water. However, they move in slow motion as they imitate the average speed of a paddler.
Gas
Moving on to gas kayaks, they are a lot faster than their counterparts, but are harmful to the environment due to the emissions that come from them. Also, they might leak, which is extremely dangerous to the aquatic life. Finally, they can easily scare away any fish in the area because of their loud noise.
As we previously discussed, motors can either be one of two things, either built-in or mounted motors. Many kayakers prefer mounted motors as they are placed on top of the kayaks and have less chance of being damaged by any underwater weeds.
On the other hand, integrated motors are at the bottom of the kayak, making them much prone to being damaged. Their movement can be constricted by anything that is underwater. That is why it is always best to have a paddle with you on the kayak in case of emergency.
Tiller
The tiller system is similar to the electric motor, they can make your kayak navigate the waters with ease. However, their rudders can be easily tangled by any wood, plastic, or seaweed. If that happens, freeing the rudders will be no easy task, especially under the water's surface.
Type
Moving on from the motor and the tiller system, we come to the kayak itself, there are three main types of kayak. They are sit-inside kayaks, sit-on-top kayaks, and inflatable kayaks, each type has its advantages, disadvantages, and uses.
Don't forget that all kayaks fall under two main categories, they are solo and tandem kayaks. Solo kayaks are kayaks made for a single person only, they can one fit one person, and that same person can entirely steer and move them.
On the other hand, tandem kayaks can fit two people or in some cases three, they are perfect for a lovely time in the lake with your friends, or even for a two-person fishing trip.
Sit-inside Kayaks
We begin with sit-inside kayaks, for you to sit inside them, you will have to insert yourself into the cockpit, which means that the body area from your feet to about your lower stomach, will be fully covered by the cockpit and the kayak itself. They protect your lower body from becoming wet, but you will feel a bit constricted as moving around while on them is no easy task to do.
Sit-on-top Kayaks
Now we have sit-on-top kayaks, the main difference between these kayaks and sit-inside kayaks is your seating position. Here you're seated on top of the kayak with nothing to cover your lower body. This means that you will become drenched, especially in strong currents.
Nonetheless, sit-on-top kayaks provide you with much-needed movement freedom, since the hull is exposed you can easily move about your kayak. The seats can even be adjusted or in some cases entirely removed. This makes it perfect for fishing.
The last and final type of kayaks is inflatable kayaks, they have an open hull just like sit-on-top kayaks. Their most important feature is the fact that you can inflate and deflate them, making them the most portable type of kayaks and the easiest to move around.
Storage
Having storage is crucial on a kayak, let alone a motorized one that you will be on for prolonged times. Before purchasing your kayak, you will need to decide what you will be using it for, and based on that you can decide on the type of storage that you'll need.
Dry-Hatch System
Some motorized kayaks have a dry hatch, this hatch is waterproof meaning that any item placed inside it will not be impacted by water, even if your kayak capsizes. These hatches are large enough to contain food, medicine, and all your gear. Some kayaks even have rod holders and storage places for your bait and reels just for those fishing trips.
Bungee System
Another type of storage is the bungee system that will keep all your gear safe and secure; however, it is not recommended for long and bumpy rides, especially the ones that take place through strong currents.
Comfort
Comfort is a key aspect that a kayak must possess. A kayak's comfort is associated with one thing; its seat. For a kayak's seat to be comfortable, there are a few characteristics that it must possess.
It needs to be padded and designed with high-grade back-support. Having a supported and relaxed back on long trips is essential as if your back is not comfortable, you will experience pain on the long run. The second point is the design, a stadium-seat design is the best one to go for.
The seat must also be adjustable, especially if you are going on long fishing trips, where you'll have to stand up and move around your kayak. Some kayaks even go the extra mile with having seats that can be entirely removed to give you all that much-needed extra leg space.
Also, you can buy adjustable footrests separately and install it in your kayak. They will help in making your feet more relaxed and stabilized.
Protection and Safety
Motorized kayaks need to have their motors protected, and if you have an electric motor, then it needs to have an excellent trolling motor battery. Plus, whenever you are not using your kayak, then you must cover the motor with an outboard motor cover which protects it from dust and everything else.
Nevertheless, you need to protect your whole kayak, not just the motor. The best way of doing that would be to buy a kayak storage rack and hoist. They are used to store and protect your kayak safely and comfortably which will increase your kayak's shelf life.
Moving on from the kayak, we speak about/to the kayaker, as your safety must always be your top priority. That is why we have included some safety precautions that you should always do:
Always wear your life vest
Know the weather beforehand
Always have a companion or a friend
Have your phone charged at all times
Never go into waters that you do not know
Frequently Asked Questions:
Can I Add a Motor to my Regular Kayak?
The short answer to this question is yes. However, there are a lot of details that go into that process, the most general and logical one is that you need to make sure that your kayak will be compatible with the motor.
Do I Need a License for a Motorized Kayak?
Yes, you definitely do. The U.S.A requires all owners of motorized vehicles or boats to have a license to operate them.
First, you will need to register your motorized kayak, and you will need to keep it's registration card on you all the time, as a wildlife resource office can stop you on the water at any time.
Final Thoughts
We know that choosing a motorized kayak is no easy task. Nonetheless, we hope that we have provided you with more knowledge and insight on how to pick the best motorized kayak for you.
If you want the absolute best, then go for the Wilderness Systems Radar 115 with its S.M.A.R.T Hull technology that increases its stability and Pedal Drive and Helix HD Motor that you can alternate between with ease.
The Fissot Newest 1-Person Folding Canoe Fishing Jet Plastic is an excellent choice if you want a one-person kayak where you have something to hold on to while standing.
Finally, if you want a kayak that is made for calm waters, has an excellent pedalling system and is stable like no other, then the Perception Pescador Pilot 12 is the vessel that you've always dreamt of.
You Can Also Check: