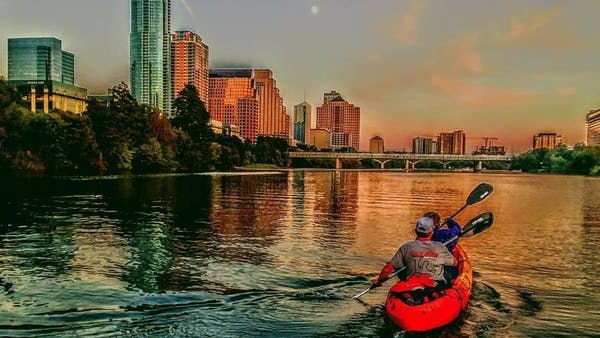 The weather of Austin, Texas, or the Bat City, would always make you want to go out and get yourself somewhere where the air and water can hit you to get rid of the suffocating heat.
Thankfully, this city is chock-full of different kayaking spots for everyone to enjoy. You'll find places that are calm and relaxing, while other spots enjoy rapid currents for the adventure addicts. 
So, stick around, and check out this list of kayaking destinations that we've prepared for you.
1. San Marcos River
If you're a paddling expert, and you want to experience the rush of the transition between lazy river vibes to adventure vibes, then San Marcos river is definitely the place to go. What will happen is that you will start at City Park for the lazy river part of your day, which involves people quietly paddling around and enjoying their calm activities.
Then, once you step out of downtown, the water will pick up speed, and for 17 miles ahead, you'll be doing some serious paddling with the trees surrounding you on both sides. Hence, it's definitely an exciting experience, and it offers you so much more than lakes would.
Moreover, if you don't have your own kayak, San Marcos does offer rentals for locals, so you needn't worry about that.
2. Lake Travis
Lake Travis is a jaw-droppingly unique waterfront for anyone who enjoys water activities, no matter what they are. You've got 18,930 acres of water to enjoy with 270 miles of shoreline.
The water itself is crystal clear and incredibly smooth, allowing for a relaxing experience. Plus, when you're on your kayak paddling and exploring the different alcoves and destinations that Lake Travis can afford you, you'll, simultaneously, be enjoying the scenery all around you.
The said scenery includes limestone cliffs, countless hills, and of course, the mansions that inhabit the shoreline.
Inks Lake
Located at 3660 Park Rd, Inks Lake is one of the most famous spots in Austin, Texas, for spending wholesome days by the water. As a matter of fact, you can actually stay the night if you wish to for a minimal fee.
The water of the 800-acre lake is incredibly calm and enjoyable; still, the levels can get a little bit too low, which poses a risk presented by hidden rocks, trees, weed, etc. So, you might want to be careful about that.
Nevertheless, everything else is provided for rent; kayaks, canoes, lifejackets, paddles, you name it, you'll find it at an arm's length.
Moreover, if you're done with kayaking for the day, you can easily paddle over to Devils Waterhole for a breathtaking swimming session. On the other hand, you can also paddle over to the shore and enjoy a game of volleyball.
Our advice, though, is to always search for the schedule of this park, as it's known to host a lot of water events, including paddling events. So, if you want to be a part of that or just enjoy the contest, you might want to give them a call.
3. Lake Austin
Named after the city, Lake Austin is definitely the place to go if you wish for an escape from the hustle and bustle of the city. This magnificent lake is located more to the north of the Colorado River and is decorated with a multitude of alcoves where you can enjoy some reflective quality time with yourself.
Mind you, a lot of the lake is privately owned; still, if you go towards the Pennybacker bridge, you'll be able to find public places for all of the locals. Additionally, if you don't own your own water vehicle, you can find a place or two that rents them, which is incredibly practical for so many kayakers.
Keep in mind, though, that motorized boats are allowed in this lake. Consequently, if you want to enjoy the quiet, keep your distance from them.
4. Red Bud Isle
The Red Bud Isle is a park that definitely lies on a smaller scale when compared with other venues that we've and will discuss today. Nonetheless, despite its small area of 12 acres, the place does afford its visitors a ton of different activities to enjoy featuring kayaking, canoeing, hiking, and, of course, scenery watching.
The thing about the Red Bud Isle is that not only is its water coming from the Colorado River, but it also has a view of the Tom Miller dam. Therefore, from your kayak, you'll be able to spot wildlife at its best with a ton of cliffs, mountains, and a beautiful skyline.
Last but certainly not least, the entire park is off-leash, meaning that this is a great place to bring your pet along with you. Let that be your dog or your cat, and they'll be sure to enjoy the day just as much as you will.
5. Walter E. Long Lake
Walter E Long Lake, or Decker Lake, is strategically placed in the Metropolitan Park occupying the space of 1200 acres. As a result, this lake offers a plethora of water sports that can't be easily found elsewhere.
For instance, you can go kayaking, canoeing, or any kind of boating that you prefer. Keep in mind that places for renting these water vehicles aren't always present/open, so bringing your own will ensure that you spend the day doing what you originally wanted to do. 
Furthermore, you could rent jet skis or decide to stay on the shore, and enjoy some volleyball, a little bit of barbecue, or dive into the water for a very relaxing swimming session. Additionally, this lake is home to many fish species, such as catfish, and sunfish, which makes fishing one of the top activities enjoyed there.
One last thing that adds to the excitement of kayaking in Walter E. Long Lake is the number of alcoves, nooks, and crannies just waiting to be discovered. That is only logical with its magnificent area, so you'll find yourself exploring new places all the time.
6. Lady Bird Lake
The Lady Bird Lake in Austin is terrific for anyone who wants to include more than one activity in their trip, but first of all, let's talk about kayaking there.
This magnificent waterfront veins from the Colorado River and boasts an area of 416 acres that can afford everyone freedom of movement and quietness. You can almost always find a quiet secluded spot for yourself.
Moreover, other than the chitchat of the kayakers close to you, you won't be hearing any kind of artificial noise as gas-powered water vehicles aren't allowed on the lake, maintaining a healthy environment all around.
Furthermore, it's designed to allow kayakers and other athletes smoothness of entrance and exit as it has eight access points and an abundance of parking space thanks to the Zilker Park.
Moving onto the other activities that can be enjoyed at Lady Bird Lake, it's surrounded by a ton of trails that can be used for hiking, biking, etc. Also, the shores are, more often than not, a place for young talents to entertain the locals with their art.
Final Thoughts
To wrap up, Austin, Texas, is a city that will give you its all when it comes to kayaking, and it doesn't stop at that! You don't need to stick to just kayaking when you go out; you can hike, camp, fish, watch the scenery, and finish with a swim.
You Can Also Check: