Best Value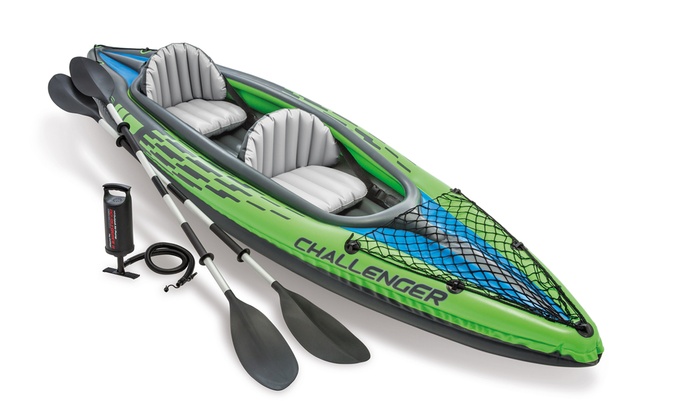 Intex Challenger K1
Dimensions (Inflated): 9′ X 2'6″ X 1'1″
Weight (lbs): 25
Capacity (lbs): 220
No. of Passengers: One
Our Choice

Intex Excursion Pro
Dimensions (Inflated): 151" x 37"
Weight (lbs): 43.6
Capacity (lbs): 400
No. of Passengers: Two
Premium Choice

Driftsun Voyager
Dimensions (Inflated): 10′ x 35″ x 16″
Weight (lbs): 47
Capacity (lbs): 450
No. of Passengers: Two
Having an inflatable kayak makes everything easier. Going on a trip? Get it with you. Don't have a car? Deflate the kayak and put it in your bag. Yes, that's easy!
Since there are a lot of options on the market and a lot of considerations that you have to check before buying one, we have made this review.
After you finish reading this article, you will have hopefully found the best inflatable kayak.
At a Glance:
Our Top Picks
The 8 Best Inflatable Kayaks in 2022 
1. Driftsun Rover 220 – Best Overall Inflatable Kayak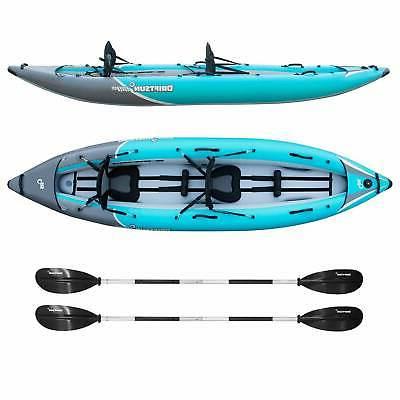 This is the best all-around Inflatable kayak, because it is made from 1000D reinforced layered PVC material and a high-pressure drop stitch floor. It also does not leak due to its Halkey Roberts valves.
This makes it puncture-resistant and pretty rigid to handle tough water. It also knows how to handle tough water because of its nose and tracking. It cuts through the water with precision. Regarding stability, its V-shaped hull does a great job.
It comes with a high flow double action hand pump that inflates the kayak in less than 10 minutes, allowing you to spend more time in the water.
What makes Driftsun Rover 220 special is its seven rapid self-bailing drain plugs that you can leave open so that they drain the cockpit from any water while you are moving.
Pros:
Durable
Features seven rapid self-bailing drain plugs
V-shaped hull
Great in flat and rough water alike
Adjustable aluminum paddles
Takes up to 600 pounds
Cons:
Difficult to take out or get in the skeg
Bottom Line
If you are a thrill-seeker, you have to get Driftsun Rover 220 and enjoy the adrenaline while knowing that you are in safe hands.
---
2. Advanced Elements Advanced Frame – Best Lightweight Inflatable Kayak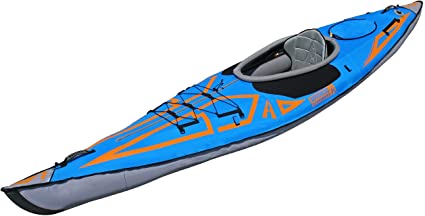 If you are looking for an inflatable kayak that is as good as hard-shell ones, this model is for you. It will also suit you if you need a kayak that can take up to 550 pounds and welcomes 1 to 2 persons on board.
Its built-in aluminum ribs in stern and bow increase its stability and trackability. Also, its low center of gravity increases stability and eases paddling.
Besides, It is pretty rigid because its bottom uses "drop stitch" construction, which becomes very rigid when inflated. Safety-wise, its 6 chambers provide you with ultimate safety, and its triple-layer material boosts its thickness and durability.
If you are sick and tired of suffering from back pains after getting off of a kayak, this babe provides you with very comfortable high back seats that offer comfort even if you go on a long trip.
You can also use this portable inflatable kayak when you are going on an extended camping trip because there is a lot of storage space.
However, it is a bit slower than hard-shell kayaks.
Pros:
Three-layer material to resist puncture
Lightweight
Durable
Comfortable high back seats
Suitable for fishing and long trips
Cons:
Bottom Line
Advanced Elements AdvancedFrame Convertible Kayak is the one to buy if you need an extra comfy kayak. It could also be considered an inflatable fishing kayak.
---
3. Intex Excursion Pro – Inflatable Fishing Kayak

If you need a fishing kayak, congrats, you have found the one. This kayak is a bit on the expensive side because it is built to last. Made from durable vinyl super-tough laminate PVC with a polyester core, it is puncture-resistant. You can also keep it under the sun for as long as you want because it has a UV resistant finish.
In case an unfortunate incident happened, and your kayak had a hole, you will stay afloat and get safely to shore thanks to its two chambers.
Moreover, it is very stable due to its high-pressure inflation. You will also be able to quickly inflate and deflate it because of the high-pressure spring-loaded valves.
Intex Excursion Pro also has two padded adjustable seats and two floor-mounted footrests. This lets you stay comfortable for a long time.
All of the above features make this kayak a very suitable one for fishing. Along with the above, it also features a removable and adjustable mounting bracket so you can add a GPS, fishfinder, swivel fishing rod holders, and more.
There is also a lot of storage space in the bow and stern with stainless steel rings so you can keep your gear and the fish you have got.
Although this is a two-person kayak, you can still easily solo-paddle it.
Pros:
Durable
Lightweight
Great for fishing
Comfortable
Footrest
12.7' long
Cons:
The repair kit is useless
Bottom Line
This is one of the best fishing kayaks thanks to its durability and safety features.
---
4. Intex Challenger K2 Kayak – Easy Paddling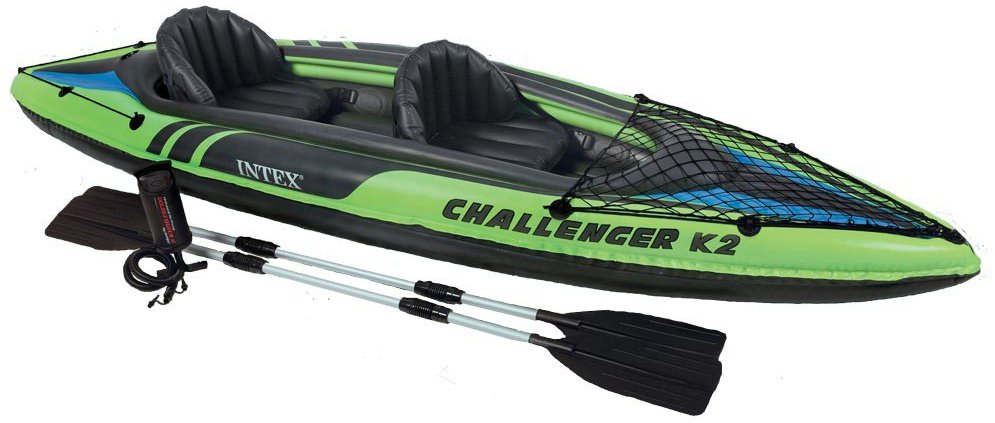 This kayak can take up to two persons and accommodates up to 400 pounds, so we would say it is pretty good if you need company as well as some gear with you on board.
Made from Intex's super tough vinyl, it is highly durable and resists leaks and tears, so you do not ever have to worry about it sinking or anything. It is also UV damage-resistant, so you can paddle in the sun with no worries of having its colors damaged in any way.
Moreover, it is effortless to paddle no matter how old you are thanks to the streamlined design and the two 86-inch aluminum paddles. The good specs go on with its easy inflation (under 5 minutes) and deflation because of the Intex high output pump.
It includes two 86 inch aluminum oars, high capacity pump, and repair patch kit.
Pros:
Easy paddling
Easy inflation and deflation
UV ray resistant
Cons:
Must be flipped upside down to drain the water
Bottom Line
If you want a reliable and durable kayak that does not ask for much regarding its inflation, deflation, and paddling, go for the very best Intex Challenger K2 Kayak.
---
5. Sevylor Big Basin – Best Fur-Friendly Kayak

Sevylor Big Basin is a three-person kayak; however, it does not fit three adults, but it fits two adults and a child, for example. It takes up to 490 pounds, which is pretty awesome because it means that you can take a lot of gear and stuff on the ride.
Another piece of excellent news is that it is paw-friendly! Its durable and tough body made of thick heavy-duty PVC is resistant to the claws of dogs and so.
Moreover, its tarpaulin bottom protects it against rock punctures, so you don't have to worry about paddling through a tough area. In case it got punctured, which is highly unlikely to happen, you would be able to paddle to shore thanks to its three separate chambers.
If you think that you won't be able to solo paddle it, you are wrong. I am glad to tell you that you can do so with its 2 directional strakes that help you paddle straight. It is also stable and tracks as hard shell kayaks.
Besides, the seats are way too comfortable, and each seat has a cup holder. Also, there is a lot of storage space in the rear of the kayak, and that is where you can put fish if you are fishing.
However, it requires an electric pump to inflate it, and it does not come with a pump or paddles, so you will have to pay for them separately.
Pros:
Takes three persons
Comfy seats
Durable
Has splash guards to keep water out
Cons:
Does not come with pump or paddles
Requires an electric pump
Bottom Line
Get this three-person inflatable kayak if you want one that is animal-friendly. It is also very durable and comfortable. However, it's not easy to inflate it.
---
6. Intex Challenger K1 Kayak – Best For Money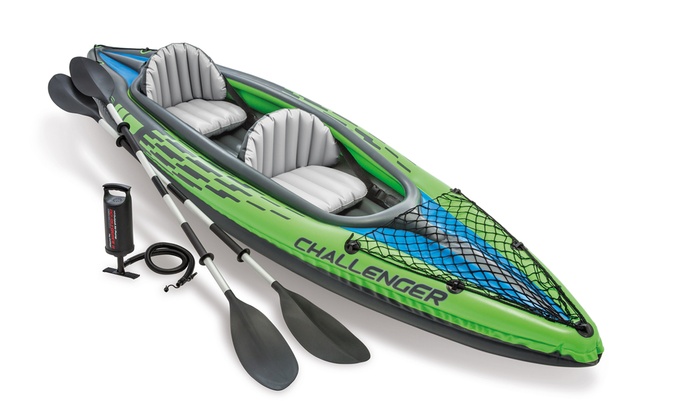 If you love going on trips alone, this kayak is an excellent cheap inflatable kayak for one person. It is also suitable if you just want to buy one to see if paddling is ideal for you or not.
Regarding storage space, it has a lot of it since it has a large nose. The storage space has a mesh net to cover your stuff, so you better put your things in a bag to shield them from getting wet.
You will sit comfortably because it has comfortable backrest forms. There is also a spacious cockpit so you can move freely.
It is made from heavy-duty welded vinyl that is puncture resistant.
However, it takes only 220 pounds maximum, which is okay-ish given that it is a one-person kayak.
Pros:
Durable
Comfy
Spacious cockpit
Large storage
Double-welded seams
Cons:
May be hard to get in and out of it
A bit unstable
Bottom Line
This is the best one-person kayak you can go for if you love solo paddling.
---
7. Airhead Montana Kayak – Portable Inflatable Kayak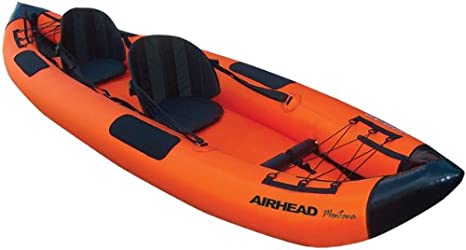 This, too, is a one-person kayak, but it is only suitable for lakes and moderate white water. It is highly durable because it is made of 840 denier coated nylon.
Although it is unlikely to be punctured, it still features three air chambers (fully enclosed with the 840 denier coated nylon) for added safety in case of the unlikely puncture. Moreover, there are four bottom fins for superior tracking.
It is only 9-feet long, so it is quite short. However, it is still wide for its length, which makes it easy to maneuver, especially on narrow rivers and low-class rapids.
Regarding comfort, it is pretty comfortable to sit in thanks to its removable inflatable seat that has back support.
If you want to take Airhead Montana on a one-day trip, you can because it comes with a lot of space for gear and stuff. There is plenty of storage space at the bow. There is also more space behind the seat that is suitable for keeping dry bags. For added security, there is bungee rigging at the bow.
However, you will have to buy a pump because it does not come with one.
Pros:
Lightweight
Durable
Easily maneuvered
Vast storage space
Cons:
The pump is not included
Only suitable for lakes and moderate white water
Bottom line
Here is an excellent kayak for solo paddlers. Its comfy seat, wide storage space, and durable body make it attractive to almost all paddlers.
---
8. Driftsun Voyager – Easy Drainage

Do you want a durable kayak that you can easily and quickly inflate? Driftsun Voyager is the perfect one for this purpose as it can be inflated in less than 5 minutes, including a deluxe high flow double action hand pump.
You can take the kayak in different water conditions, even the choppy ones because it is made from PVC tarpaulin and tear-resistant coated nylon. Its bottom is made from PVC Tarpaulin, so it is puncture resistant.
Another great piece of news is that, like Sevylor Big Basin, it is dog-friendly.
This two-person kayak has a high weight capacity of 450 pounds, which means that you can either take a friend with you, your pet, or a lot of gear.
Speaking of gear, the kayak has a lot of storage space due to the front and rear bungee compartments. Moreover, the rear fin is removable to facilitate storage and transportation.
It also has two aluminum paddles, so that you can hit the water right after you get it out of its box. You can also solo-paddle it, which adds extra space for having your dog with you or taking extra gear.
Comfort-wise, the kayak has two comfortable high-back padded seats that you can adjust and remove whenever you need. You can quickly drain it thanks to its rear drain plug.
Pros:
Easy to drain
Fast inflation
Aluminum paddles
Dog-friendly
Cons:
Bottom Line
If you are not a patient person, get Driftsun Voyager for it can be inflated in under five minutes. With it, you can take a friend, a dog or a lot of gear.
---
How to Pick an Inflatable Kayak
Material
Most of the kayaks on the market are made of PVC. It is affordable, lightweight, durable, and water-resistant. Some kayaks even blend PVC with another material like nylon or polyester to boost strength and durability.
Some kayaks apply UV protective coatings to PVC to minimize the damage that the sun causes.
Length
Inflatable kayaks come in different lengths. The longer and narrower kayaks generally move faster across the water, while the shorter and wider ones are a bit slower.
However, long kayaks are harder to maneuver and take control of than short ones. Usually, a three-person kayak is longer than a one-person kayak; however, inflatable ones have a high-weight capacity. Therefore, they allow for two paddlers in a short kayak.
Weight Capacity
The weight capacity of a kayak is the maximum weight that a kayak could hold. Usually, if you pack it with the maximum load, it won't perform well.
Inflatable kayaks tend to have more weight capacity than their hard shell fellows, which may be because they are more buoyant, given that they are air-filled.
You better determine the number of people who will get on the kayak with you as well as all the gear that you want to get so that you can decide the weight capacity you should go for.
Accessories
There are some accessories that, if you get, you will enjoy a more enjoyable ride.
Padded Seats with Adjustable Seat Backs
If you are going to stay in the water for a while, you would appreciate having a seat that is not only padded but also has a back that you can adjust. This ensures that you won't suffer any back pains when you get off the kayak.
Storage Options
It is nice to have a place where you can store your gear. You would not love having it scattered all over the kayak floor, and you won't also like not even having a place to take some necessary things with you.
Pump
How could you even consider having an inflatable kayak without having a pump to blow it?
Why Should You Buy an Inflatable Kayak?
Lightweight
Since inflatable kayaks do not have the heavy plastic that is on traditional ones, they are way lighter. It is extra easy for anybody to transport these kayaks thanks to the lightweight materials by which they are made. You can finally let your kid carry it.
Storage
Most inflatable kayaks are about 10 feet long, so they are admittedly tricky to store. However, (and that's a pretty big however), you can deflate it and store it in your (guess what) backpack! Yes, they become this small.
This is very convenient for those who do not live in a place that has too much storage space.
Portability
Since you can put an inflatable kayak in your backpack, you can take it anywhere you go. This option allows you to use it to the extreme since you can also take it with you on a flight!
Maintenance
Inflatable kayaks do not demand much maintenance as their fellow rigid ones because they mostly bounce over rocks. However, they are more prone to puncture, so they mostly come with repair kits.
The easiest wait to maintain one is by ensuring that it is fully dry before storing it. If you store it while it is still wet, it will accumulate mold and degrade way before it should. You can either stay at the beach to let it dry under the sun or take a towel and dry it yourself.
Security
You will no longer be worried about having to keep your kayak in a garage. You also won't worry about it falling from the top of your car while you're driving to a destination. You will rest assured that it is safe and sound as long as you maintain it.
Frequently Asked Questions:
For How Long Do Inflatable Kayaks Last?
This mainly depends on your usage and maintenance. If you take good care of your inflatable kayak, it will last from 7 to 10 years. If you use it carelessly, it will last for 2 years at max.
How Much Does an Inflatable Kayak Cost?
It all depends on the kayak you choose and its features. They mostly range from 60$ to 800$.
Are Inflatable Kayaks More Stable?
Yes, they are. The secret is to fully-inflate the kayak because if it is not fully inflated, it won't be stable at all. They are impossible to tip over with their pontoon-like sides. Some models even come with a floor that is super rigid to the extent that you can paddle while standing.
Are They Easy To Paddle?
Thanks to their stability, they are! The smaller ones are easier to paddle, and they would be great for kids.
If you're not so strong, you can get a lightweight kayak so you can paddle it with complete ease.
Final Thoughts
Have you found the best inflatable kayak, yet? We hope so.
We recommend you get Intex Challenger K1 Kayak if you need a kayak for one person.
If you want one that can be easily inflated and deflated, get the two-person Intex Challenger K2 Kayak.
For a huge weight capacity, buy our very best Advanced Elements Advancedframe Convertible Kayak.
You Can Also Check: