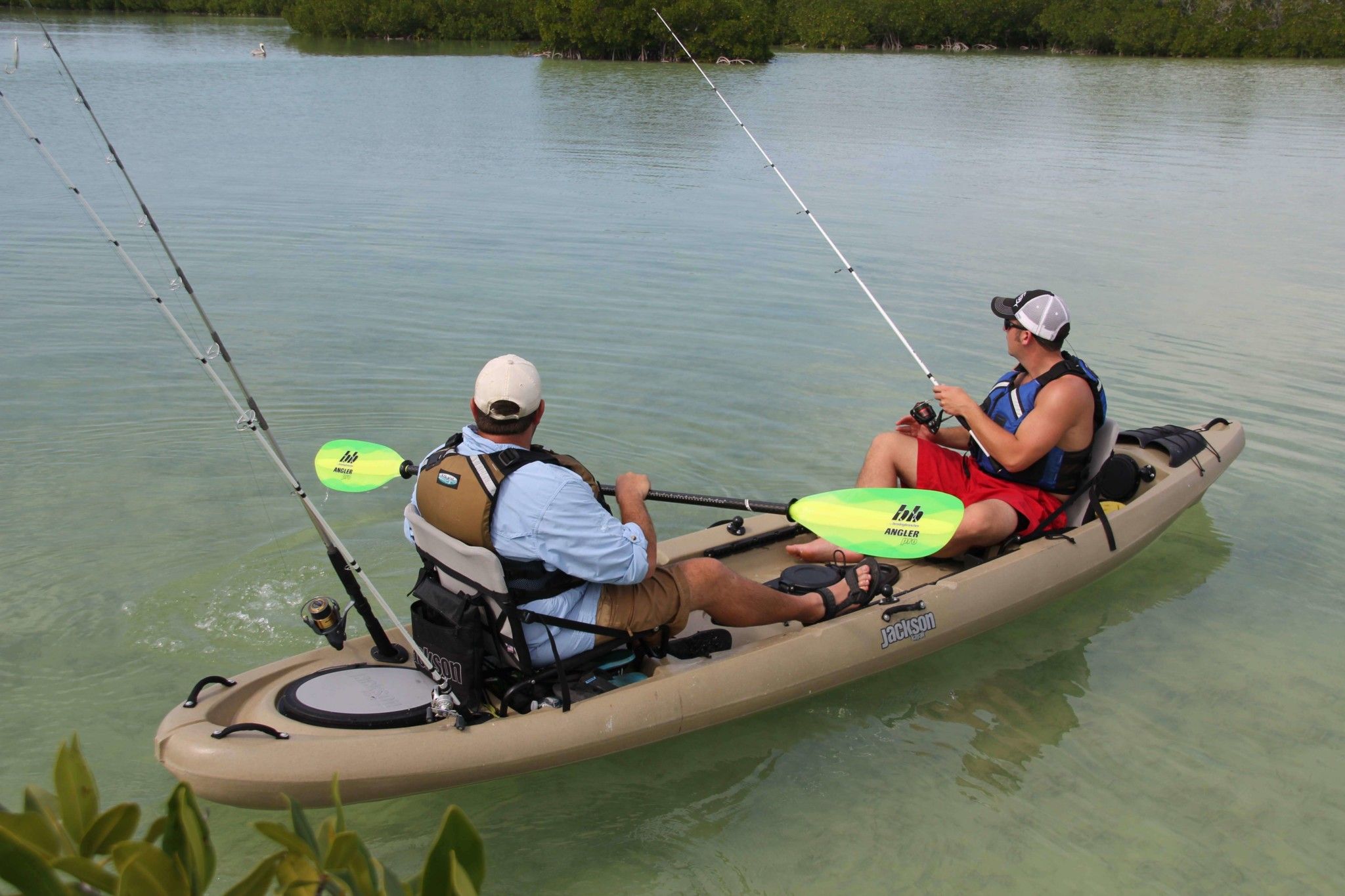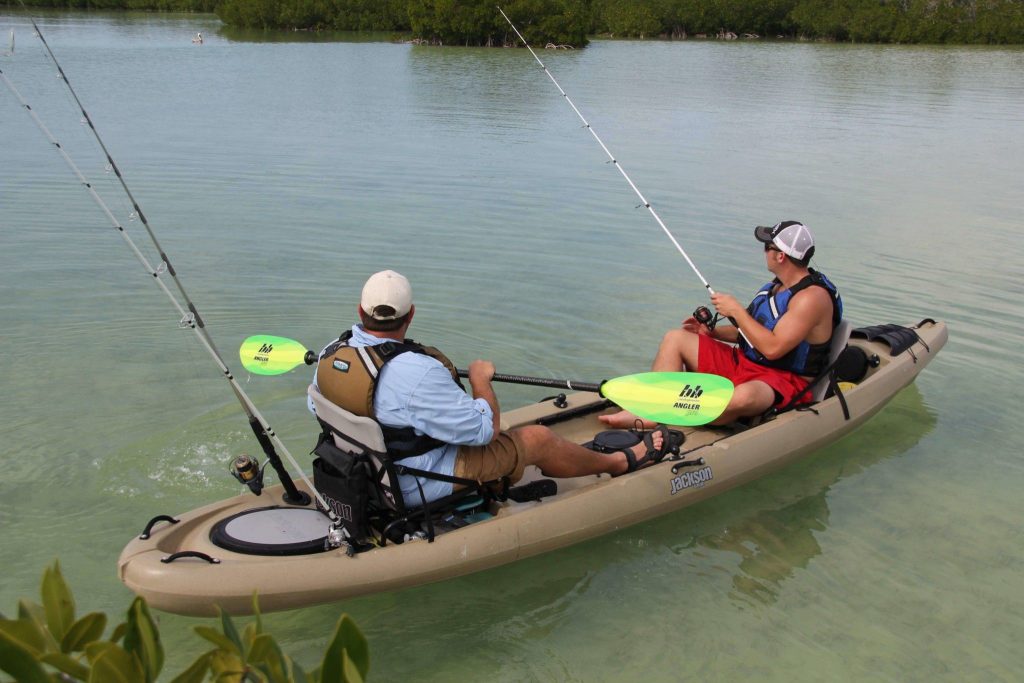 Fishing is one of the best activities that any person can take up, it teaches patience and has many benefits. On the other hand, kayaking is another fantastic activity that provides you with pleasure and a much-needed exercise for your whole body. Put these two together, and you have the joys of both kayaking and fishing smashed together in the form of kayak fishing.
The only thing that tops kayak fishing is kayak fishing with a friend or a family member. That's where fishing tandem kayaks come into play. Tandem fishing kayaks are kayaks made to fit two people while containing all the fishing gear that they might need.
Comparison Table:
| | | | | |
| --- | --- | --- | --- | --- |
| Model | Weight (lbs.) | Maximum Weight Capacity (lbs.) | Length (feet) | Width (inches) |
| Lifetime 10 Foot | 60 | 500 | 10 | 36 |
| Intex Excursion Pro Kayak | 39.01 | 400 | 12 | 36 |
| BKC PK14 | 95 | 660 | 14 | 34 |
| Sevylor Coleman Colorado | 41 | 470 | 10 | 39 |
| BKC UH-TK181 | 68 | 450 | 12.5 | 30 |
The 5 Best Tandem Fishing Kayaks in 2021
So how do we choose a good tandem fishing kayak? First of all, it has to have an appropriate maximum weight capacity, be stable on water, and have ample storage. So, now, let's cut to the chase and get to the 5 best tandem fishing kayaks.
1. Lifetime 10 Foot Tandem Fishing Kayak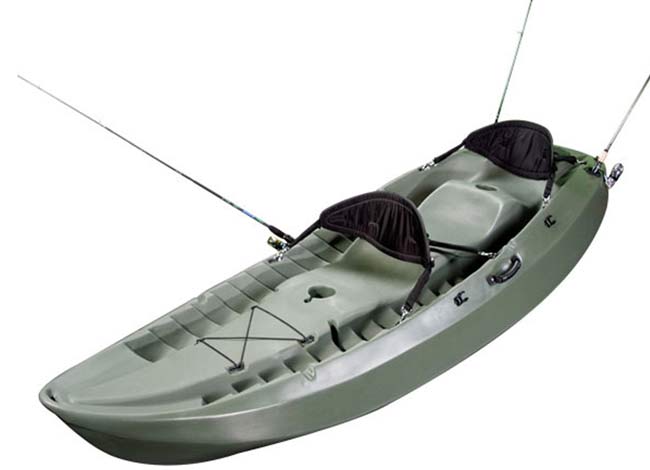 An outstanding tandem fishing kayak, it weighs 60 pounds, is 10 feet long, 36 inches wide, and has a maximum weight capacity of 500 pounds. Its specifications make it an all-rounder tandem fishing kayak, as they check all the boxes.
This is a durable kayak that is built to withstand the forces of nature. It's crafted from High-Density Polyethylene. Which, as we all know, is the best material used to create kayaks. Polyethylene ensures that your kayak is puncture-resistant, therefore guaranteeing that your kayak will be able to withstand blunts and collisions with rocks, shorelines.
Its maximum weight capacity is off the charts for a sit-on-top kayak. It can withstand two people plus their gear, or seat three people without any gear.
Moving on to its stability, the Lifetime 10 Foot is exceptionally stable due to many elements. A major contributing element to its stability is its hull, it's both flat-bottomed and has a tunnel shape. These two design elements significantly increase the kayak's stability.
Moreover, the Lifetime 10 Foot is very comfortable; it has multiple footrests, so you can choose which position and length will provide you with the most comfort and leverage. Plus, the seats have padded backrests that provide your back with proper positioning and have you comfortable during those long fishing trips.
Additionally, it has a six-inch rear storage hatch that can fit all your fishing gear. It comes with two double-sided paddles, paddle clips, 3 fishing pole holders, and a five-year warranty.
However, no product comes without downsides. And the Lifetime 10 Foot's only downside is its speed. This is a slow kayak, it is not meant for white-water. All the Polyethylene used slows the kayak down relatively in exchange for durability.
Pros:
Six-inch storage hatch
Durable
Five-year warranty
Multiple footrests
Padded seats
Cons:
Bottom Line
If you are looking for a tandem kayak that can carry 500 pounds, comes with two paddles, paddle holders, spacious rear storage, and is stable like no other kayak, then the Lifetime 10 Foot is the answer to your prayers. But it is a relatively slow kayak.
2. Intex Excursion Pro Tandem Fishing Kayak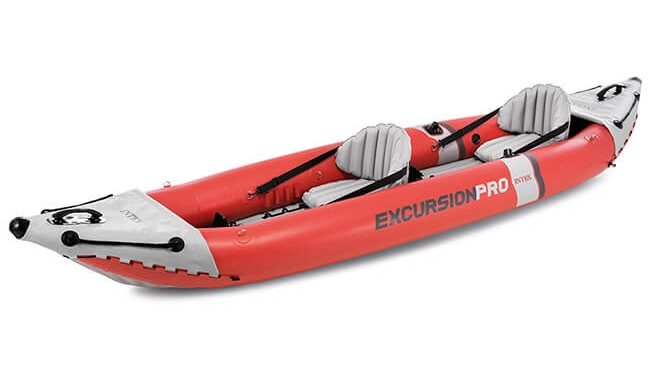 An excellent tandem kayak for beginner anglers. The Intex Excursion Pro weighs 39.01 pounds, is 12 feet long, has a 36 inches width, and a maximum weight capacity of 400 pounds.
This is a budget-friendly kayak, as you'll be getting amazing features and specifications for its price. Besides, it's incredibly durable as it is made from a strong laminated PVC type that comes with a polyester core. This provides it with durability as well as maneuverability in the water. Nonetheless, as this kayak is inflatable, it isn't as tough as other kayaks made from materials like Polyethylene.
As previously discussed, the Intex Excursion Pro is an inflatable kayak; therefore, it goes without saying that it will include high-pressure valves that greatly ease its inflation and deflation.
Additionally, it comes with two paddles, removable seats, removable seat boosters, and even two removable skews. The skews are perfect for both shallow and deep waters. Moreover, there are two footrests that you can change between based on which one you feel more comfortable in.
Plus, there is an additional bracket for all that extra hardware from fish finders to GPS. There are also storage spaces in both the kayak's bow and stern, which have stainless steel D rings to tie down Dry bags.
The only downside to the Intex Excursion Pro is that it cannot withstand blunts and collisions as other kayaks can as it's an inflatable kayak.
Pros:
Easy to move around
Removable skews
Two footrest
Storage areas in bow and stern
Cons:
Less durable than other kayaks
Bottom Line
The Intex Excursion Pro is an outstanding tandem fishing kayak; it can easily fit two people due to its 400 pounds weight capacity, comes with the rod included, has rod holders, and removable skews. But its ability to withstand punctures and collisions isn't up to bar.
3. BKC PK14 Tandem Fishing Kayak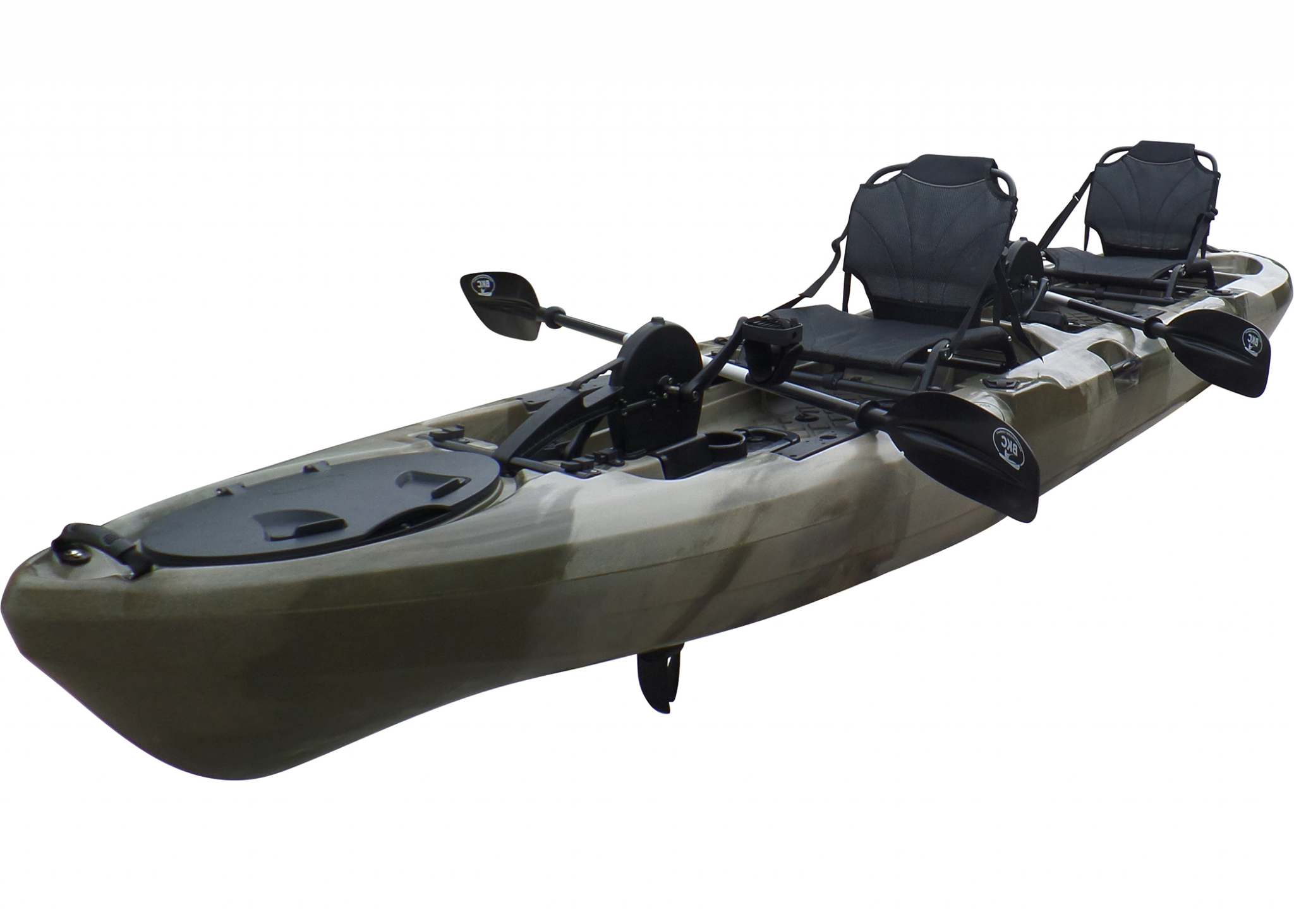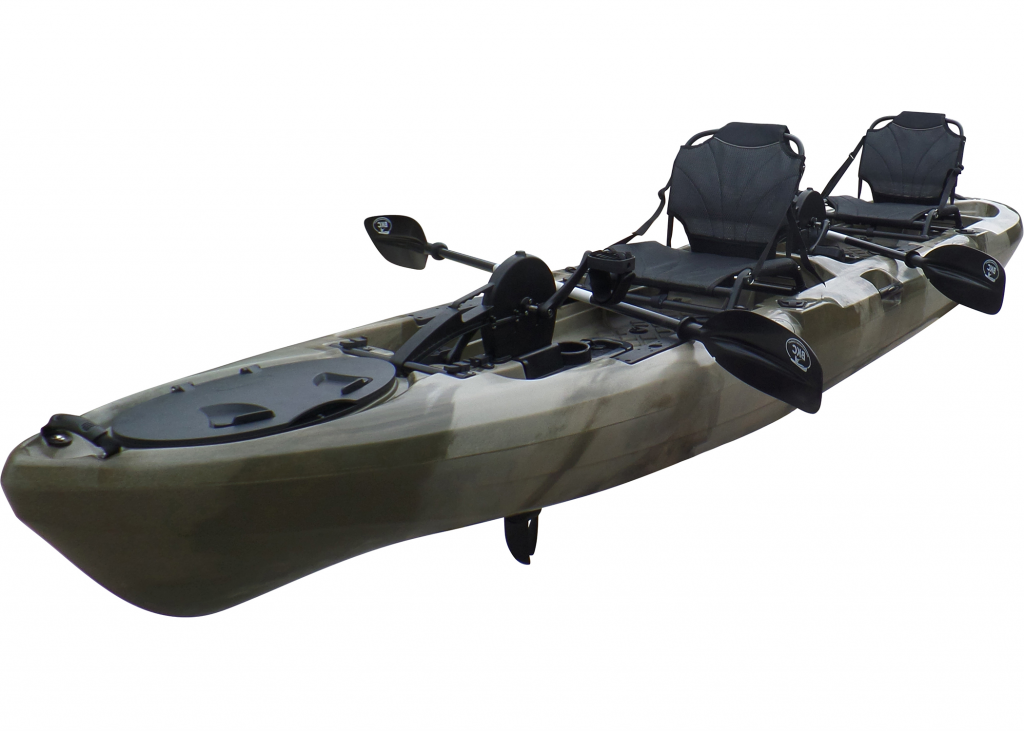 This kayak is all about speed and maneuverability through fierce currents. It weighs 95 pounds, is 14 feet long, has a width of 34 inches, and a maximum weight capacity of 660 pounds.
We begin our review with its immense 660 pounds maximum weight capacity. It's by far the largest weight capacity of any tandem fishing kayak on our list. All the other kayaks pale in comparison to it. The BKC PK14 will allow you to have two people inside it alongside all their gear,and still have some extra few pounds to spare.
In addition, you have got the Dual Pedal Drive System. It allows you to move the kayak with your legs instead of paddling, which is very useful in keeping your hands free and tireless for all that rugged and fun fishing that you'll go through.
Moreover, it comes with Rudder Controlled Steering, the person who occupies the rear seat can control the rudder with his/her hand to gently move the kayak, making it take turns effortlessly and with grace. The Dual Pedal Drive System combined with the Rudder Controlled Steering, makes controlling this kayak a dream for all kayakers.
Don't let its weight fool you, the BKC PK14 is immensely stable on water due to its long and narrow body alongside its deep grooved hull bottom.
Furthermore, it's chock-full of amazing features, like the adjustable aluminum frame seats, which are ultra-comfortable to sit in, 3 watertight hatches with Dry Bag inserts for all your tackle, bait and reel, 12 scupper plugs, two collapsible paddles, three flush-mounted rod holders and a drain plug. Plus, it has four handles; one on each side, one in the front, and one on its rear.
However, the BKC PK14 is by far the heaviest tandem kayak on our list, as it weighs 95 pounds. Such a weight makes moving it around from one place to another quite hard, you'll need all the help that you can get. Lastly, it's quite expensive.
Pros:
Dual Pedal Drive System
Rudder Controlled Steering
Stable
660 pounds maximum weight capacity
Four handles to carry it from
Cons:
Bottom Line
The BKC PK14 is an excellent tandem fishing kayak for those who can afford and carry it. Its weight and price are quite hefty. But if you opt to for it, you'll be getting features and specifications beyond your dreams from the Dual Pedal Drive System to its Rudder Controlled Steering, the drain plug, and the waterproof hatches.
4. Sevylor Coleman Colorado Tandem Fishing Kayak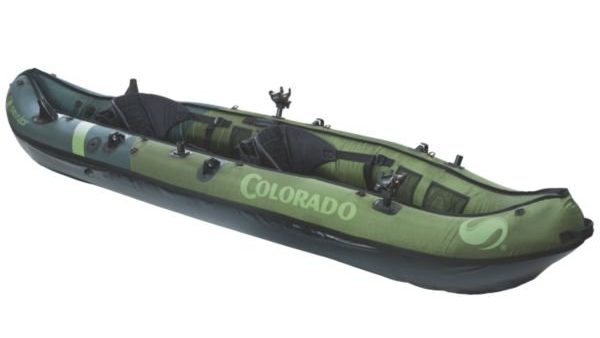 Another excellent inflatable kayak that proves its worth. The Sevylor Coleman Colorado weighs 41 pounds, has a length of 10 feet, a width of 39 inches, and a maximum weight capacity of 470 pounds.
Since this is an inflatable kayak, it is easy to deflate and inflate according to your preferences using the Boston valve. It provides you with an airtight system that prevents any leakages from happening.
This is a pretty durable kayak, as it's made out of 18-gauge PVC which provides it with fantastic durability. Plus, this kayak has been certified by the NMMA (National Marine Manufacturers Association).
It has a 1000D tarpaulin bottom and 840D nylon cover that prevents it from being punctured. Even if it gets punctured, you'll have absolutely nothing to worry about, as the Sevylor Coleman Colorado won't sink due to the multiple air compartments. Rather, you'll stay afloat till help arrives.
When it comes to paddle and rod holders, the Sevylor Coleman Colorado shines as ones that come with it are also adjustable. You can set the rod holders to your preferred degree. Moreover, there are mesh storage pockets as well as D-rings for your tackles and bait. Add to all of that a cooler box in the rear where you can store all your coveted fish.
Furthermore, if you want to add a trolling motor, then you can easily do so with the Sevylor Coleman Colorado, so that you can stop paddling and save your arms for fishing.
When it comes to downsides, the Sevylor Coleman Colorado has one, and that is that you'll have to purchase a set of paddles separately in addition to the electric or the foot pump.
Pros:
Boston valve
Airtight system
NMMA certified
Adjustable rod holders
Cons:
Have to purchase paddles and foot pump separately
Bottom Line
The Sevylor Coleman Colorado is a fantastic tandem fishing kayak. It is durable, certified by the NMMA, has multiple air compartments in case it gets punctured, and comes with both adjustable rod and paddle holders. But if you opt to buy it, then you'll need to purchase the paddles and the electric pumps as well.
5. BKC UH-TK181 Tandem Fishing Kayak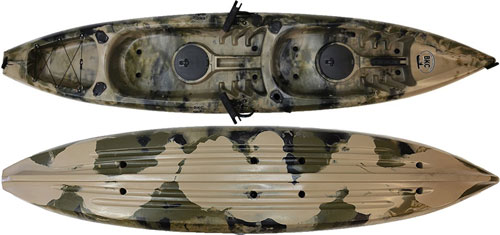 The BKC UH-TK181 combines both quality and quantity to give us an astonishing tandem fishing kayak. It weighs 68 pounds, is 12.5 feet long, has a width of 36 inches and a maximum weight capacity of 450 pounds. Its weight capacity is the least on this list, which can be seen as a downside, but this also means that it can be used as a solo kayak.
One of the best things about this kayak is the amount of features and additions it possesses. Starting with the included paddles and their holders, there are two paddle rests. Moving on to the rod holders, there is a total of seven; four flush-mounted and three articulated rod holders.
Also, there are ample amounts of storage present in the two waterproof storage compartments between each paddler's legs. You can store all your fishing gear in those two compartments. However, if you'll need a cooler to store all your fish, you shouldn't worry as there is a stern storage well with a shock cord for your cooler.
Moreover, the seats are incredibly comfortable as they are padded, which makes them perfect for long fishing trips. Finally, if you ever need to attach a motor or a fish finder to your kayak, the BKC UH-TK181 has got you covered with its pre-threaded bolt holes in its rear.
However, this is a heavy kayak, it's the second heaviest kayak on our list and one of the heaviest tandem fishing kayaks out there.
Pros:
Can be used as a solo kayak
Seven-rod holders
Paddles included
Two storage compartments
Pre-tethered bolt holes
Cons:
Bottom Line
The BKC UH-TK181 is chock full of amazing features from the included paddles and their holders, to the two storage compartments underneath each paddler, to the storage place for the cooler, and finally the seven-rod holders. It truly doesn't disappoint, but be wary of its weight, as it might prove to be a burden.
How to Pick a Tandem Fishing Kayak
Now, we've finished discussing these spectacular tandem fishing kayaks. It's time to know how you should pick one and what are the elements that you'll need to consider before purchasing one.
Type
There are two main types of kayaks; they are: solo and tandem. And these two types have the same three sub-types, these subtypes are: sit-on-top, sit-inside, and inflatable kayaks. Each of these three sub-types has advantages and disadvantages, and picking one comes down to your personal preference. However, we'll do our best to help you understand the difference between each type.
Sit-On-Top Kayaks
Most anglers prefer sit-on-top kayaks when fishing, they offer better mobility and much more freedom. Additionally, you can wade while fishing as a result of the increased mobility. Even if you capsize, both of you can easily get back inside the kayak due to the open hull design.
Sit-Inside Kayaks
Sit-inside kayaks are hard to get in and out, due to their closed hull design. All of your lower body, almost up to your abdomen will be covered. This decreases your mobility but protects your lower body from becoming wet. Moreover, they have more storage compartments which you'll definitely need.
Inflatable Kayaks
Inflatable kayaks are all about being portable and easy to carry, you can deflate and inflate them according to your needs. Plus, they are easy to store.
Stability
Stability is vital in a fishing key, and you've to be stable at all times, so you can properly enjoy your fishing trip. Fishing kayaks tend to be longer and wider, as the longer and wider the kayak, the more stable it becomes. The dimensions of the kayak play a pivotal role not only in its stability but also in its pace and maneuverability.
Weight Capacity
You must always adhere to the maximum weight capacities of the kayak, and since we are talking about tandem fishing kayaks, then the weight capacity is quite substantial. Not only will the kayak house two people, but all their gear as well as any fish, they decide to bring back. Therefore, you must always leave a proper amount of weight out from your calculations just for your gear and fish that you'll catch.
Nonetheless, no matter the weight capacity of a kayak, you must always wear your PFDs. It's the utmost safety precaution that you must do, and we can't stress its importance enough.
Storage
Having storage on a fishing kayak is vital, and luckily almost all tandem fishing kayaks have ample amounts of storage. But, you should always bear in mind that not only will you need storage for your gear like tackles, reel, and bait, but a cooler as well.
Fishing Gear
The main difference between a recreational kayak and a fishing one is that the latter is rigged for fishing. One of the most important things that a fishing kayak must possess are rod holders, they are generally found in one of two positions either mounted on the kayak's sides or mounted on-top where you can easily access your lines.
Comfort
Tandem fishing kayaks have to be comfortable as you and your companion will be spending a lot of time fishing. Many factors go into the making of a comfortable kayak, and we'll walk you through them.
Seat
You need to ensure that the two seats are padded and comfortable to sit in. It's best if you find a kayak with a stadium-style seat, as they offer the best comfort and support for your back.
Multiple Footrests
Having multiple footrests will prove useful, as you'll be able to get the leverage you'll need to catch those stubborn fish by pivoting your legs in different positions. Also, changing your foot's position while paddling will increase your comfort and grant you better mobility.
Other Features
There are other features that will make using a tandem fishing kayak much easier.
Motor Mount
Paddling is hard enough as it is, and if the fishing spot that you're aiming for is far from the shore, then you and your companion's arms will tire out before even reaching it. That's where a motor mount comes into play. They allow you to install a motor on your kayak, so you can rest your arms and let the motor do all the work.
Fish Finder Holder
If you want to get the best out of your fishing trip, then you'll need a fish finder. They utilize waves to locate the exact location of fish. What's a better way to incorporate a fish finder into your kayak, than with a fish finder holder. A holder will provide you with the perfect location for your fishfinder and will make using it straightforward, accessible, and easy.
Frequently Asked Questions:
Can Tandem Kayaks be Used Solo?
Yes, you definitely can, and you even get some benefits for using a tandem kayak solo. For instance, you'll have more storage and more free space. Some tandem kayaks also go the extra mile by ensuring their hulls are designed to not rise out of the water when used solo.
However, tandem kayaks might be a bit harder to control alone as they are designed for two people.
Are Tandem Fishing Kayaks Safe?
Many people worry about tandem fishing kayaks' stability and whether they'll be able to withstand the weight alongside all their gear and fish that they catch. However, we are here to tell you that you've got nothing to worry about, tandem fishing kayaks are very safe, and as long as you don't exceed the weight capacity, you've absolutely nothing to worry about.
Moreover, they are very stable due to their broad base, any kayaker, even if inexperienced, can easily maintain his/her balance on a tandem kayak.
Final Words
We know that making a decision is hard with all the different options on the market. However, we hope that we've cleared the air a bit and helped you come to a better understanding of your needs and wants out of a tandem fishing kayak. Now, let's get to some recommendations.
If you need the best tandem fishing kayak, then the Lifetime 10 Foot is the one for you. It is an all-rounder with multiple footrests, a five-year warranty, a six-inch storage hatch, and is exceptionally durable and stable on the water.
The BKC PK14 has the greatest weight capacity out of any tandem fishing kayak on our list. It can withstand a maximum of 660 pounds. It also comes with a Dual Pedal Drive system, Rudder Controlled Steering, four carrying-handles, and is amazingly stable on the water.
Finally, if you want an inflatable kayak that is easy to move around, has ample amounts of storage, multiple rod holders, and a Boston valve-regulated airtight system, then the Sevylor Coleman Colorado is the tandem fishing kayak for you.