Being a big guy has many perks, but also multiple disadvantages. One of these disadvantages is that you have to go through a meticulous process whenever you want to buy a certain item. Choosing a kayak is no different; there are different types, sizes, and models.
However, there is nothing for you to worry about as we have done all the hard work for you, and made the process of choosing a kayak a lot easier. All you have to do is stick with us throughout this article, and you will find your long-awaited kayak.
So how to choose a good kayak for a big guy? Many think that the most essential factor to consider is the weight capacity, as vital as that is, there are many other crucial elements from the kayak's design to its dimensions, type and many more.
Now, let's cut to the chase and get to the 6 best kayaks for big guys.
At A Glance:
Comparison Table:
The 6 Best Kayaks for Big Guys in 2022
1. Hobie Pro Angler 12 Kayak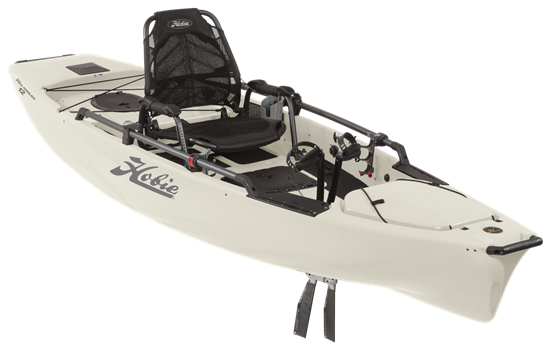 Our top pick for the best kayak for big men has to be the Hobie Pro Angler 12 due to a bag-full of reasons. From its 500 pounds weight capacity to its 12 feet length and 36-inch width, it'll not disappoint you.
The Hobie Pro Angler 12 is not only our best kayak for only big fellows, it is jam-packed with features that make it one of the best fishing kayaks on the market.
One of the most fantastic things about this kayak is that the seat can be folded to give you that much-needed space, so you can stand and cast, and wrestle that mighty fish that you're trying to catch. On the other side, you can simply stand up and enjoy the view around you.
One of the toughest things that any kayak fisherman faces is paddling. By the time that they reach their designated fishing area, their arms might be worn out from all the paddling. Fortunately, this is not the case here, as this kayak has a patented pedal drive system or a Mirage Drive, which allows you to move the kayak with your legs while keeping your hands free.
Kayaks do not get much more comfortable than this one. The seat is ergonomically designed and adjustable. It can hold up to 350 pounds on its own. Moreover, it is a rock-solid, stadium-style vantage seat.
Finally, when it comes to gear storage, the Hobie Pro Angler 12 is in a class of its own, with two easy-access dry storage hatches that have a tackle system included, as well as two H-rails for all your gear.
Unfortunately, there are a few downsides to this kayak. The first is its weight, as all the other kayaks on our list pale when compared to the Pro Angler's 12 weight while the second downside is its price, which is also in a league of its own.
What We Like:
Mirage Drive
High Weight Capacity
Lots of Storage Space
What We Don't Like:
Final Verdict
With the Hobie Pro Angler 12, you get a foldable seat, the hands-free Mirage Drive system, and finally unpredictable capaciousness of storage. However, you will have to contend with its price and weight, which are both relatively high.
---
2. Perception Pescador Pro 12 Kayak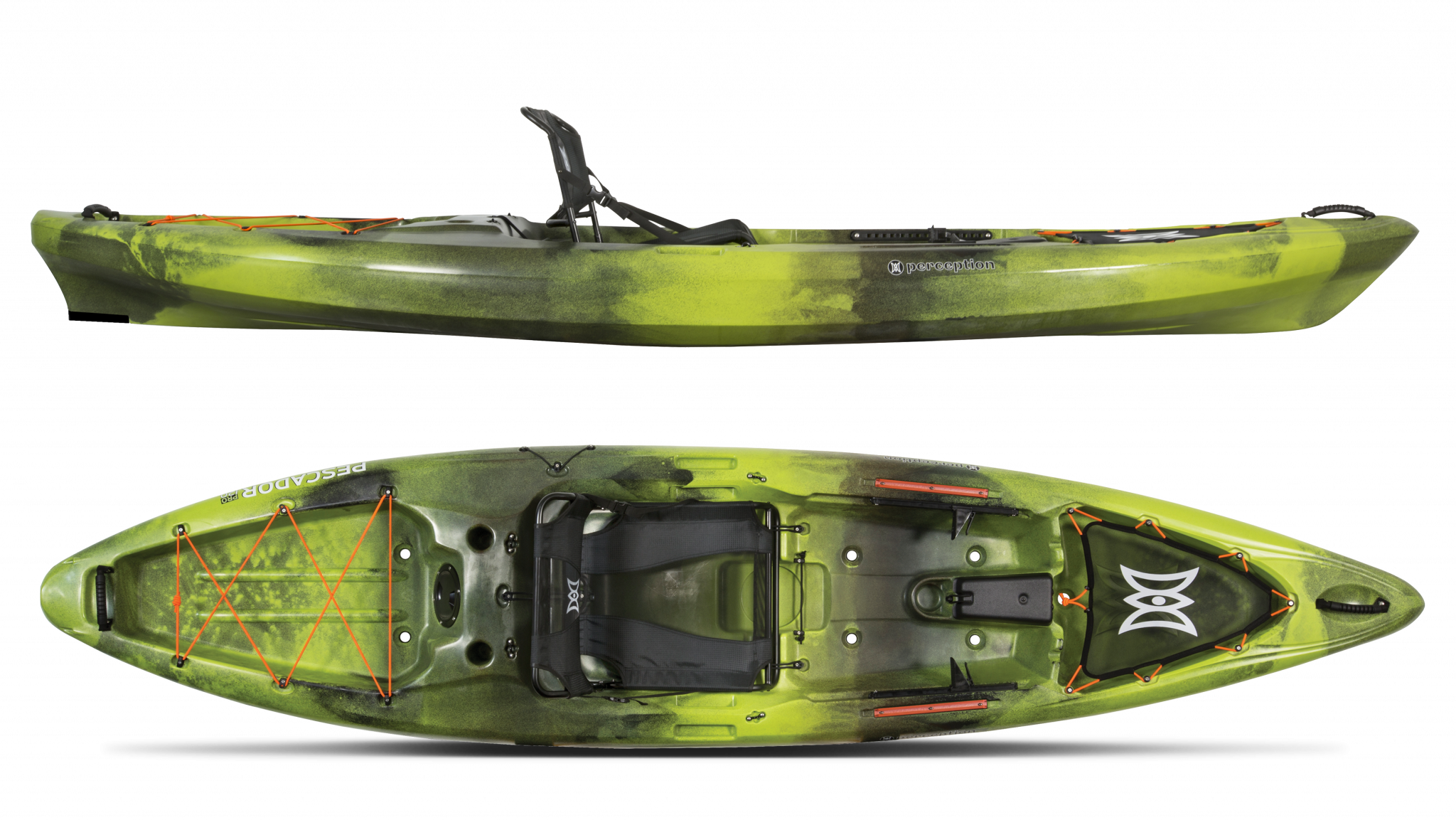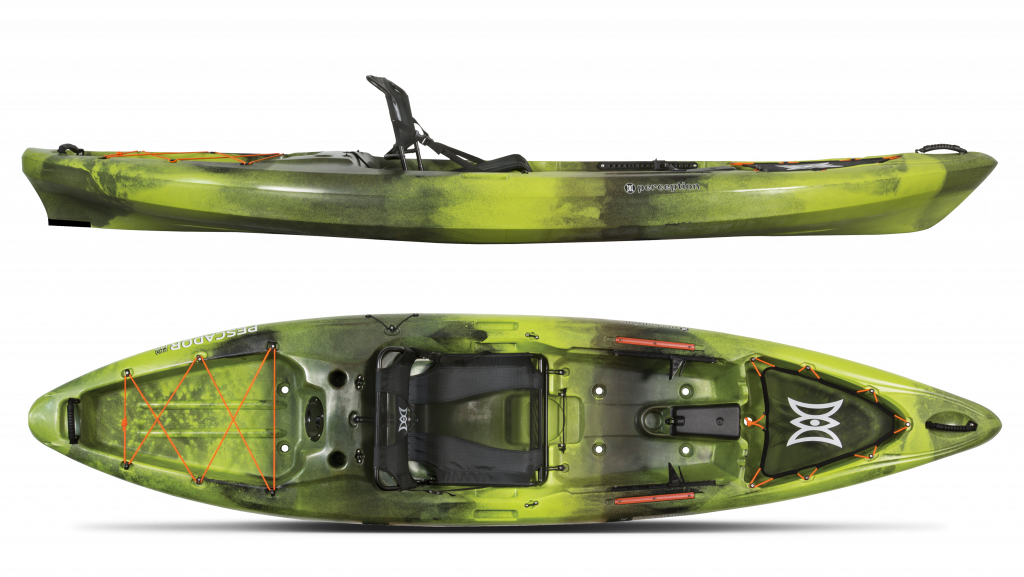 With a maximum weight capacity of 375 pounds, a 32.5-inch width, and 12 feet length. This is one of the best kayaks on the market for big guys.
Beginning with its stadium-style seat, it is exceptionally comfortable, can be adjusted and even removed for instances when you will need more space.
The Perception Pescador Pro 12 is made from Polyethylene, which is the best material that a kayak can be made of. It grants a kayak outstanding resistance against heavy blunts, intense impacts, and even strong water currents, all while guaranteeing its durability and long shelf life.
Moreover, there is a foot brace system that allows you to paddle without using your hands. One of this kayak's main selling points is the paddle and tackle storage, it provides you with more than ample storage for all your needs. Plus, there are two Dual-molded rod holders for the times that you will not be using your rod.
The Perception Pescador Pro 12 is lightweight and can be easily moved around and even carried. And you will not have to go over your budget to buy it as it is a budget-friendly kayak. Moreover, it comes with a five-year warranty.
However, the rear storage makes accessing your stored gear a bit of a tiresome act.
What We Like:
Made from Polyethylene
Lightweight
Budget-friendly
Easy to stir
Large storage capacities
What We Don't Like:
Difficult rear gear access
Final Verdict
The Perception Pescador Pro 12 is a fantastic kayak for big men, it is durable, impact-resistant, has a long shelf life, an adjustable seat, and a foot brace system. However, managing the rear storage system from the back is quite troublesome.
---
3. Sea Eagle 380x Inflatable Kayak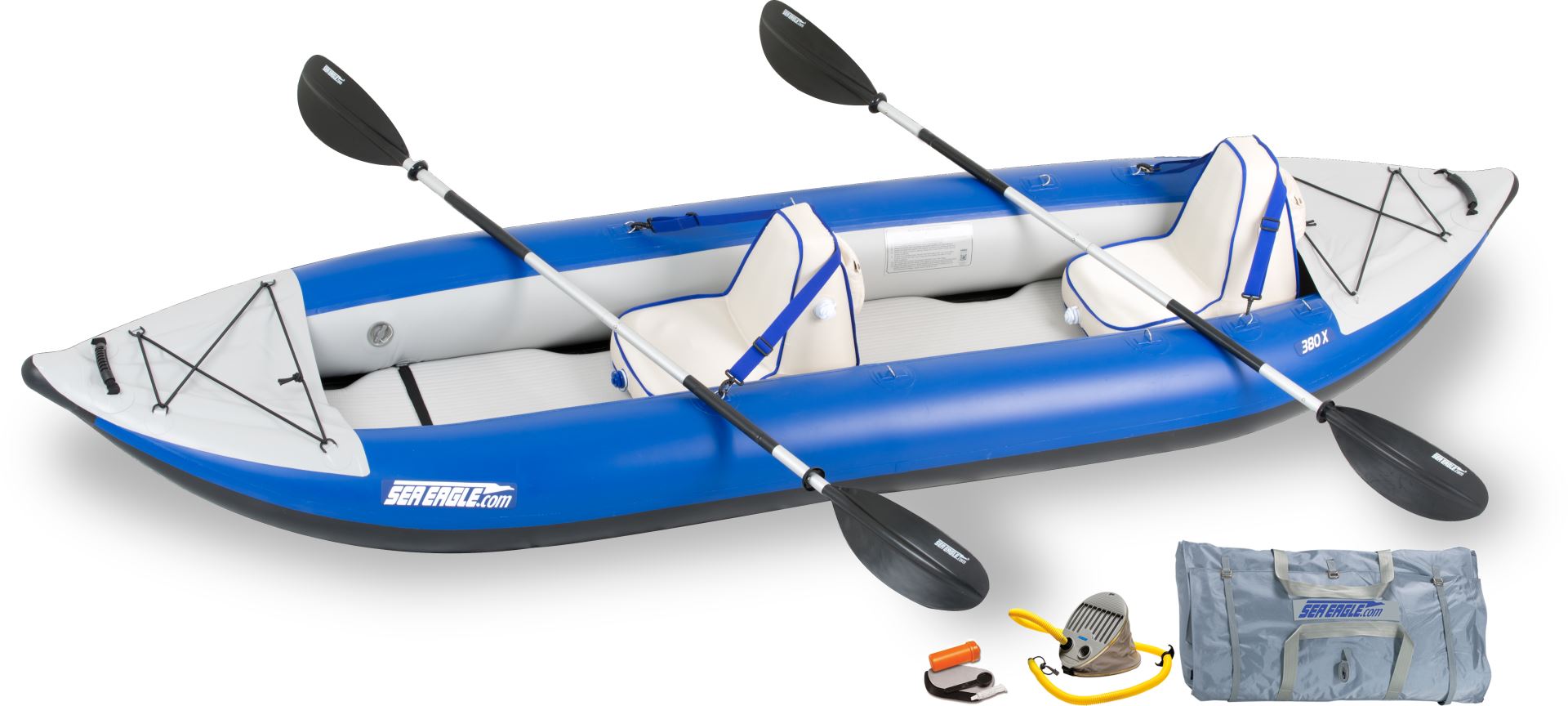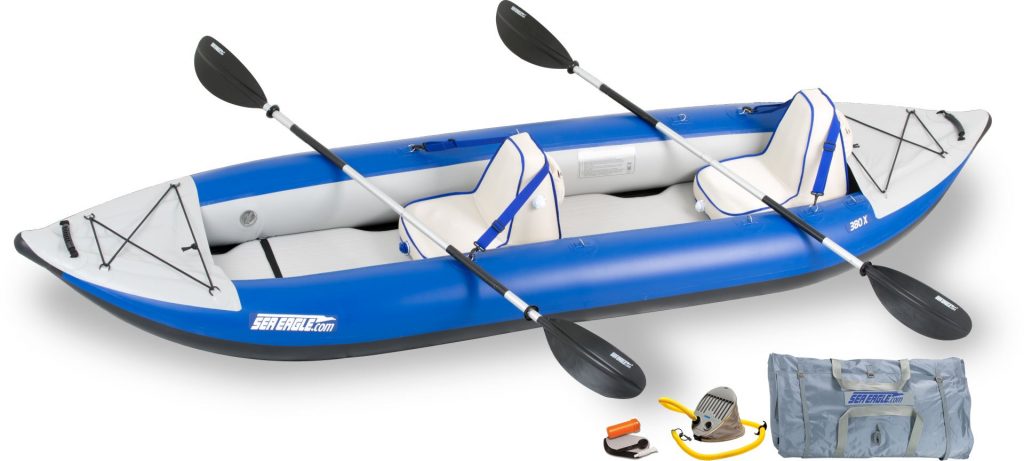 The Sea Eagle 380x Inflatable Kayak is the first of our two inflatable tandem kayaks. Being a tandem kayak means that it can fit two people, and in the case of the Sea Eagle 380x, it can fit up to three people all at once, or in other words it can withstand up to 750 pounds, alongside its 12.5 feet length, and 38-inch width. This is the perfect kayak for big guys.
The reason behind its astonishing weight capacity is its buoyancy. Because it is an inflatable kayak it can effortlessly float on water with 700 pounds plus on board.
Also, do not presume that because it is inflatable, that it is not durable. Defying these claims, is the Sea Eagle 380x amazing ability of withstanding the damage impact on sharp rocks can inflict on its sides and base. All of this is because it is made from a 1000-denier high-pressure polyester-supported fabric that has electronically-welded seams. These seams provide it with additional durability and strength with addition to stability on water.
One of the best things about this kayak is its dimensions, not the length and width that we talked about before, but its dimensions when deflated. It can be deflated to 31 x 20 x 9 inches, which makes carrying it around a breeze.
Another fantastic feature it possesses is that it can be steered using paddles or rigged up using an electric motor. You will mostly be changing your kayak into a boat that can easily make its way through rough waters.
One of the downsides of this kayak is its price as it falls on the high end of the pricing spectrum.
What We Like:
Highest weight capacity
Lightweight when folded
Portable
Can be steered using paddles or motor
What We Don't Like:
Final Verdict
After all is said and done the Sea Eagle 380x is an excellent kayak for all our big guys out there, just the sheer amount of weight capacity is enough to get any kayaker hooked, professionals and amateurs alike. Add to that its comfortable seats and the ability to use a motor and you have yourself a tandem kayak like no other.
---
4. Driftsun Rover 220 Tandem White-Water Kayak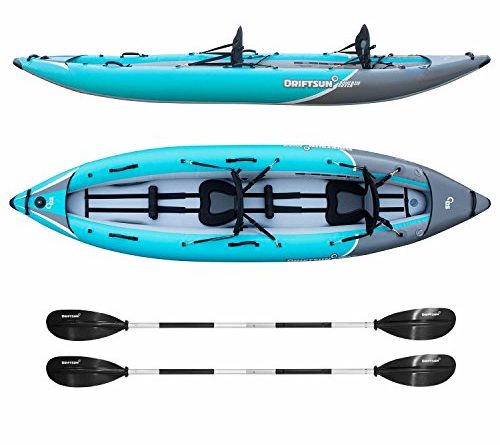 The second inflatable tandem kayak on our list, and the kayak with the second-highest weight capacity, is the Rover 220 Inflatable Tandem White-Water Kayak by Driftsun. It is capable of withstanding 600 pounds with its width of 38 inches and a length of 12.5 feet.
Made for two fully grown adults, the Driftsun Rover 220 is perfect for any big guy. It is made from high-grade polyvinyl chloride which makes it puncture resistant. Also, it is very stable on the water and can maneuver through Class IV rapids; some of the hardest currents to go through.
Even though it is an inflatable kayak, the seats are fully adjustable, meaning that you can remove the two seats and place only one of them at the kayak's center to position yourself correctly and become more stable and commanding of the kayak.
Moving on, the Driftsun Rover 220 has three inflatable chambers, 8 self-bailing ports, a tracking skeg, and an easily removable rear. It also comes with a repair kit, and all of its metal components are rust-resistant.
However, you need to be wary of the tie-down storage. This kayak does not have a lot of storage space, so all we can do is tie down some of the equipment, which is not the best solution, especially for larger gear.
What We Like:
Made from high-grade polyvinyl chloride
Can steer through Class IV rapids
Metal components are rust-resistant
What We Don't Like:
Small storage
Problems with tie-down storage
Final Verdict
The Driftsun Rover 220 is a fantastic inflatable tandem kayak for big men. From its 600-pound weight capacity to its rust-resistant metal components to its ability to move through Class IV rapids, it stands out amongst its peers. However, keep in mind its low storage capacities and the tie-down storages that might sometimes become untied as they will affect your kayaking experinece.
---
5. BKC RA220 11.5-Foot Solo Sit on Top Kayak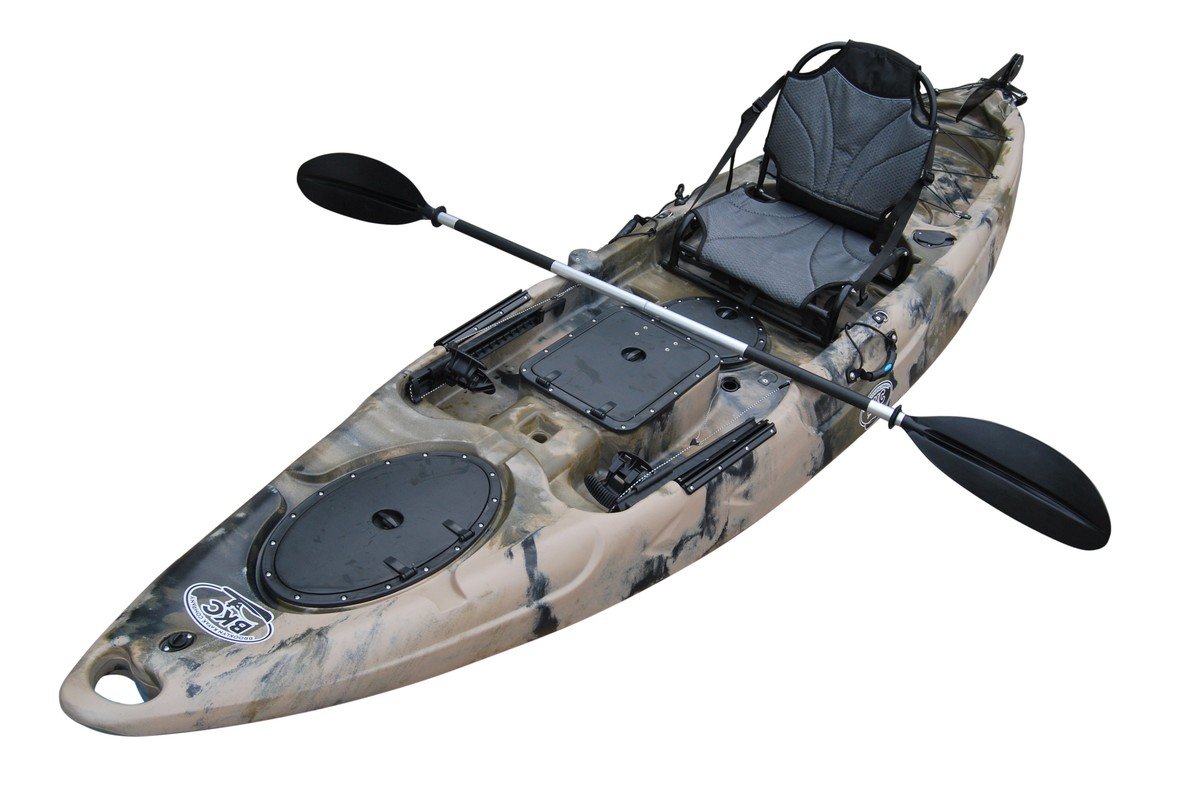 Known for its astonishing stability on water, the BKC UH-RA220 comes in at a length of 11.5 feet, a width of 31 inches, and has a maximum weight capacity of 340 pounds.
It is very easy to steer due to the presence of the rudder system. Its chair is very comfortable, especially for elongated use, as it will take all the strain off your back and provide you with a hassle-free kayak experience. Plus, the chair has two different adjustments that you can pick from according to your liking.
It is also a great fishing kayak, as there are four flush-mounted rod holders for your rods, along with ample storage capacity for all your equipment fishing or not.
Finally, the 340-pound weight capacity might seem like it is much, and it is, but the BKC UH-RA220 has the lowest maximum weight capacity out of all the kayaks on our list.
What We Like:
Stable on water
Four flush-mounted rod holders
Adjustable seat
What We Don't Like:
Lowest maximum weight capacity on our list
Final Verdict
The BKC UH-RA220 is an excellent kayak for big guys, its stability on water is somewhat unmatched, and it has four-rod holders for all our avid fishermen. Still, its 340 weight capacity, although is quite adequate, is less than any other kayak on our list.
---
6. Old Town Loon 126 Recreational Kayak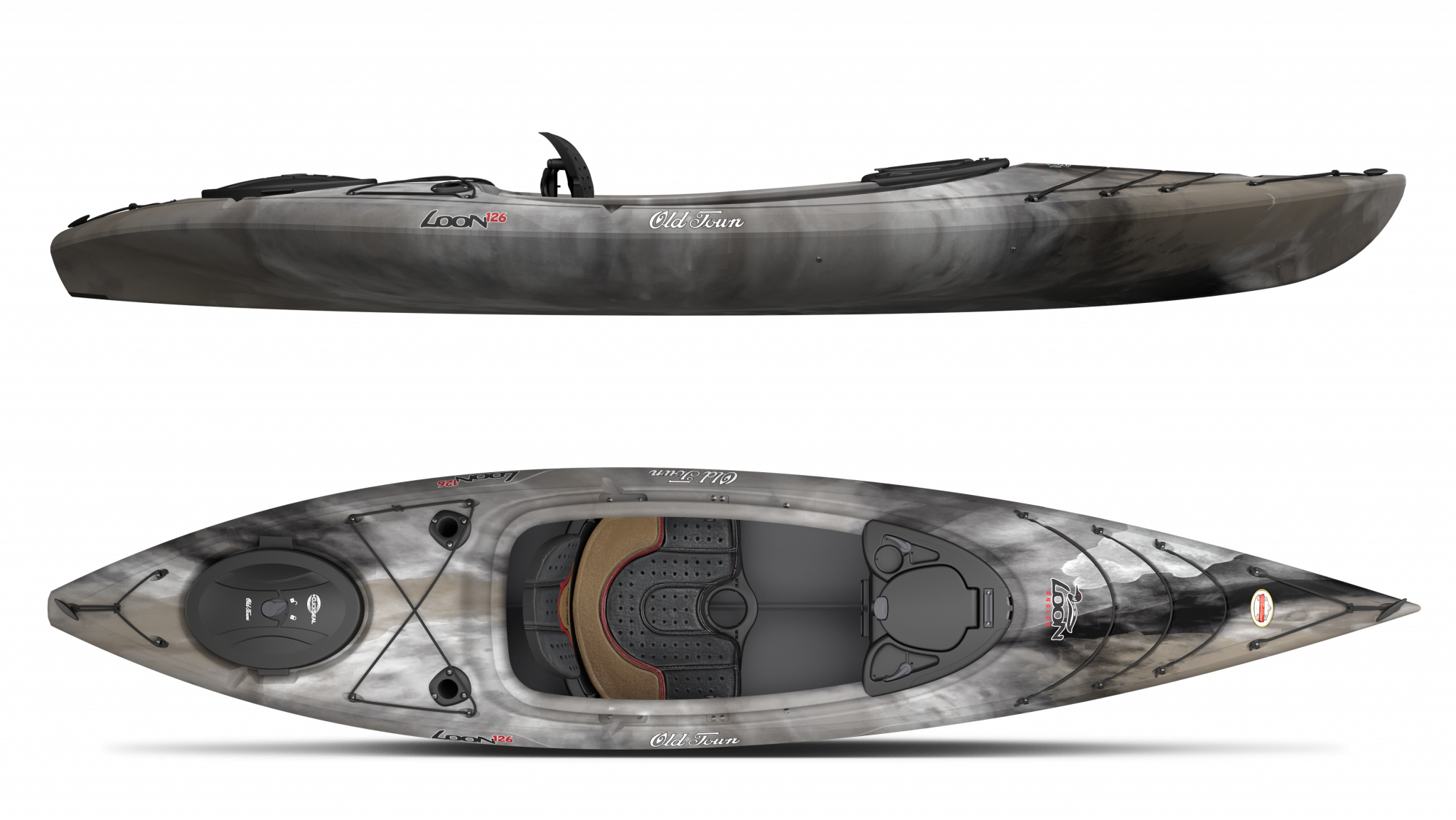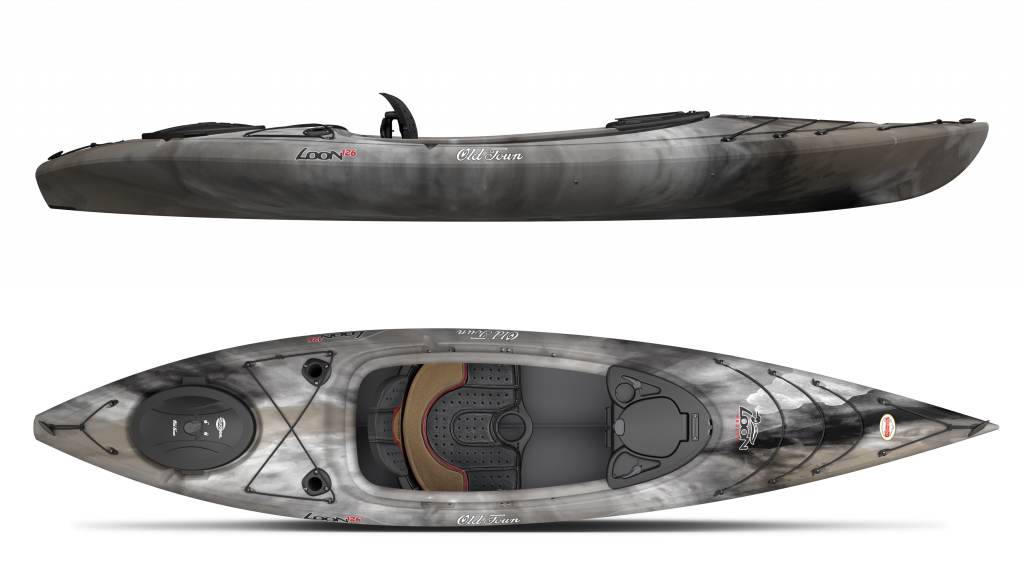 Our last pick for the best kayak for big guys is the Old Town Loon 126. It is a newly revamped version of the 20-year-old classic kayak. With its weight capacity of 450 pounds and 12.6 feet in length, and a width of 31 inches, this vessel has everything a big kayaker could possibly need.
One of the best things about this kayak is the presence of a USB charging port, which you will not find anywhere else. You might be wondering whether it will be useful or not, but it is quite handy as having your phone on you when kayaking is crucial. You might need to make calls in case of emergency, especially if you are alone. And that's where the USB charging port comes into play.
This kayak is the ultimate recreational kayak in every turn from its durability to its ability to withstand blunts and punctures and even the roomy space inside the kayak itself. Since this is the only sit-inside kayak on our list, many might be worried about the area or volume inside the kayak. Don't worry though as there is ample room for you to wiggle your feet.
Unfortunately, some complain about the front carry handle and claim that it falls apart after some usage.
What We Like:
Ultimate recreational kayak
USB charging port
Plenty of space inside the kayak
What We Don't Like:
The front handle is subpar
Final Verdict
If you ever need a sit-inside kayak, where your lower body will stay dry and protected, that's designed with a USB port as well as ample leg-space, then look no further than the Old Town Loon 126.
---
What to Look for When Buying a Kayak for Big Men
Now that we are done with these fantastic kayaks, it is time that we become familiar with the most essential factors and elements that we must consider before buying a kayak for a big man.
Type
There are different styles and types of kayaks, all with various advantages and disadvantages. We will now explore the three most prominent ones.
Sit-On-Top Kayaks
We start with the type that is most suitable for big guys. Sit-On-Top kayaks or simply S.O.T.s. They are the perfect fit for tall men as their legs are not constricted by anything around them, in other words, you are entirely free, and can stretch your legs to your liking.
Besides, they are easy to get in and out from, no longer will you be having troubles in getting inside and outside your kayak. Even if your kayak flips in the water, getting back inside a S.O.T. is more manageable in water.
All the previous points make a Sit-On-Top kayak the most suited type of kayaks for big guys, and we highly recommend that you go for one.
Sit-Inside Kayaks
The second type of kayak that we'll be discussing is sit-inside kayaks; they are named after the way that a kayaker fits inside his/her kayak.
True to their name, the lower part of your body is entirely inside the kayak. They are perfect if you want to keep your lower body dry, and if you are going to kayak all year long.
However, for big guys, they are not so good, since they are hard to get in and out of, also they have a narrower body, as well as a smaller cockpit. This means that they can capsize or flip over easier, and getting inside and outside of them is a tough task, especially for a big guy.
Inflatable Kayaks
The third and last type of kayaks that we will be talking about have pretty self-explanatory name. Inflatable kayaks have been making a name for themselves in the market as of late, they are quiet buoyant, and many models enjoy a high level of durability.
Sadly, they do not have a high weight capacity and are not known for it -except for the tandem ones-, which renders them unfit for big guys. Therefore, if you want to buy an inflatable kayak for a big guy as they are easier to move around, then your best choice will have to be a tandem one.
Weight Capacity
This is a determining factor in the process of choosing a kayak for a big guy. Adhering to a kayak's weight capacity is not a suggestion that you should take lightly; you mustn't exceed the maximum weight constrictions of the kayak under any circumstances. If you do that, the results might be catastrophic, from your kayak flipping over to it being broken apart and harming you seriously in extreme cases.
You should always leave an extra weight margin for your gear, for example, you should leave an additional 15 to 25 pounds of excess weight. Such weight will grant you more stability and control over the kayak. It will even make you more capable of maneuvering the kayak easily.
To put it simply, kayaks for big guys should have a minimum weight capacity of 300lbs.
Tip: Always be on the lookout for tandem kayaks. They are kayaks made for two people, and are excellent for big guys, as they are made to support two people. Plus, they always have a higher weight capacity than your typical kayaks.
Width
The width of the kayak plays a vital role in you getting in and out, where the wider the kayak, the broader its hull, and the easier getting in and out of it will be. Also, it goes without saying that wide kayaks have a less chance of flipping over, which is always a great bonus.
Moreover, kayaks with a wide hull are more stable in the water and will allow you to slip in up to your waist into the kayak with relative ease. Not to mention that they provide you with the ability to stretch your legs, therefore, sitting comfortably in your kayak.
Finally, large paddlers should steer clear from any kayak that has a hull width of anything less than 30 inches, the wider the better is always the rule here.
Length
The length of the kayak is extremely important, as no matter the width that you choose, if your legs are cramped up inside the kayak, then it is pretty much futile.
However, you should know that the longer the length of your kayak, the more volume it will have, so pay close attention to that. Kayaks come in a variety of lengths. The most common one is 10 feet, however since we are discussing kayaks for big guys, you'd better start your search with 12-foot kayaks.
Volume
We briefly mentioned a kayak's volume in the last point and said that it increases parallel to the kayak's length. But, there is more to a kayak's volume than that, volume is the amount of free space that you have inside the kayak.
If you are wondering why we must know the volume of a kayak, we know it so we can determine if our legs and feet will fit inside a kayak or not, and also to know if our lower bodies will be comfortable while paddling.
The volume of a kayak is described as either low, medium, or high. There is no exact way of knowing which one of these volumes is best for you, except trying them out for yourself. Many shops will be more than happy to let you sit inside a kayak and try it out to get a feel of the kayak.
Weight
Choosing a kayak that you can carry and move around is crucial, all of the previous points will be void if you buy a kayak that you cannot carry or move around with easily. You will be moving your kayak around a lot, for example, from your garage or wherever you are storing it to your car, from your vehicle to the water, and then back again.
Therefore, you must buy a kayak that you can move around. And this is where inflatable kayaks shine the best, you can easily deflate them and move them from one place to the other.
Material
Kayaks are made from a wide variety of materials, and since you will be making a decent investment in your kayak, then you will need to opt for the best material out there. Our top recommendation would be Polyethylene, which has a long shelf life and an overall excellent resistance against strong water currents and impact as well.
Also, composite materials, such as fibreglass, are lightweight, rugged, and expensive. Finally, we have softshell kayaks, which are not very popular among kayakers, but are amazingly resistant to punctures and abrasion.
Many people think that just because a kayak is lightweight, then it will not be durable or might break easily. Nonetheless, there is no need to worry as lightweight kayaks don't necessarily break easily. In fact, many lightweight kayaks are extremely durable and perfectly stable.
Comfort
Since you will be sitting inside your kayak for long periods, your comfort should be your top priority. You need to be sitting properly and perfectly capable of moving your legs around comfortably, while your back is in a properly supported position.
Seat
The first thing that we all notice about a kayak is its seat, there are two variations of kayak seats. The first ones are the reclinable seats that are found in sit-on-top kayaks. They are incredibly comfortable, can be reclined to different sitting positions, and are in possession of backrests.
The second type is the padded seats found in sit-inside kayaks, the extra padding goes the extra mile by making them really comfortable. However, this does not take away from the reclinable seats found in sit-on-top kayaks, which are vastly comfortable.
You should always look for a stadium-style seat and always try to give the seat a test drive to find out if you are comfortable enough.
Cockpit
Choosing a suitable cockpit is crucial when picking a sit-inside kayak. Simply put, the cockpit is the opening in the middle of your kayak, where you sit while paddling. You must choose a wide kayak as they guarantee that you will have a larger cockpit, meaning that you will be able to get inside and outside of the kayak easier, and you will also feel much more comfortable.
Safety
Your safety is always the top priority, let alone when you are on raging strong waters. When choosing a kayak for a big guy, you need to make sure that it is durable, strong, and capable of withstanding strong water currents. Moreover, it goes without saying that you must always wear your life-jacket as it is your most important gear-piece.
Frequently Asked Questions:
Are Kayaks Safe for Big Guys?
Short Answer, yes, they definitely are. However, you must choose a high-quality kayak, and you must adhere to the maximum weight capacity of the kayak itself.
What to Do if a Kayak Capsizes?
If a kayak capsizes, then your best solution will be to perform self-rescue. Moreover, it is always best if you have someone along with you to help. Plus, you should always wear a safety-jacket as well as the safety strap on the cockpit's cowling.
Final Thoughts
Finally, we have to come to the end of our article. We hope that we have given you a better insight and helped you choose the best kayak for a big guy. Now let's get to some recommendations.
If you want the overall best from every aspect, go for the Hobie Pro Angler 12 Kayak. Its Mirage Drive system that allows you to control the kayak with your legs and large weight capacity and vast storage capacities are all attractive features.
If you want an inflatable kayak that is portable and has a maximum weight capacity of 750-pound or three grown adults, then the Sea Eagle 380x Inflatable Kayak is the one for you.
Finally, if you need a sit-inside kayak that will keep you dry and comes with a USB charging port, then the Old Town Loon 126 Recreational Kayak is the kayak of your dreams.
You Can Also Check: