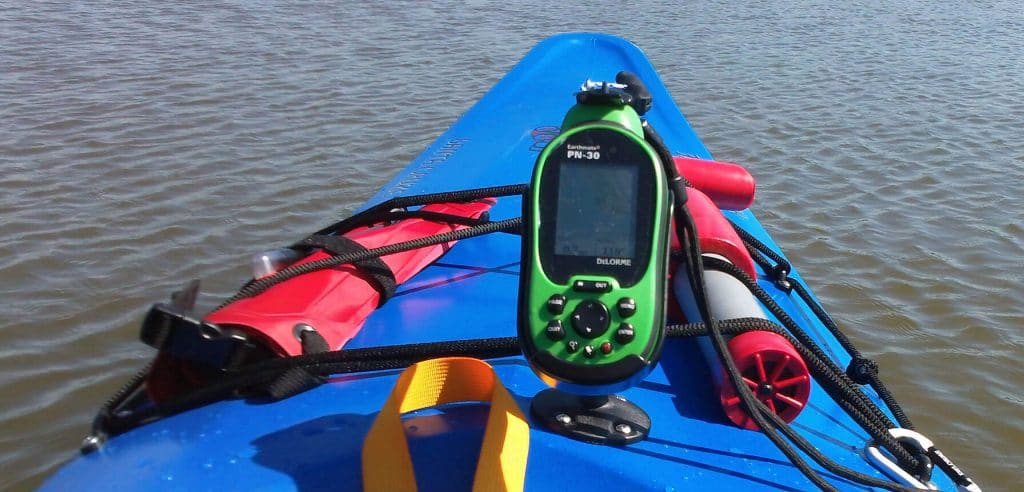 The more experience you get as an avid kayaker, the more you'd want to explore, and create your own little world and follow through with other activities that go very well with kayaking, such as fishing and camping.
When you decide to go on a kayaking trip, you want to shut off the outside world and live your life amongst nature and its creatures. Nevertheless, don't forget that being safe is the top priority here.
In order to be safe if you have to know exactly where you're and how you'll be getting back to where you originally came from. That's exactly where our list of the best kayak GPS devices comes into play, as each one of those appliances has a ton of great attributes that are bound to come in rather handy on each single kayaking trip.
The 9 Best Kayak GPS in 2022:
Now, let's get to know our kayaking GPS devices in detail so that you can make a wise, informed decision at the end of the day.
1. Garmin Striker 4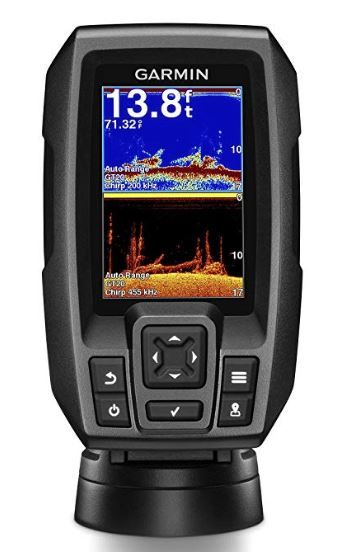 Let's start with the Garmin Striker 4, as it's the perfect handheld GPS device for kayaking. This device is compact and lightweight while providing kayakers with all of the options and features that they might need, and it sports an affordable price tag that does not scare young kayakers.
Moreover, the Garmin Striker 4 boasts high sensitivity GPS that is capable of having 5000+ waypoints allowing you to store locations to your heart's desire. Add to that the UltraScroll function, which will enable you to do that for the targets that are moving at very high speeds.
Furthermore, it has a temperature sensor, and it easily calculates the speed of your boat in addition to having a robust construction and an IPX-7 rating. Such a rating allows the Garmin Striker 4 to easily withstand splashes of water and submersion for around 30 minutes at a depth of 3.3 m.
Additionally, it has a backlit touchscreen, which allows you to see clearly no matter the time of the day. In addition to the fact that the screen has the split function, which can come in pretty handy with the huge variety of modes.
These modes help you no matter your destination or goal, and they include the Fish Simple ID, AutoGain, and the flasher. Plus, all of that can be navigated easily with the user-friendly interface that this GPS device enjoys.
Unfortunately, though, the Garmin Striker 4 can' pin current coordinates, and it has limited connection options in regards to Wi-Fi and micro SD slots.
Pros:
High sensitivity GPS
Affordable
+5000 waypoints
Transducer
User-friendly interface
Cons:
No current coordinates
Limited connection options
Final Verdict
To wrap up, the Garmin Striker 4 is definitely a fantastic choice for beginners and experienced kayakers alike. It offers them everything that they might need with 5000+ waypoints, high sensitivity GPS, and a top-notch transducer.
2. Garmin eTrex 10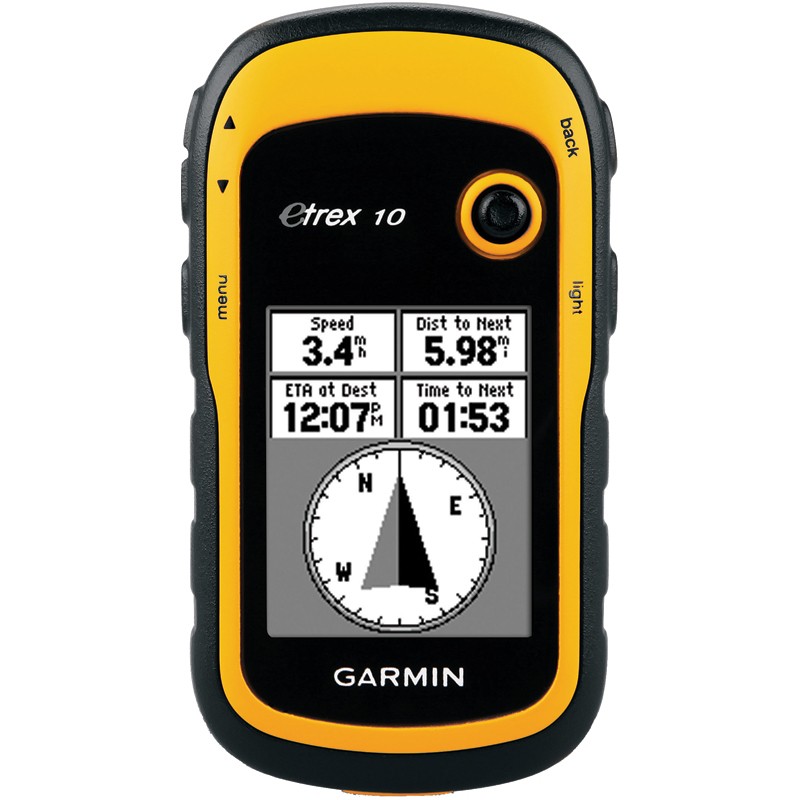 Next, we've got the Garmin eTrex 10, which is not just an incredible GPS device for kayaking; but is incredibly flexible in its usage as well. It can be involved in a bunch of other sports as well, such as hiking, cycling, and any kind of exploration.
The Garmin eTrex 10 enjoys a rugged, robust build, with structured control buttons. It's also compact in size and lightweight for easy handling.
Now, onto the GPS function of the Garmin eTrex 10. It doesn't only enjoy quick GPS, it also has Advanced Track Navigation, and a worldwide base map already installed, so anywhere you go, you'll be able to know where you are and do it really fast.
Moreover, the battery life of the Garmin eTrex 10 is fantastic at 25 hours per charge, so you won't find yourself worrying about it dying on you. Furthermore, it supports GLONASS, and it has automatic waypoints. This device has your back even if you forget to place your current coordinates.
Additionally, it has an IPX rating of 7; hence, it can be submerged underwater for around 30 minutes which is very useful. In general, the Garmin eTrex 10 has a user-friendly interface. Nonetheless, the display could've been improved as it's relatively small at 2.2 inches, and is presented in grayscale only.
Consequently, there's no support for nighttime vision, and no backlight, which makes figuring out the screen a bit hard. Last but certainly not least, this small device is entirely element resistant.
We've spoken about water, but you should know that it's also totally unaffected by any other elements such as sand, dust, wind currents, excessive exposure to sun rays or anything else.
Another aspect that could've also been fixed is the absence of internal memory padding, which would've taken this device to a whole other level.
Pros:
Quick GPS
Long battery life
Robust build
Worldwide base map
IPX-7 rating
GLONASS support
Cons:
Small display
Grayscale
No internal memory
Final Verdict
The Garmin eTrex 10 is truly an excellent choice for anyone who can deal with its display without trouble. It's perfect for young people who would like to take part in different sports. Plus, it's incredibly durable and element resistant, so it'll be around for a while.
3. Garmin eTrex 30x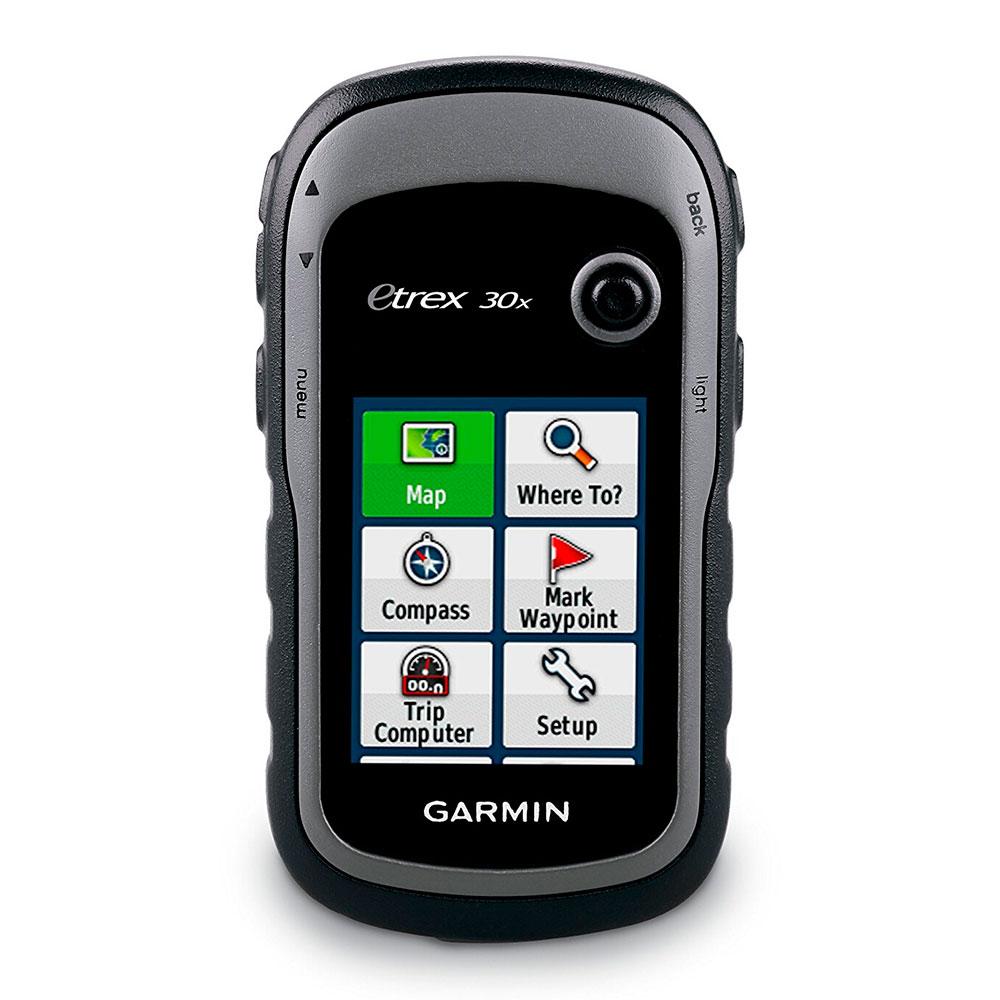 Let's speak about the Garmin eTrex 30x, which is a great handheld GPS device all around, and it has a jaw-dropping feature that we're yet to see, and that is an internal storage capacity of 3.7 GB.
This will allow you to download any app that you might need. Nevertheless, the Garmin eTrex 30x doesn't stop here, as it's also compatible with Micro SD cards, so you can even increase that storage space, and the number of paddling routes and waypoints that you can store becomes simply infinite.
Moreover, the Garmin eTrex 30x is very small and compact, while still providing a great battery life of 25 hours. So, again you won't have to worry about it at all. Additionally, although the keyboard might be a bit slow, which might irritate some kayakers, the overall speed of the Garmin eTrex 30x is pretty impressive.
It opens up in a few seconds, and you can navigate its different modes pretty easily, thanks to its awesome display. Furthermore, creating routes and waypoints, and knowing where you're all of the time is a piece of cake for the Garmin eTrex 30x thanks to not one, not two, and not even three tracking features that this GPS enjoys.
These unique systems include WAAS enabled receiver, which detects your exact position, the GLONASS support, the Advanced Track Navigation, our normal GPS, and the 3-axis compass, which helps give you a more detailed overall view of your position.
Plus, just like its siblings, the Garmin eTrex 30x enjoys an IPX7 rating, so it enjoys a very high water resistance level and can be submerged underwater for some time.
Unfortunately, though, the construction of the Garmin eTrex 30x could've improved as the plastic case isn't its best attribute.
Pros:
Small
Accurate
Fast
Customized experience
Great display
3.7 GB memory
WAAS enabled receiver
GLONASS support
Altimeter
IPX-7 rating
Advanced Track Navigation
Cons:
Slow keyboard
Plastic case
Final Verdict
If you want to upgrade your kayaking, hiking, or cycling experience, and you wish to do that through the use of several apps in addition to having the ability to create countless routes and waypoints, then the Garmin eTrex 30x would definitely be an excellent choice for you.
4. Garmin GPSMAP 64

The Garmin GPSMAP 64 is designed for the comfort of the kayaker. It comes with a bunch of options that allow you to plan your trip and your day much better. The thing is, being incredibly accurate goes back to the Garmin GPSMAP 64's compatibility with more than just one system or satellite.
First of all, it has a quad-helix antenna, which provides for ultimate accuracy and precision up to 10 feet. Moreover, the Garmin GPSMAP 64 is entirely compatible with both WAAS and GLONASS, which will take your kayaking trip to a whole other level.
Another significant aspect is its battery life and the fact that it comes with 4 GB of internal storage, again giving you an unbound ability to create your own maps and routes.
Another thing that will help you with planning your kayaking trip, especially if you're camping somewhere and staying out for a couple of days, is the weather report supplied by the Garmin GPSMAP 64, which will help you know what to expect when you're out and about.
Furthermore, the Garmin GPSMAP 64 can be connected to other Garmin devices, and to your smartphone through the Garmin Connect App. This is a fantastic feature, as it allows you to view all of your progress on a much more comfortable device such as your smartphone.
The Garmin GPSMAP 64 also supports Smart Notifications, which transfers the notifications from the GPS device to your phone, again for the same reason. Another thing that this device boasts is its ergonomic design.
The Garmin GPSMAP 64 comes with oversized buttons that make navigating the interface much easier; you don't want to be fumbling with the tiny buttons on your kayak. Last but certainly not least, although the display is comfortable and can be read both at night and in the sunlight, it's not a touch screen.
Pros:
Oversized buttons
Quad-helix antenna
Great battery life
4 GB internal memory
Weather report
Smart notifications
Cons:
Final Verdict
The Garmin GPSMAP 64 takes the game to a whole different level with the largest internal storage that we've seen up till now, and connection to your smartphone. It makes the whole trip much easier and more straightforward than any other handheld GPS device.
5. Garmin Foretrex 401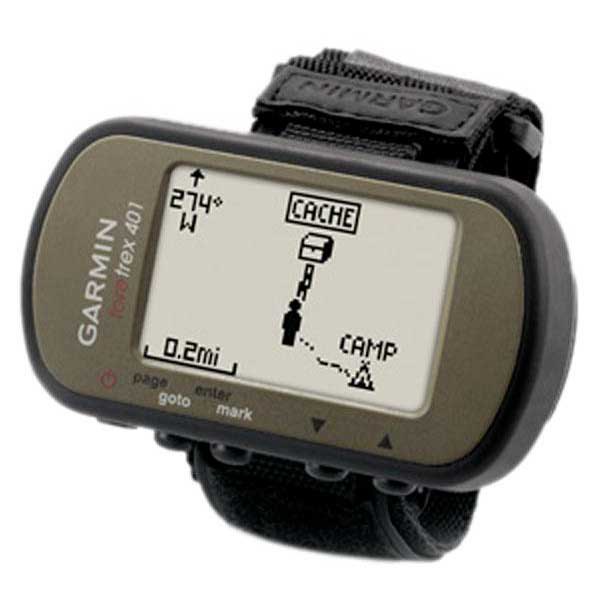 The Garmin Foretrex 401 boasts a fantastic attribute! That is the fact that it's hands-free, in other words, you can strap it around your wrist using the secure Velcro strap, hence treating it like a GPS watch.
This will allow you to entirely focus on kayaking without having your train of thought cut to look at your handheld GPS device. Moreover, the Garmin Foretrex 401 comes with a robust LCD, and although this display is not coloured, it's pretty simple and straight to the point. Subsequently, it's easy to read and navigate.
Additionally, the construction of the Garmin Foretrex 401 is pretty robust, as it's completely element resistant, including water, thanks to the IPX7 rating that it enjoys. Furthermore, it has a 17-hour battery life, which is very convenient.
Another thing that you don't have to worry about is fatigue in your wrist due to the Garmin Foretrex 401 hanging out there, as it's pretty lightweight, even if a bit bulky in regards to design. You'll not feel it.
Plus, the TrackBack function, which automatically traces your route, then allows you to retrace it whenever you wish to so that you're never lost. Add to that the fact that it comes with many sensors, including an electronic compass and barometric altimeter.
Still, though the altimeter is barometric, so it needs frequent calibration in order to be accurate, as well as having to hold it in level correctly for it to get precise results.
Another thing is that the Garmin Foretrex 401 enjoys is that it can be connected to other devices through either Bluetooth or The Garmin Connect App, which allows you to transfer all of your newly created routes and maps onto your smartphone or your laptop.
Pros:
Hand-free
LCD
17hr battery life
IPX-7
Element resistant
Wrist-mounted
TrackBack function
Bluetooth
Garmin Connect App
Cons:
Final Verdict
The bottom line here is that if you want a GPS device that you can look at it anytime without breaking your concentration, then the Garmin Foretrex 401, with its 17-hour battery life, high sensitivity GPS receiver, and TrackBack function, will never disappoint.
6. Humminbird HELIX 5 CHIRP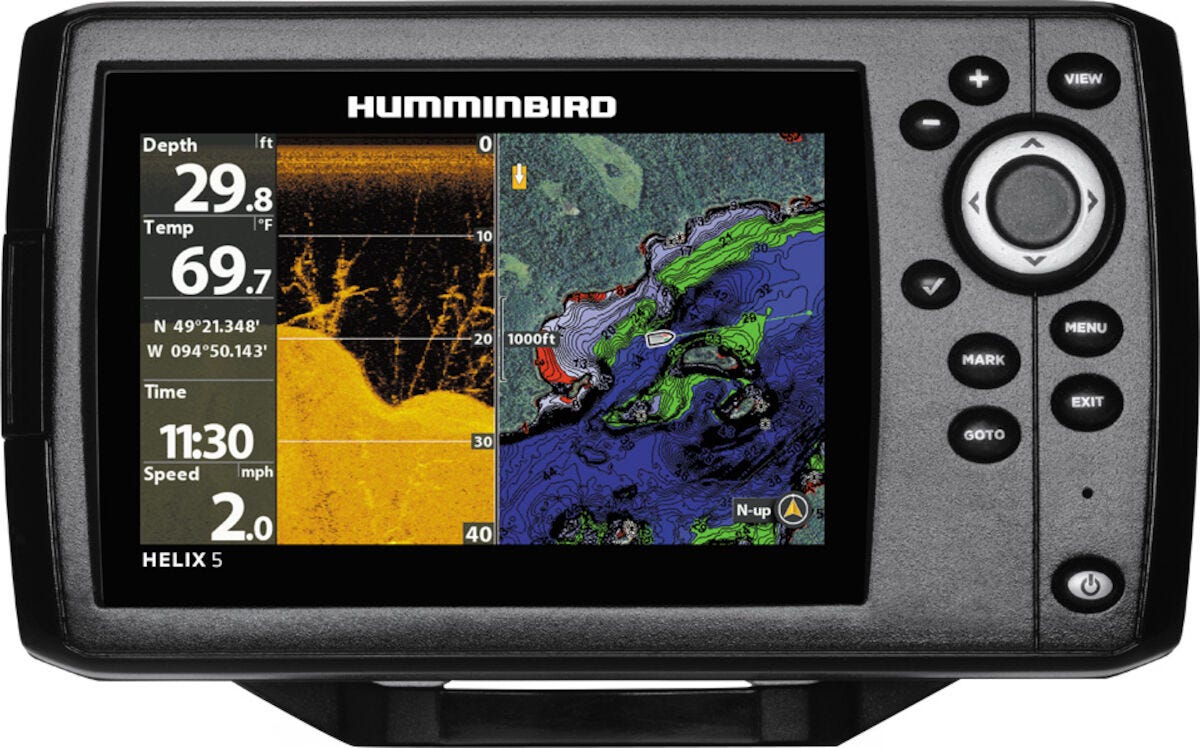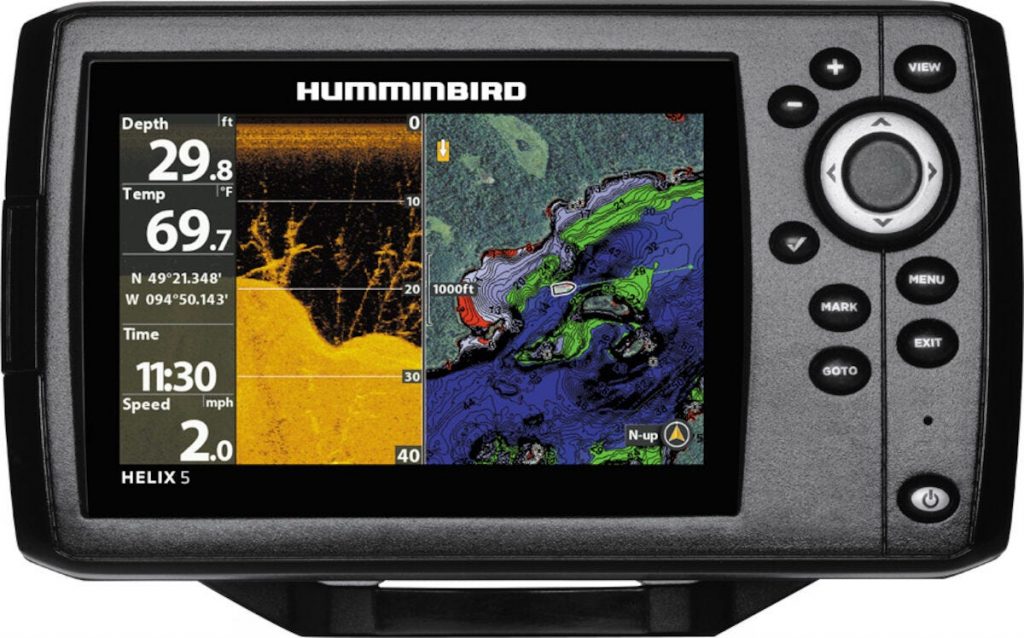 The Humminbird HELIX 5 CHIRP is one of the premium luxurious GPS devices on the market today. It comes with a ton of different options and facilities that make it, unlike any other GPS device.
Firstly, it probably owns the largest display size at 5 inches on today's list. Plus, this display is full LCD, backlit, with 256 different colors, so no matter where you're, tracking your steps, and everything else will be easy and vibrant.
Nevertheless, don't expect minute details as that simply doesn't happen with GPS devices, so this is as good as it gets. Moreover, it comes with CHIRP sonar and DualBeam, which don't simply scan the waters underneath, they can actually reach 1000 feet down.
Plus, through using the different modes and alternating them, you'll be able to differentiate confidently between the different species of fish, and all of the other obstacles such as rocks and seaweed.
You can also choose to go with the Bird's Eye view, which allows you to see from up, and this mood also distinguishes between living creatures and nonliving things. Since we've mentioned modes, let us list a few of them for you so that you know what you're dealing with.
You've Selective Fish ID, Switch Fire, Circular Flasher, Bottom Lock, and Real-time Sonar. Another great attribute that the Humminbird HELIX 5 CHIRP enjoys is the UniMap charts which contain a ton of useful information for great fishing destinations in the USA.
Last but certainly not least, the Humminbird HELIX 5 CHIRP has a dedicated slot for Micro SD cards so that you can enjoy as much storage space as you might need. Plus, just like its siblings, the Humminbird HELIX 5 CHIRP has an IPX rating of seven, which means that it can be submerged underwater for a short period of time.
The thing is, we've mentioned at the beginning of this review that the Humminbird HELIX 5 CHIRP is a premium choice; hence, if you want these features, you have to pay the price, which is relatively expensive in comparison to other also great handheld GPS devices.
Pros:
Five-inch LCD backlit screen
256 colors
IPX-7 rating
CHIRP sonar
DualBeam
1000-ft depth
Micro SD card slot
Cons:
Final Verdict
The Humminbird HELIX 5 CHIRP is genuinely superior to a huge chunk of the handheld GPS devices in the market. With its CHIRP Sonar and 1000 foot depth, it'll help you significantly on your kayaking trips, but you must be willing to break the bank for it.
7. Garmin Striker Plus 4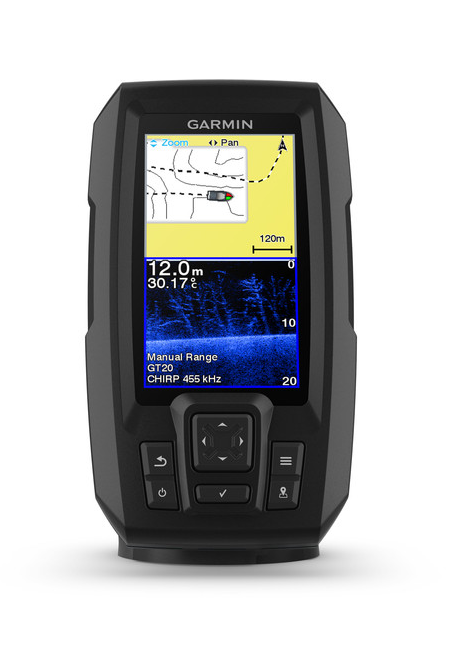 Next, we have the Garmin Striker Plus 4, which is the epitome of durability and consistency in performance. This device is made completely out of heavy-duty military-grade material, and the technologies installed inside are all that anyone can possibly need.
Let's start with the transducer, and that is the DualBeam transducer. This one allows the kayaker to distinguish between different entities. Moreover, it comes with a temperature sensor and the ClearVu chirp sonar.
We're already familiar with the CHIRP Sonar, and its strength; nevertheless, the ClearVu version is more like a 3-D printing of everything that's happening under the water. Hence, you'll be enjoying a unique experience.
These two together allow the Garmin Striker Plus 4 to cover around 2,000,000 acres of contours, and as for the waypoints, it can store 5000+ of those, which is pretty impressive.
All of this is seen on the HVGA display, which is completely backlit, allowing you to see at all times of the day without any trouble. Furthermore, it comes with a user-friendly interface so that you can navigate the large display as efficiently as possible.
Additionally, it sports an affordable price tag which is very surprising when looking at all that it offers on a daily basis.
The only con that comes with this GPS device will have to be the state of the GPS system itself, which isn't upgradable. So, you're stuck where you are for as long as you have the device.
Pros:
Heavy-duty military construction
DualBeam Transducer
HVGA display
Backlight
+5000 waypoints
2,000,000 acres of contours
Temperature sensor
ClearVu CHIRP sonar
Cons:
Final Verdict
If you want to enjoy seeing whatever it is that's happening under the water in a 3-D fashion, and you want to enjoy the large display fitted in a durable, robust case, then the Garmin Striker Plus 4 would be a great choice to go with.
8. Garmin eTrex 22x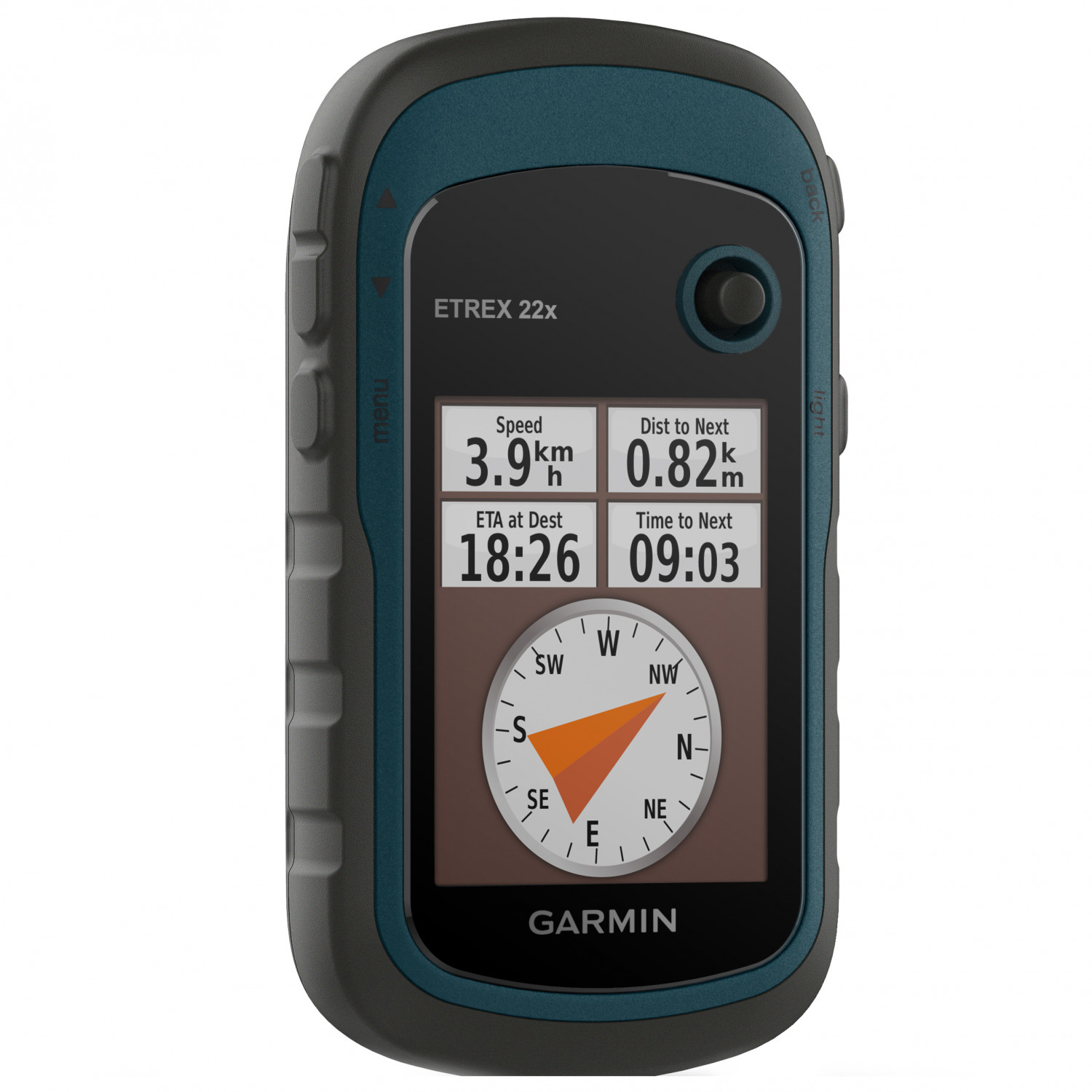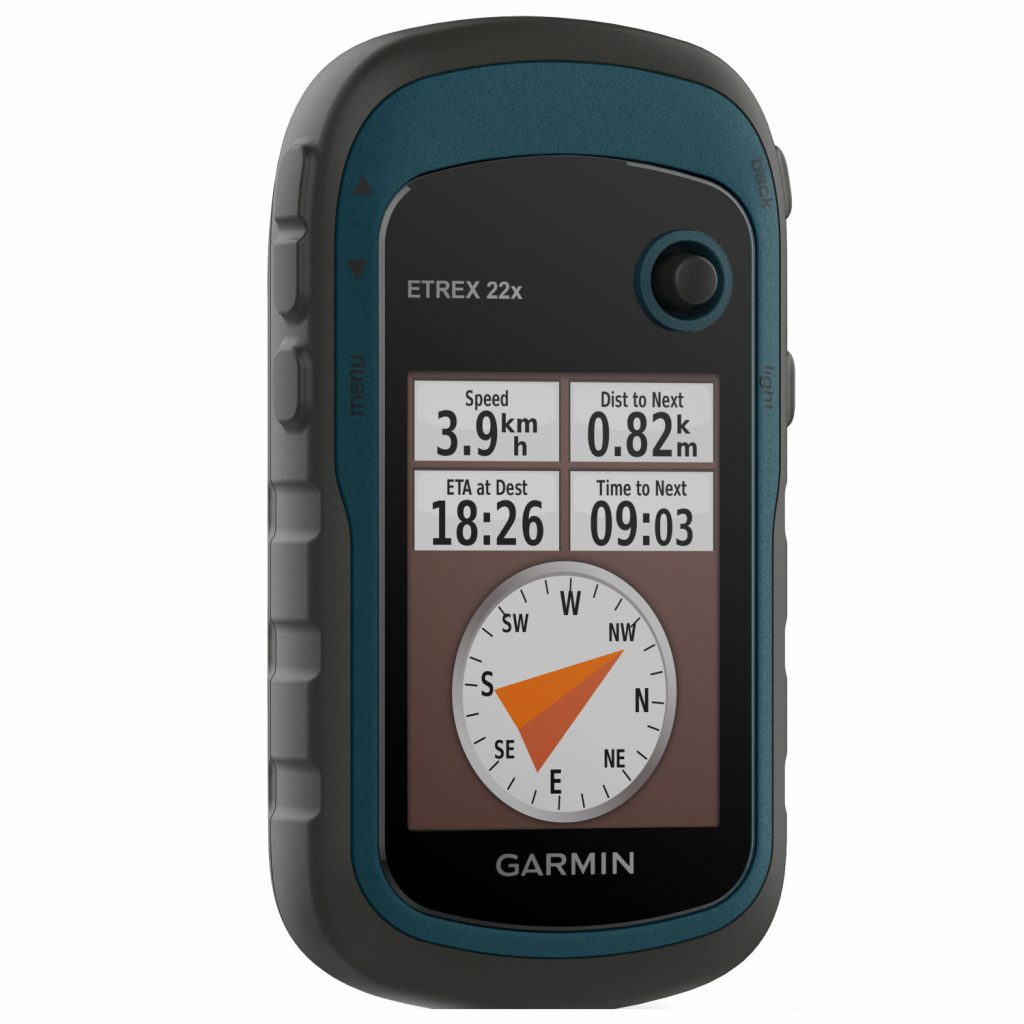 We've got another product by Garmin, and it enjoys many of the spectacular attributes that its siblings have boosted, such as GPS and GLONASS support, allowing for much better reception and greater coverage.
That is in addition to 8 GB of memory, which is the highest that we've seen on this list. Add to that ability to accept micro SD cards, and you have unlimited storage for all the routes and maps that you would want on your GPS device.
Moreover, the Garmin eTrex 22x comes with already installed TopoActive maps, which can come in rather handy in plenty of situations.
No matter where you're in the world, the Garmin eTrex 22x will be there to have your back as it has a fantastic battery life of 25 hours.
Furthermore, it supports quite a few modes, most importantly, the Birdseye satellite imagery view that we've spoken about before, and it allows you to see things from above. Still, how will everything look?
Unfortunately, the display of this device is a bit too small. Nonetheless, it supports 65K color all in high resolution, so everything will be rather small, but clear, which can act as a cause of redemption.
Additionally, the Garmin eTrex 22x fully supports WAAS. Last but certainly not least is the fact that all of that comes packed neatly with an affordable price tag so that you don't have to dent your wallet.
Pros:
65k color
TopoActive Maps
GLONASS support
8 GB memory
Micro SD slot
IPX-7
WAAS support
High-resolution color display
Cons:
Final Verdict
To wrap up, if storage space and high resolution are what you're looking for then, the Garmin eTrex 22x with 8 GB of memory and 65K high definition color will do the job just fine for you.
9. Garmin Montana 680t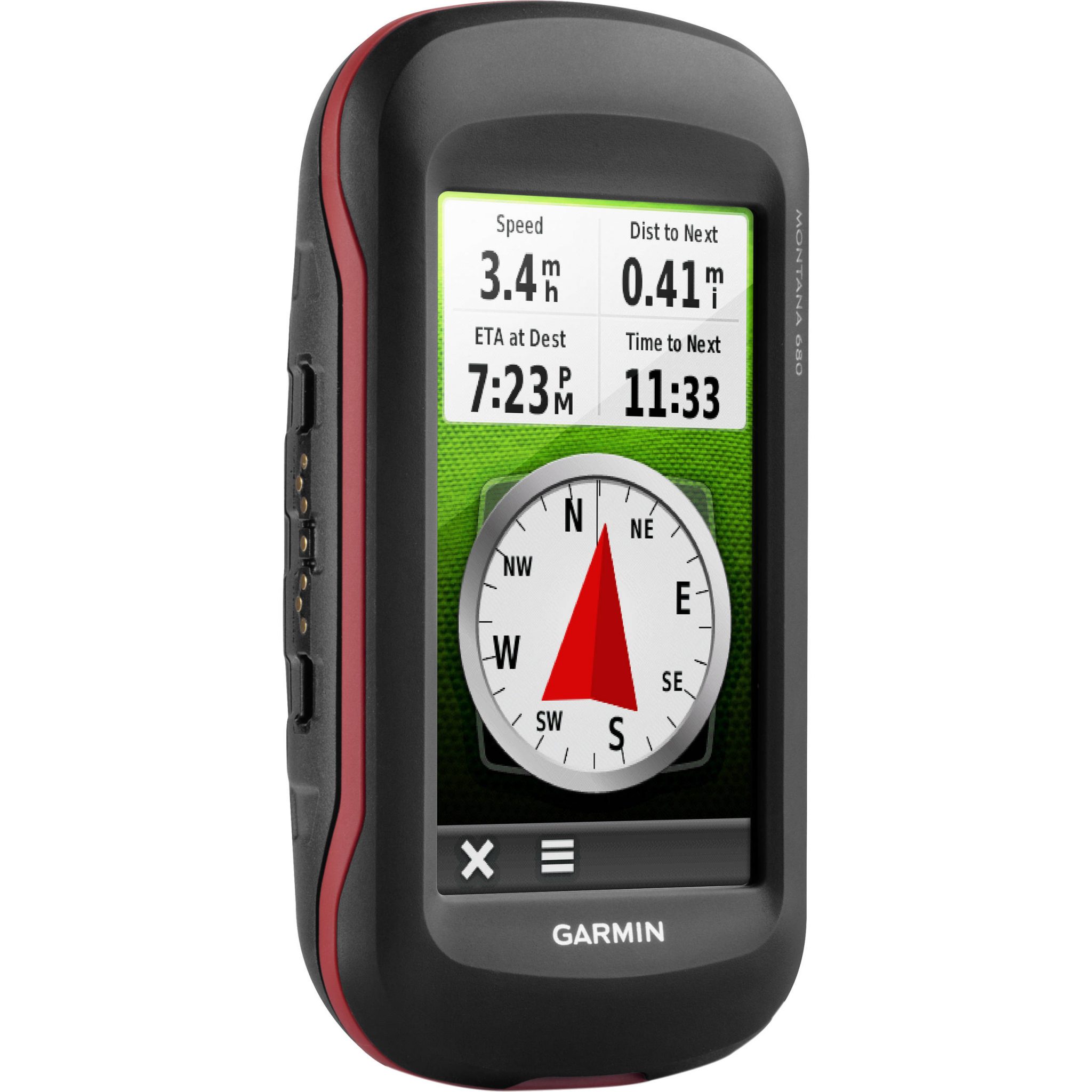 We'll end on a high note with our Garmin Montana 680t, which boasts an incredible 4-inch display with a touchscreen, in addition to 16-22 hours of battery life.
Now, this battery life doesn't come from anywhere, rather from the rechargeable lithium-ion battery, which comes included in the package.
Moreover, just like the Garmin eTrex 22x, it comes with 8 GB of internal memory, and a slot designed for Micro SD cards for even more storage. The thing is, it comes already fitted with 250,000 preloaded geocaches, which can come in pretty handy at any moment.
Furthermore, the whole device is water-resistant, thanks to the IPX7 rating. Another aspect that is also related to storage is the upgraded camera which allows you to document your adventure, your new spots, and routes in a way that was never available with GPS devices before.
Also, the GeoTagging function makes creating your own maps and routes a piece of cake. That is also aided by the fact that the Garmin Montana 680t supports several satellites.
These satellites include GPS, WAAS, GLONASS, and Hotfix satellite prediction. Therefore it's very easy and fast to determine where you're and quickly create the needed route.
On the other side of the spectrum, the 4-inch display doesn't come at a low price, as the whole device is rather large and expensive, courtesy of the updated camera.
Pros:
4-inch display
IPX-7 rating
8 GB Memo
Micro SD card
Upgraded camera
Touchscreen
250,000 preloaded geocaches
Cons:
Final Verdict
If you don't care about the size of your GPS device, and you want to get the most bang for your buck, then the Garmin Montana 680t is a great choice for you with its camera for documentation and unlimited storage.
How to Pick the Best Kayak GPS?
Now that we're done with the singular reviews, we'll move on to discussing the basic criteria and features that any kayaker must look for whenever they're searching for a suitable GPS device.
IPX Rating
This is also known as the International Protection Marking, and it gives a clue to the extent of tolerance that the device will have to the intrusion of water and dust.
It starts at one and ends at eight, and since we're speaking about GPS devices for kayaking, we will be very much exposed to water. Hence, the higher the IPX rating, the better.
GLONASS
This is a radio navigation satellite service that is created and run by the Russians. When we're speaking about location services, the more satellites you have supporting your device, the better.
That's why you'll find that most of the devices on our list today are supported by both GPS and GLONASS, which of course, provides a much more precise location than what one of them on its own would've provided.
WAAS
Wide Area Augmentation System is sort of an upgrade to the GPS system of the USA. It provides more accurate results in a shorter span of time while trying to support as many preloaded maps as possible. Hence, having it on your device when you're inside of the USA is a great plus.
Topography
In a nutshell, topography includes changing the two-dimensional image that you would normally see on GPS devices to three-dimensional images. That way, you can see everything around you with remarkable clarity, and you'll know what to expect better when you see the height and width of the entities in front of you.
Waypoints and Tracking
There are so many options and capacities for waypoints and tracking features, and with those, the more, the merrier.
As you can see, we have devices on the list with 5000+ waypoints and tracking options such as TrackBack, where the GPS device will automatically track your route and save it, allowing you to go back through the same route and preventing you from getting lost with minimal effort from you.
The bottom line is, study the different options and technologies in front of you carefully, as each manufacturer comes up with their own every day.
Size
As a kayaker, you already have a lot of equipment on you, from your paddle to your food and water to a spray skirt, proper clothes, etc. All of that will take space, and you need to protect it and keep an eye on it; hence, you don't need anything more to worry about.
That's exactly why the size of the GPS device is essential. You'd want something that is compact and that you can easily place somewhere without it getting lost or toppling over.
We've actually seen a wrist-bound GPS device, which is definitely a great choice when it comes to comfort and practicality.
Memory
Memory is split into two categories; internal memory and external memory, and you should at least have one of them on your GPS device so that you can store all of your waypoints, routes, and freshly created maps.
The internal storage is what comes inside of the GPS device, you have nothing to do with it, and you can't change it. As you can see throughout the list, we've seen different memory capacities starting from 3 GB all the way up to 8 GB, which is incredible.
As for the external memory, it's treated just like old phones and cameras through Micro SD cards. Nevertheless, in order to use this privilege, your GPS device must come with the proper slot for the Micro SD cards. Otherwise, you'll be stuck with the internal storage no matter what it is.
Battery Life
No matter how you choose to operate your GPS device in regards to the battery system; whether through charging it; hence charging the lithium batteries inside, or using disposable batteries, i's consumption of energy will determine the battery life.
One thing is certain, and that is that you don't want to be charging this thing every day. That isn't how kayaking equipment works, because if it needs that much frequent charging, it'll definitely run out on you if you decide to spend a bit more time outside on the water. So, the higher you go, the better our experience will be with battery life.
Final Thoughts
This will be a wrap on our article today discussing the best kayak GPS devices available on the market today. Having a GPS with you while kayaking will save you a lot of trouble, and it'll allow you to safely explore new places and new species, especially if your device is fitted with a fish finder.
The key here is to know your game and understand the terms that you would find when searching for the proper GPS device for your kayaking trips. Consequently, don't forget to do your research very well, and know your own habits.
Like how long do you stay outside on the water, do you paddle continuously so you need a wrist bound device, or you just let the flow take you and guide you, all of these and more are questions that you should have specific answers for before you hit the market and start your search.
Now let's end with some amazing recommendations. Our first is the Garmin Striker 4 with its user-friendly interface, 5000+ waypoints, high sensitivity GPS, and IPX7 rating with the ability to be submerged for 30 minutes at the depth of 3.3 m.
Next, we've got the Garmin eTrex 10 with its long battery life of 25 hours, pre-installed worldwide map, element resistance, and quick, accurate GPS and GLONASS.
Last but certainly not least, we've got the Garmin eTrex 30x with its 3-axis compass, 3.7 GB memory, and SD card compatibility for extra memory.
You Can Also Check: