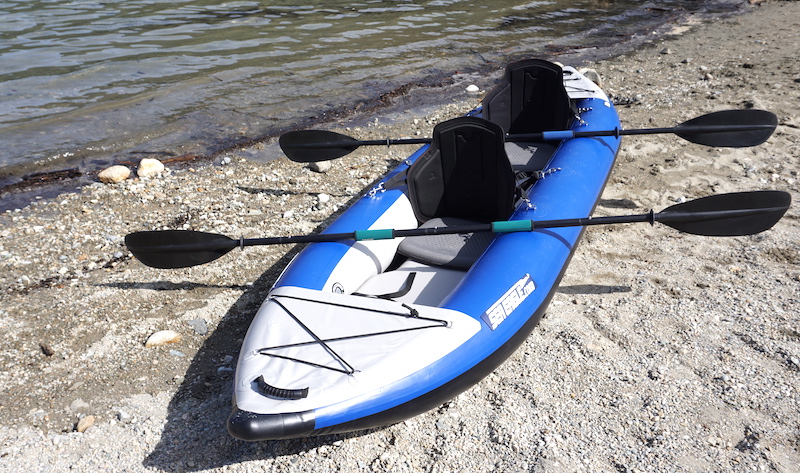 Going with inflatable kayaks is a safe option for many kayakers. They're easy to use, affordable, and offer many choices and packages. The Sea Eagle 380x is no different, so let's check it out.
Sea Eagle 380x Kayak Review: At A Glance
This inflatable kayak is truly a steal for all the features that it boasts. It can be used in all kinds of situations and with all levels of experience. You can effortlessly use it to chill on a lake, speed through rough waters, or even teach your kid the basics of kayaking.
Pros:
High-pressure floor
16 scupper holes
Pets-friendly
Robust
Steady
Solo and Tandem
Cons:
No waterproof storage
Heavy
Build and Design
Primarily the Sea Eagle 380x is entirely made out of 1100 Decitex Reinforced PVC. This construction allows the kayak to remain unscathed after years of usage. 
As you'll know, later on, this kayak can take up to three adults. Also, these adults can be replaced by more than one pet according to their size. As a result, it must be highly durable and robust to survive the continuous clawing assault that it might be under due to the pets' activity.
Furthermore, this kayak is designed for all types of waters, so it's constantly met by rocks and all kinds of structures, specifically on white waters.
Compartments
The most significant worry that any kayaker would have when using an inflatable kayak is for it to get punctured and have a leak in the middle of the water.
That is why the Sea Eagle 380x isn't designed with one but three compartments, each with a one-way air valve. That way, if for any reason one compartment is suffering a leak, you've the two others wholly separated from it, so they can get you back to shore safely.
Moreover, the one-way valves you'll see with this kayak are incredibly tough and snug, hardly any kind of collision can cause them to come undone.
Another thing that you should look at when browsing inflatable kayaks is how the pieces of the boat come together. The seams can easily be your weakest points, and they could be the downfall of any kayak.
Fortunately, that's not the case with the Sea Eagle 380x, as it comes with glued seams that are overlapped four times. This means that you have around five levels of support when it comes to the seams.
Floor
Another area of the boat that has been taken care of quite diligently is the floor. Unlike other inflatable kayaks, the floor here is high-pressure, giving a lot of rigidity, stability, and shape to the boat.
It's not just something comfortable to sit on; it's a fundamental part of the mechanism, as it's designed in a drop-stitch technique. In simple words, drop stitch means that the inside of the floor is not empty; this is not just air.
As a matter of fact, the inner walls, up and down, are interwoven together using thousands of textile threads that allow the floors to withstand high air pressure.
Seat
As for the seats, you've two varieties of them; Deluxe Inflatable, and Tall Back. Although you can take three adults, you only get two seats in your package.
Deluxe Inflatable
Inflatable seats are great in the sense that they're flexible and easily adjustable. Nevertheless, just like anything else inflatable, they don't offer much support for your back and neck.
Tall Back
On the other side of the spectrum, we've the tall back seats, which are way more rigid and offer much support to your back. You can effortlessly stabilize them through the bungee lashings and D-rings available on the sides of the kayak.
Either way, both sets of seats have back pouches for storage of your most used item. That way, you can simply reach back and grab whatever you want without opening a dry bag whilst kayaking.
Dimensions
The Sea Eagle 380x weighs 40 lbs which isn't the lightest when it comes to inflatable kayaks; still, as we've seen, it offers much more than what is generally expected from inflatable boats.
The length is 12.6 ft, the beam is 39 in, and it has a maximum capacity of 750 lbs. So, if you choose to go as a family and have three adults on deck, you'll have to be rather economical regarding the needed equipment.
On the other hand, if you decide to go by yourself or with one more person or a pet, you'll find that you can pack quite a lot with you, even if you intend to stay out on the water for more than one night.
Accessories
The Sea Eagle 380x comes with a bunch of accessories that make handling it a piece of cake.
Spray Skirts
First, we've two spray skirts; one at the front and one at the back, and they're held down by four D-rings and bungee lashings. They can be pretty valuable if you wish to store some dry bags under them. Also, if you've a pet, they can be used as their own "throne" on the kayak.
Slide-in Skeg
The Slide-in Skeg comes included in the package, and it's great for increasing the trackability and maneuverability of the Sea Eagle 380x. However, we'd advise you to use it only with calmer waters.
If you decide to use it with white water, you'll find that it's making the kayak a bit out of control, especially if you're kayaking solo.
Bungee Lashings and D Rings
Next, we've bungee lashings and the D-rings. Now, you must know that the Sea Eagle 380x has no internal storage.
Consequently, all of your storage is going to be using dry bags, bungee lashings, and the D-rings. Thankfully, you've an abundance of them, as you've five rings on each side, four in the front and four in the rear. As for the bungee lashings, you can have as many of them as you want.
Carry Bag
The carry bag that comes with the Sea Eagle 380x is incredibly sturdy and helpful. It can be undone into four perpendicular straps. Then you put the deflated kayak in the middle, bring back the straps over each other, and zip them up.
Maneuverability
The Sea Eagle 380x is completely capable of wiggling its way through any kind of water. As a matter of fact, it's completely capable of dealing with class IV rapids.
Word of advice though, it's much easier to use this kayak when you're going tandem. Having someone else paddling with you will make the experience much more fun and secure.
Setup
Lastly, we've the set up which is rather easy as you've everything you need right in front of you. It takes 8-10 min maximum, and the more frequently you do it, the easier it'll become. The same goes for dismantling the kayak, as it deflates to 31x20x9 in.
What Is in the Box?
Repair Kit
Two Deluxe Inflatable or Tall Back chairs
A41 foot pump
Two 7.1 ft paddles
Carrying bag
Kayak
Slide-in skeg
In Conclusion
To summarize, the Sea Eagle 380x is a jack of all cards, but we wouldn't go so far as to say that it's master of none, as it's somewhat fluid in countless situations. So, if you're in need of an inflatable kayak, it'll always represent a great choice.
You Can Also Check: