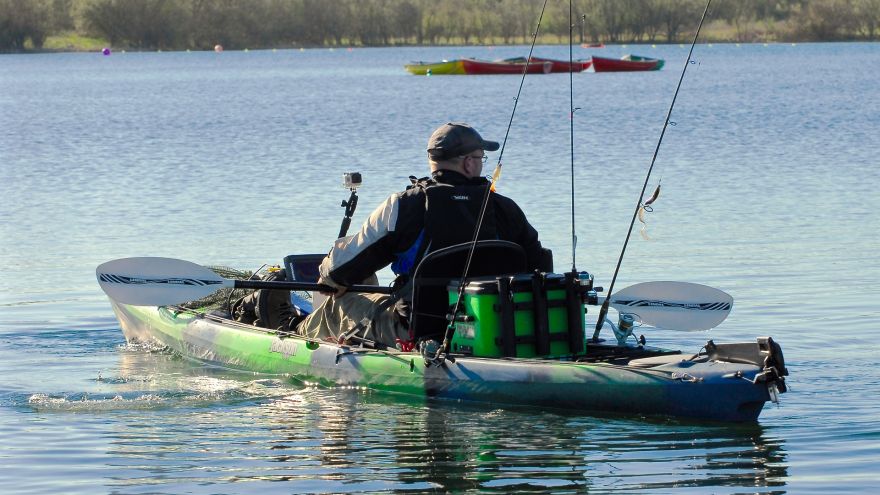 Coronavirus or COVID-19 has turned into a pandemic and is now affecting the economy worldwide. A lot of shops are already closed for the time being, and businesses are struggling with the current situation. Along with this global crisis, fishing is one of the areas where coronavirus had a negative impact.
Fishermen are now wondering whether they should carry on with their business or not, and how they can protect themselves against the new disease.
In this article, we will clarify the situation for you and let you know what can be done about it. So, without any further ado, let's jump right into it.
Short Answer:
It is up to you whether you should continue to go fishing or not. However, if you are not a licensed fisherman who does this for a living, then there is no need to put your health at risk, especially if you live in an infected area. It is better to just stay home until it's all settled. On the other hand, if you are running a business, then let us tell you your options and how you can protect yourself and your family.
The Effect of the Novel Coronavirus (COVID-19) on the Fishing Industry
Sadly, the COVID-19 virus has affected a lot of the global aspects, and the fishing industry happens to be one of them. As you may know, social distancing is one of the primary keys to limit the spread of the virus. In return, harbors are reducing their services with a significant limitation on charter boat operations; also, bait shops are closing.
One thing that you should notice is that the prices of the fish have dramatically fallen, which has a negative impact on fishermen. Not only do people have difficulties in traveling a distance to buy good fish, but the restrictions are forcing fish restaurants to close, which is making things even worse for fishermen.
The Demand Market for Fish
Surprisingly, people are not discouraged from eating fish during the coronavirus pandemic. A lot of environmental groups that were previously fighting for animal rights and pushing back on overfishing are now motivating people to eat more seafood and incorporate it into their diets.
According to a recent article by the Los Angeles Times, Eric Schwaab, a senior vice president for the Environmental Defense Fund's oceans program, stated that the American fisheries had become one of the best managed and most sustainable worldwide thanks to the policy reforms and the efforts of the fisherman. However, he requested that people show more support to these fishermen who are struggling with the current economic chaos due to the collapse of the exporting markets and restaurant closures.
How Are Fishermen Reacting to the Current Situation?
On the fishermen's side, things are upside down. The individual fishing businesses and organizations are trying to mitigate the impacts of this chaos. Shorter trips are being arranged with the staggering of the previous plans to reduce the quantities to be landed. All these efforts are exerted in a trial to keep the business going without flooding the market and triggering a further price collapse.
Is It Okay to Go Fishing?
In short, yes. It is okay to go fishing. However, there are a couple of things to bear in mind.
1. Equipment Stock
Unfortunately, the stock up on fishing equipment by going to the nearest local sporting goods store is hardly an option anymore. Many of the bait shops and sporting goods stores fall into the category of nonessential businesses, and based on this, they are temporarily closed and, thus, not available for fishermen to visit. The only shops that are still open are those that sell items such as gasoline or propane.
How Can Fishermen Buy Fishing Equipment Under These Circumstances?
The only way available for fishermen to do stock up on fishing equipment is online, not to mention, it is also the safest.
The good news is, a lot of the famous stores like Bass Pro Shops in Auburn and Cabela's Store in Cheektowaga, New York, are still available for online shopping. The same goes for Dick's Sporting Goods and Gander RV and Outdoors in Cicero.
Also, the small sporting goods stores that sell gasoline or propane such as the Thousand Island Bait in Alexandria Bay and Fat Nancy's in Pulaski are still open since they are considered essential business shops.
2. Fishing Trips
Technically, there are no official orders to cancel or reschedule any fishing trips. However, fishing guides have already canceled some trips, and they're working on rescheduling the trips that had been booked in the upcoming weeks.
According to the guides, there is no such thing as a social distancing on a charter boat. Many of the clients on board are from different areas, and they might travel from somewhere that's relevantly far and pass on the disease to another clean area. A lot of the guides are considering the safety of their families first. They don't care whether the government agrees to this or not, as long as they stay on the safe side.
In our humble opinion, this is simply common sense. What good is the money if you can't go on with your life to spend it or live with the guilt of the death of a close one because of the disease!
How to Stay Safe If You Go Fishing?
For some people, fishing isn't a business; instead, it is a way of relieving stress and maintaining proper mental or even physical health. They just find it easier to cope with the world when they go out and breathe the fresh air by the sea or the lake, and simply practice their favorite hobby.
However, it is important to ensure your own safety and the safety of the people you will be in contact with during and right after the fishing trip. This is why it is crucial to follow the guidelines of the Center for Disease Control (CDC) to prevent the spread of colds, flu, and most importantly COVID-19
The number one rule is to stay a distance of 6 feet from anyone you come across along your way, especially those who are showing symptoms of respiratory tract infection like coughing and sneezing.
It is better to go on solitary exercises. While fishing can be more enjoyable if you go with friends and relatives, this might increase the risk of you catching the disease for all of you.
All forms of close contact, such as shaking hands, hugging, and kissing, should be avoided.
It is important to wash your hands with soap and water from time to time.
If that is not available, keep an alcohol spray with you with a high alcohol concentration. Sanitizers help keep your hands clean; however, they can't kill the virus, so you shouldn't depend on them alone. If you want, you can use them along with alcohol sprays, but not the other way around.
Also, it is better to stay away from all surfaces that are touched so often, such as doorknobs and handrails. If you find it hard to be careful all the time, consider buying disposable gloves to keep the germs off, just make sure that your hands don't come in contact with your face as long as you're wearing the gloves or if your hands aren't clean.
If you have any respiratory symptoms, it is better to stay home, but if you still want to go outdoors, then it is better to wear a face mask to avoid being contagious to others.
After you come back from your fishing trip, wash all your cloth, and it's preferred if you wash your equipment, maybe throw some concentrated alcohol with the soap and water as well.
One last thing, if you find plenty of people on the fishing trip, it is better to reschedule to another time to reduce your chances of catching COVID-19, make sure you are safe out there.
Final Thoughts
The novel coronavirus has severely impacted all the industries. Fishing is no different. This is why it would be appreciated to show support to all the fishermen who fully-depend on fishing to make their money.
Even though it is okay for you to go fishing, you will scramble for equipment, but once you settle this down, make sure to follow the guidelines provided by the CDC to narrow down your chances of catching an infection. Of course, it is safer if you stay home for the time being, especially if you live in an area where a lot of people are infected. At least, until things are a little bit more under control.
You Can Also Check: