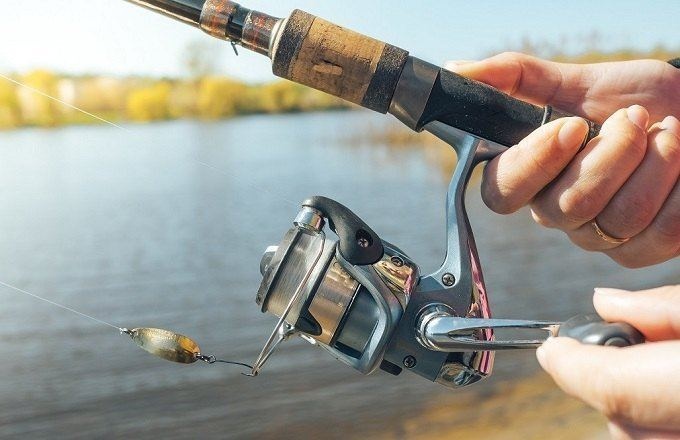 Trout is one of the most famous fish species all around the world. This makes fishing it as a sport incredibly competitive. So, if you want to be a part of this sport, you've to be fully prepared, and that includes finding the best trout spinning reel for yourself. That's exactly what we'll help you do today.
Comparison Table
The 6 Best Trout Spinning Reels In 2021:
Now that we're done with the technicalities, let us dive right into the particular details of each model.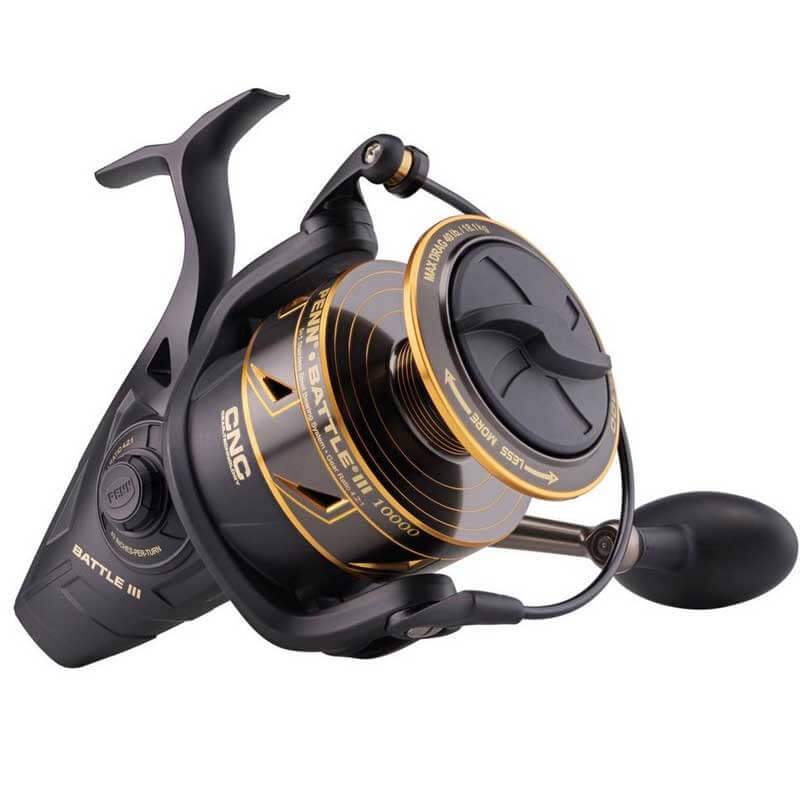 We'll start our reviews with the PENN Battle III, as it packs quite a package when it comes to this race. Although it's quite heavy at 1 lb, this reel brings with it a drag capacity of 15 lbs and a gear ratio of 6.2:1. Combine all of that together, and you'll be able to fish trout comfortably, no matter its size or subspecies.
Nevertheless, the PENN Battle III doesn't stop here as its drag system is the HT-100, which stands for High Tech, and 100 is the length of the fishing line used in the testing. These washers are made from carbon fiber that is laminated on fiberglass.
What is the point of this system? The answer is stability. These carbon washers are capable of compensating the lengths of line that you lose while warring with trout, or any other strong species, as it has lower levels of friction.
Now, onto the construction of the reel. Inside of the PENN Battle III, the CNC technology has been utilized, which stands for Computer Numerical Control. In simple words, this technology allows for much elevated levels of precision and efficiency when cutting and shaping the gears.
This automatically translates into smoother casts and retrievals, and an overall more practical reel. As for the rest of the reel, it's made out of metal. Thankfully, the pinion gear is made out of brass, not zinc, while the main gear is made out of aluminum.
All of that is adorned with a corrosion-resistant coating while all of our five ball bearings and the anti-reverse bearing are completely sealed.
When it comes to the spool, we have a Superline spool which is decorated with a rubber gasket to improve line lay. This helps the line go in and out without twisting, and without knots, and it's of course braid ready.
The only downside is that all of this can't come for a cheap price, which has led to the incredible mark-up in the price tag of the PENN Battle III amongst its different sizes.
What We Like:
CNC Gear Technology
15-lb HT-100 drag system
Metal construction
Size variety (1000-10000)
Brass pinion gear
Aluminum main gear
Corrosion-resistant coating
Braid-ready
What We Don't Like:
Final Verdict
The PENN Battle III is undoubtedly an excellent choice all around. You have six ball bearings, and a moderate gear ratio that would allow you to fight trout with stability, that is if you can deal with the price and the weight of this reel.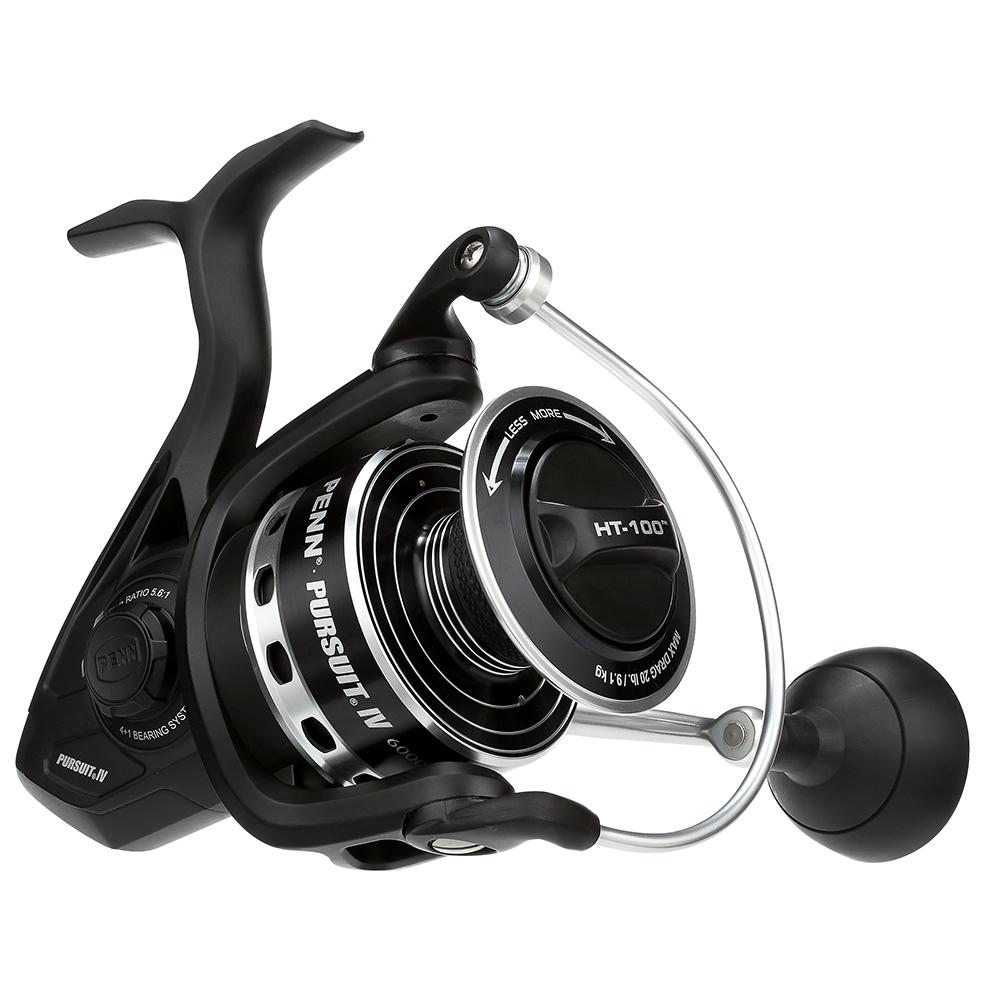 Next, we have the PENN Pursuit IV in its fourth edition, which runs very close to the Battle III. Nevertheless, this one comes with a graphite build, which means that it's naturally corrosion resistant.
Next, we have four completely sealed ball bearings, a maximum drag capacity of up to 10 lbs, and a gear ratio of 6.2:1. The PENN Pursuit IV weighs only 0.6 lb, so a little over half a pound, which makes it incredibly lightweight, and easier to use and handle throughout long fishing trips.
We also have a Superline spool here, which is made out of anodized machined aluminum, and it's incredibly robust, detailed, and precise. The drag system here is the same as the PENN Battle III, which is the HT-100.
Furthermore, the reel was designed with line capacity rings, which make things much easier for fishers, letting them know how much line has left, and how much line they've remaining.
The PENN Pursuit IV is designed with an ergonomic robust stainless steel handle and slow oscillation gear, which work great alongside the gear ratio to make things more stable as you are digging for trout.
Due to all of the similarities between this model, and the previous one, and several other models from PENN present on the market today, the PENN Pursuit IV has an abundance of spare parts as you can mix and match to a great degree.
We also have a wide range of size variability starting at 2500 all the way to 8000. Unfortunately, it's not beginner-friendly and has quite the learning curve. You need to work with it for a while before you learn its ins and outs. Plus, the bail tends to close unexpectedly. So, you need to be careful about that.
What We Like:
Graphite build
Sealed ball bearings
Slow oscillation gear
Anti-reverse bearing
Line capacity rings
Available spare parts
What We Don't Like:
Bail closes unexpectedly
Has a learning curve
Final Verdict
If you're aiming for larger-scale trout that normally resides in salt water, you'll need to focus more on the drag system, salt and water resistance, plus ease of management, since these trips tend to be quite long, then the PENN Pursuit IV is the better choice for you.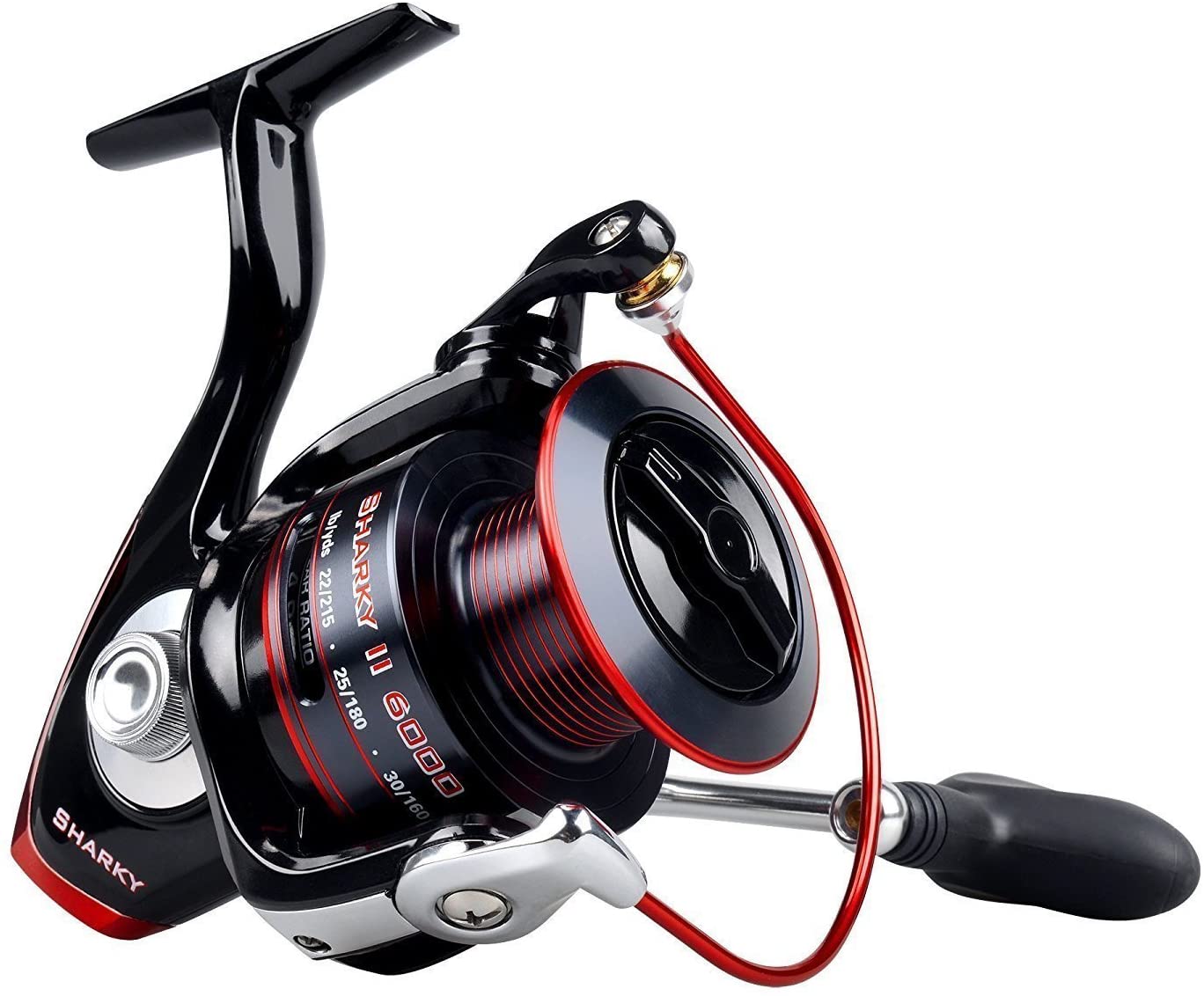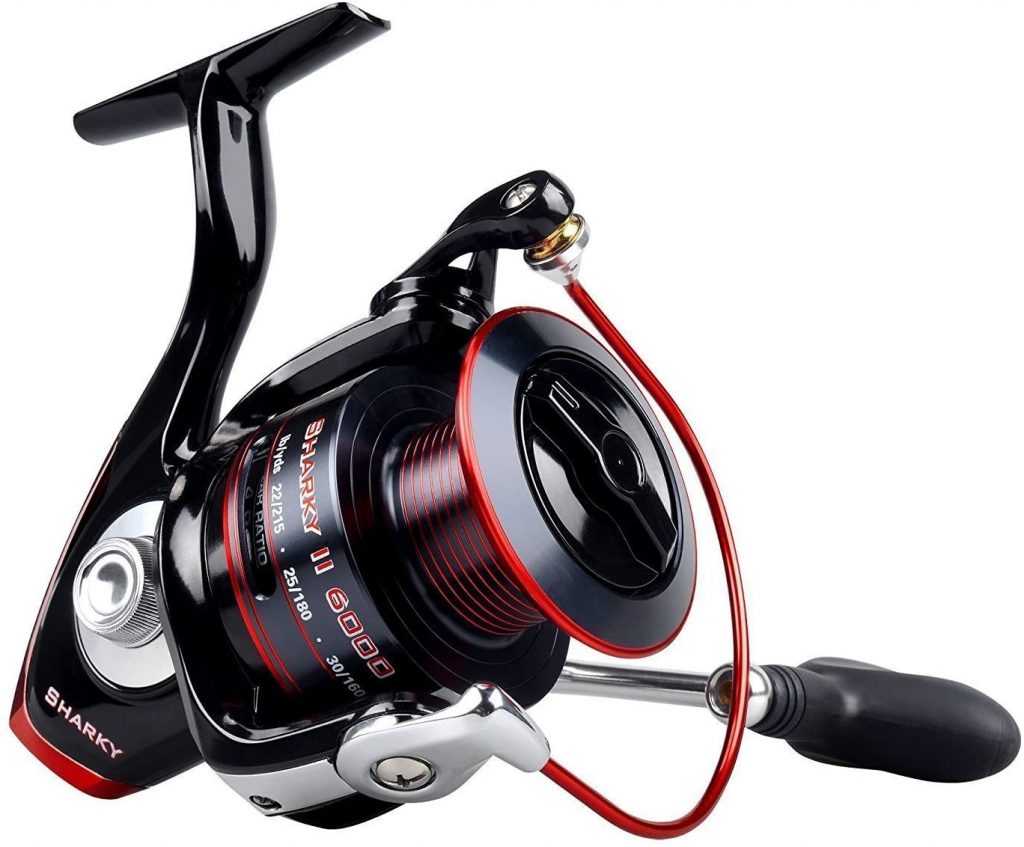 KastKing is one of the pioneers of the fishing industry and the Sharky model has been around for quite some time, and every version has been quite the success. This is why we'll talk about the third version today, which is the latest.
This one comes with an incredible triple disk drag system with a maximum of 33 lbs for this size. Besides, it comes with 10+1 sealed ball bearings and a gear ratio of 5.2:1. Hence, making the competition much more aggressive when it comes to salt waterfronts, where even bigger trout is thriving.
Nevertheless, the reel is suitable for both waterfronts; fresh and salt. In general, the KastKing Sharky III is designed to be completely comfortable for any fisher. We have an oversized stainless steel shaft, with a SecureFit handle, designed with engraved rubber that doesn't create pressure points in your hand.
However, it does weigh 0.9 lb, so almost one complete pound, which is kind of heavy. That is why the ergonomic design is so vital. As for the build of this reel, it's made completely out of fiber and graphite, including the rotor.
The pinion gears, on the other hand, are precision mesh manganese brass ones, so, again, steering clear from the zinc alloys and all of the cheaper substitutes that we still see on expensive models today.
This allows for high torque, which is exactly what we need when going after trout. You don't need speed and lightness, you need resilience and stability.
We also have the K.I.S.S, which stands for KastKing Intrusion Shield System. This technique consists of a very unique design for the entire reel that works on protecting it, not just from water, but also from dirt, sand, debris, and anything that can find its way inside of the reel, and clog it, reducing its lifespan.
Surprisingly, the KastKing Sharky III is quite affordable and beginner-friendly. There aren't any tricks that you need to learn when dealing with this reel.
Plus, as we've mentioned before, the KastKing Sharky III is quite heavy. We also ought to tell you that its frame is rather large, for housing all of these gears, ball bearings, drag system, etc.
What We Like:
Amazing triple-disc drag system
Ergonomic design
Oversized stainless steel shaft
Secure-Fit handle
Braid-ready spool
Affordable
High torque
Beginner-friendly
Salt and freshwater compatible
What We Don't Like:
Final Verdict
If the drag system is your ultimate requirement; whether you're going to fish exclusively trout or other species as well, then the KastKing Sharky III with its 33-lb maximum drag is definitely the way to go for you.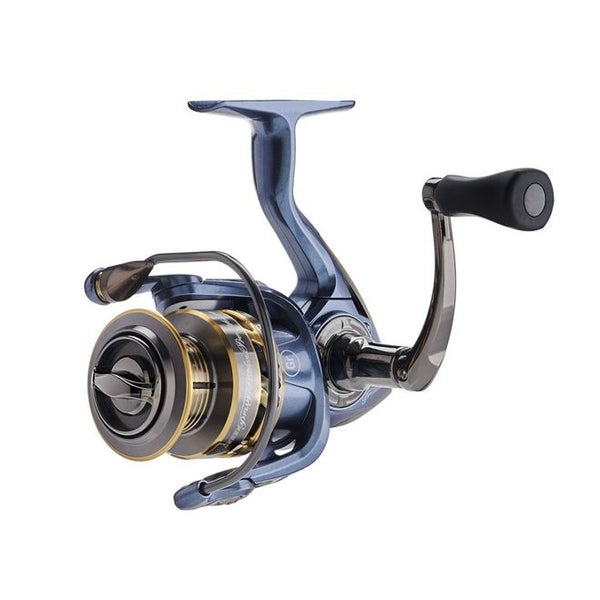 The Pflueger President is our lightest reel today as it only weighs 0.46 lbs, so not even half a pound. This reel has a sealed drag system that is highly adjustable; micro increments to be exact, with a maximum of 6 lbs. 
It also comes with seven ball bearings and a gear ratio of 5.2:1. Nevertheless, the Pflueger President doesn't stop there, let's talk about its outer design. It comes in a dashing color palette consisting of metallic blue, almost silver, and gold, which is highly attractive.
As for the inside of this reel, it's made completely out of graphite; hence, is naturally corrosion resistant.
Let's dig a little bit deeper. The Pflueger President also features the slow oscillation gear, which helps the reel become more stable and more robust with every cast and every retrieval.
We also have a braid-ready spool with high capacities and an ambidextrous stainless steel handle. So, it doesn't matter if you're right-handed or left-handed, according to the instructions, you'll be able to unscrew and screw the handle on whichever side that makes you more comfortable.
Additionally, the Pflueger President has no problems whatsoever with the bail on it, as it's a short-click heavy-duty one that's not going to surprise you at any point.
All of this has led to the reel being extra smooth when working, and you can control literally everything while maintaining your own comfort. Another great addition to the Pflueger President will be that its complementary rod is easily available anywhere.
On the other side of the spectrum, although the Pflueger President is quite dashing, it does take more maintenance than its peers typically need. It needs constant lubrication, washing, drying, and taking care of the screws that you have with you.
What We Like:
Lightweight
Great design and color scheme
Slow oscillation gear
Sealed drag system
Braid-ready spool
Very smooth
Size variety affordable
Reel and rod combo available
What We Don't Like:
Final Verdict
If for any reason you need a lightweight reel, then surely and strongly go after the Pflueger President. It comes with the slow oscillation gear, the highly adjustable sealed drag system, and graphite body, you'll be able to catch as much trout as you wish.
5. Okuma Ceymar – Best Budget-Friendly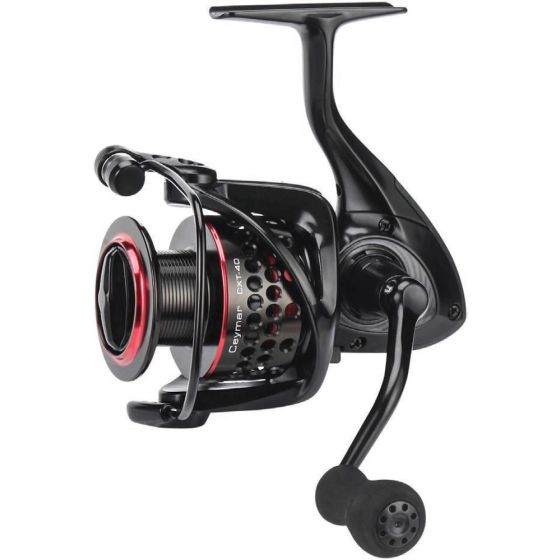 The Okuma Ceymar Is our most affordable reel, yet, don't be fooled by the price tag as this reel is truly impressive.
It comes with a multi-disc oiled felt drag system, with a maximum of 5 lbs, 6+1 ball bearings, a gear ratio of 5.0:1, and precision machine cut brass pinion gears. You can see here that no corners were cut.
The Okuma Ceymar is made completely out of graphite, so it's corrosion-resistant, flexible, and quite resilient. As for the spool, we have a two-toned anodized machined aluminum one, hence we can deal with all types of lines without worrying about weird twists.
Another great thing about the Okuma Ceymar is that it is designed differently to be more comfortable throughout the long fishing trips. We have an ambidextrous EVA-covered aluminum handle designed to make your grip much more stable without creating any pressure points.
Add to that the cyclonic flow rotor which works on creating a continuous cycle of air going in and out of the reel to shorten its drying time, and make sure that it doesn't remain wet for longer than necessary.
Additionally, we can't forget about the RESII balancing technology developed by Okuma, which allows your reel to spin at much higher speeds, while still maintaining the same balance, and the same stability, as you focus on what you're doing.
However, the Okuma Ceymar is quite compact with a narrow blade, which makes handling it even easier and more beginner-friendly. There's hardly a learning curve here, and you can start out by using the Okuma Ceymar.
Unfortunately, it can prove to be a bit too compact for some people, so it might end up being too small in your hand, which contradicts all of the stability that we've spoken about.
What We Like:
Affordable
Multi-disc oiled felt drag system
Graphite build
RESII rotor balancing technology
Beginner-friendly
Cyclonic flow rotor
What We Don't Like:
Final Verdict
If you have a set budget, and you still want to find yourself a reel that will allow you to go dig for trout comfortably, then the Okuma Ceymar is your ultimate choice.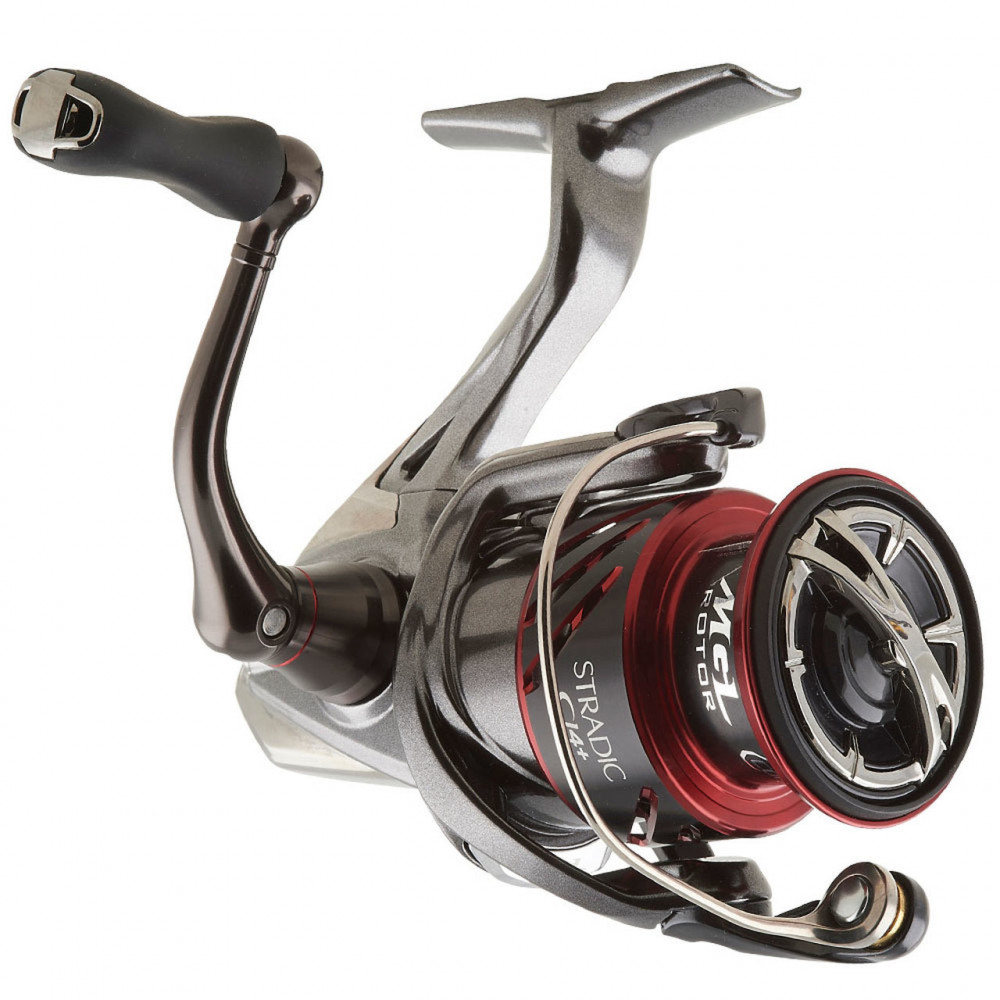 We'll end on a high note with our premium luxurious reel; the Shimano Stradic CI4 that will make a great addition to your set.
Still, not everyone can afford it though! It weighs 0.46 lbs, so it's very light and has a maximum drag capacity of 20 lbs, 6+1 ball bearings, and a 6.0:1 gear ratio. This reel is all about smoothness.
We have the X-ship technology, which has only one job, and that is to eliminate as much friction as possible between the different parts of the reel; more specifically, the spool and the gears
Besides, we also have a built-in Dyna balance rotor control which allows the reel to spin at incredible speeds without losing balance. That works alongside the line propulsion management developed by Shimano to eliminate the possibility of birds' nests and knots.
The inside workings of the reel boast Hagane gearing and body to support all of that and work towards ultra-smooth casts and retrievals every single time.
What We Like:
X-ship technology
Long, smooth, and steady casts
20-lb drag maximum
Hagane gearing and body
Solid bail
CoreProtect
What We Don't Like:
Final Verdict
If your wallet can take such a hit, then the Shimano Stradic CI4 with its drag system, the gearing, the rotor, and all of the technologies that Shimano has developed and put into this reel, would take your trout fishing trips to the next few levels!
How to Pick the Best Trout Spinning Reel
Now that we're done with our six best trout spinning reels for the day, let us walk you through the particular criteria that we kept in mind while picking out these pieces for you. We're sure that will help you with your own research.
Build
Logically, first of all, we have the construction of the reel itself. So many reels will have too much plastic in them or other flimsy materials. That is something that you want to steer clear of.
To put it in the simplest form possible, reels go under a lot of pressure and aggressive movements, if you don't find yourself a sturdy one, it'll snap on you amidst the action.
The most famous and most used materials for making reels are graphite and aluminum. Each one of them has its perks and disadvantages, so let us walk you through that right now.
Graphite
Of course, whenever we say graphite, the first thing that comes into mind is corrosion resistance. Graphite doesn't rust; hence, it's a great choice for a spinning reel that will probably be dropped in water, splashed, etc.
All you need to do is wash it, dry it properly, and you're good to go. You can leave it to dry on its own. It's also flexible, and there is a little bit of give and take when dealing with graphite.
Aluminum
On the other hand, aluminum is incredibly strong and resilient. It'll take years of abuse before the aluminum reel snaps on you.
Yet, you've to be very careful with its exposure to water. Plus, if anything is clogged up inside of it, or if you're fishing in saltwater, you've to wash it properly, clean the insides, and dry it as fast as possible so that rust doesn't form.
Gears
The gears inside of any reel are the component that decides how it's going to operate. Would it be stunted, noisy, and pumpy, or will everything go smoothly?
Gears can be made out of aluminum, stainless steel, zinc alloys, and brass. Always try to go for stainless steel or brass, as they're the most efficient, and practical choices. Otherwise, you'll start feeling that your reel resembles a wimpy toy more than anything else.
Gear Ratio
Gear ratio is a mirror of the reel speed. The first two numbers represent the number of turns that the spool makes in relation to one crank of the handle.
Subsequently, if you go too fast, your whole setup will be wiggly. The thing is, specifically when looking for trout, you'd want to maintain stability and resilience, which is why a gear ratio between 5.0:1 and 6.2:1 is the optimal choice for trout fishing.
Drag System
In essence, the drag system is the defense line protecting your line from snapping. How? By controlling the drag measurement, you control how stiff or loose the line will be. Subsequently, how much energy is being transmitted back-and-forth between you and your prey.
If the line is too loose, you'll lose your catch, and if the line is too taught, the line would probably snap into two. So, make sure that you're adjusting your drag system accordingly.
Conclusion
At the end of the day, picking out the best trout spinning reel depends completely on how you fish. Do you prefer lightweight reels or heavier reels? What kind of line do you use? What type of waterfront do you frequent? There are so many other questions you'll need to answer. Nevertheless, you'll definitely find a reel that you'd fall in love with amongst our list, and here are our recommendations.
Let's start with our best overall choice, the PENN Battle III. This reel boasts a revolutionary drag system and a brilliantly compartmentalized gearing system on the inside. Plus, all of that is covered by a corrosion-resistant coating next to the individual sealing on the ball bearings.
Next is our runner-up; the PENN Battle III. This reel is made completely out of graphite and is corrosion resistant. You have many sizes to choose from, you also have a Superline spool that is decorated with line capacity rings, and it's lightweight on your hand, arm, and even back
Our last recommendation is the KastKing Sharky III. This reel comes with the King Intrusion Shield System, 10+1 shielded ball bearings, precision mesh manganese brass pinion gears, and a secure fit handle for a strong grip.